Everything You Need to Know About CBD and Hemp for Pets
Ask the Vet

Back to results
Enter Your Information
All fields are required
While efforts are made to answer all questions as quickly as possible, if an immediate answer is required or if your pet is in need of urgent or emergency care, contact your pet's veterinarian immediately.
Ask the Vet

Thank you! Your question has been submitted.
You will receive an answer from Dr. Lindsay and our vet/tech team as soon as possible, usually the same day.
All answers are provided for informational or educational purposes only, and are intended to be a supplement to, and not a substitute for, the expertise and professional judgment of your pet's veterinarian.
It may be necessary to consult your pet's veterinarian regarding the applicability of any opinions or recommendations with respect to your pet's symptoms or medical condition.
Close
Ask the Vet

Oops! Your question has not been submitted.
An error has occurred, please reload the page and try again.
Close
Ask the Vet

Got questions? Ask Dr. Lindsay & our Vet Team:
While efforts are made to answer all questions as quickly as possible, if an immediate answer is required or if your pet is in need of urgent or emergency care, contact your pet's veterinarian immediately.
Do these answer your question?
Have another question, or can't find your answer?
Submit your question
We're Sorry!
There is no answer related to your question
Can't find your answer?
Submit your question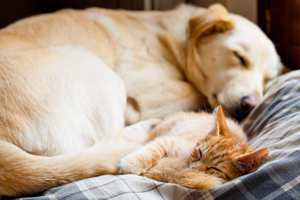 Have you heard about CBD and hemp for pets?
You've probably noticed many of your favorite brands making pet-friendly hemp-derived CBD oils, treats, topical creams and supplements.
Some of these products make almost-too-good-to-be-true claims about their effectiveness for treating everything from epilepsy to anxiety.
But is CBD just another pet industry trend?
As it turns out, these products are probably here to stay. CBD is changing the lives of pets everywhere, and it just might be a game-changer for your family too.
Here's everything you need to know about CBD and hemp for pets.
What's The Difference Between CBD, Hemp, Marijuana and THC?
Cannabidiol, or CBD, is the second most active ingredient in cannabis. It's non-psychoactive, meaning it doesn't cause a "high" feeling. CBD has been studied to reduce seizures, treat pain, reduce inflammation, and relieve stress and sleeplessness.
CBD can be derived from two types of cannabis plants: marijuana and hemp. When made from hemp, it's perfectly legal in all 50 states.
Marijuana plants also contain CBD, but they contain tetrahydrocannabinol, or THC. THC has healing properties, too, but they come with that "high" feeling. For pets, feeling high is not fun. It's confusing, scary and disorienting.
So, if you decide to give your pet CBD oil, you should make sure it is, in fact, CBD oil derived from hemp. As products vary wildly in their concentrations of CBD and THC, it's best to use a pet-specific CBD oil product.
quot;CBD interacts with receptors throughout the body and can act as an anti-inflammatory and immune boosting-agent" -Simple Wag
What Can CBD Oil Do For Pets?
For now, there are not many scientific studies on the uses and side effects of CBD for cats and dogs.
With the growing popularity of these products, and the fact that they've become much easier to obtain in the past few years, major veterinary associations are developing research to help us understand what CBD can and cannot do for our pets.
A University of Minnesota study from 2018 showed that CBD can significantly reduce pain and inflammation and increase mobility in dogs with osteoarthritis.
A study from Colorado State University, published on May 21, 2019, found that 89 percent of dogs experienced fewer seizures when treated with CBD. Though this study was very small, with fewer than 20 subjects, the results are still promising.
Though there are not many studies out there yet, there are thousands of anecdotal reports from pet owners. CBD can have a calming effect on pets with anxiety when used daily, or used on an as-needed basis for stressful events like vet visits, grooming and thunderstorms. Some people give it to their pets long-term for chronic conditions, and others give it temporarily while their pet recovers from surgery or an injury. "CBD can help relieve stress from separation anxiety and noise phobias for many high-strung pets." -Simple Wag
Talk To Your Vet About CBD And Hemp For Pets
At this time, your vet cannot recommend or prescribe CBD oil for your pet. They could be at risk of losing their license if they were to do so.
However, you can start the conversation. Your vet should be aware that your pet takes CBD, even if it is only on a sporadic basis. This is because CBD oil can interact with other medications that your pet might be taking.
Use of CBD has also been shown to sometimes result in elevated liver enzymes, which indicates that it can cause liver damage. If your pet takes CBD oil, particularly if they take large amounts over a long period of time, you should opt for regular blood panels to ensure their liver can handle it.
Where Can I Get CBD and Hemp For Pets?
For now, CBD products are not regulated. When used in research, many products have been found to contain less CBD than stated on the bottle.
It's important that you purchase from a reputable company, even if that means spending a little more. Though price is not an indicator of quality, cheap CBD is going to be less likely to be potent.
If you're on a tight budget, opt for a high concentration tincture. A little will go a long way. Treats and creams are more convenient to give to your pet, but they'll cost more for the same dosage.
NaturVet Hemp Joint Health Soft Chews are for large dogs with osteoarthritis. They contain glucosamine, MSM and hemp seed oil so you'll only need one supplement to soothe inflammation, increase joint mobility and relieve pain.
"CBD treats can help alleviate joint pains and have your pet moving around again." -Simple Wag
How Much CBD Should I Give My Dog?
Before you can calculate your dog's ideal dosing, you'll need to know the concentration of the CBD oil. It may come in a 1-ounce dropper bottle that contains between 250 and 1000 mg of CBD. The label should tell you how much CBD you'll get per drop.
You can give your dog between 1 mg and 3 mg per ten pounds of body weight. So, your fifty pound dog would need 5-15 mg per day. A low dose could be used for managing mild anxiety, and you can give a large dose to manage pain or for an especially stressful day.
Split the daily dose into two servings to ensure the effects last all day. You can mix it into your dog's meals, or they may lick it off a spoon.
At first, give your dog just a ½ dose, and gradually increase it to prevent stomach upset.
Dosing for CBD is flexible. It's unlikely that you will ever overdose your pet, even if another family member accidentally gives an extra dose or your math is a bit off.
However, if your dog gets into a bag of CBD treats, they may suffer from lethargy, vomiting and dangerously low blood pressure. If you suspect that your dog has had too much, seek veterinary treatment.
How Much CBD Should I Give My Cat?
CBD dosing for a cat is similar to that of dogs.
For a five-pound cat, you'd give about 1-2 mg per day. For a 15 pound cat, you can give 2-4 mg per day. Split into two daily servings to ensure the effects last all day.
Your cat might not like the taste of CBD oil. Mixing it with their favorite canned food should help.
Cats are less likely to dig into a bag of treats and overdose, but you should take similar precautions. Avoid giving your cat too much at once to avoid stomach upset, and call your vet if your cat takes a large amount.
Swipe
Products You Might Like