Caring for Special Needs Pets – A Pet Parent's Experience
Ask the Vet

Back to results
Enter Your Information
All fields are required
While efforts are made to answer all questions as quickly as possible, if an immediate answer is required or if your pet is in need of urgent or emergency care, contact your pet's veterinarian immediately.
Ask the Vet

Thank you! Your question has been submitted.
You will receive an answer from Dr. Lindsay and our vet/tech team as soon as possible, usually the same day.
All answers are provided for informational or educational purposes only, and are intended to be a supplement to, and not a substitute for, the expertise and professional judgment of your pet's veterinarian.
It may be necessary to consult your pet's veterinarian regarding the applicability of any opinions or recommendations with respect to your pet's symptoms or medical condition.
Close
Ask the Vet

Oops! Your question has not been submitted.
An error has occurred, please reload the page and try again.
Close
Ask the Vet

Got questions? Ask Dr. Lindsay & our Vet Team:
While efforts are made to answer all questions as quickly as possible, if an immediate answer is required or if your pet is in need of urgent or emergency care, contact your pet's veterinarian immediately.
Do these answer your question?
Have another question, or can't find your answer?
Submit your question
We're Sorry!
There is no answer related to your question
Can't find your answer?
Submit your question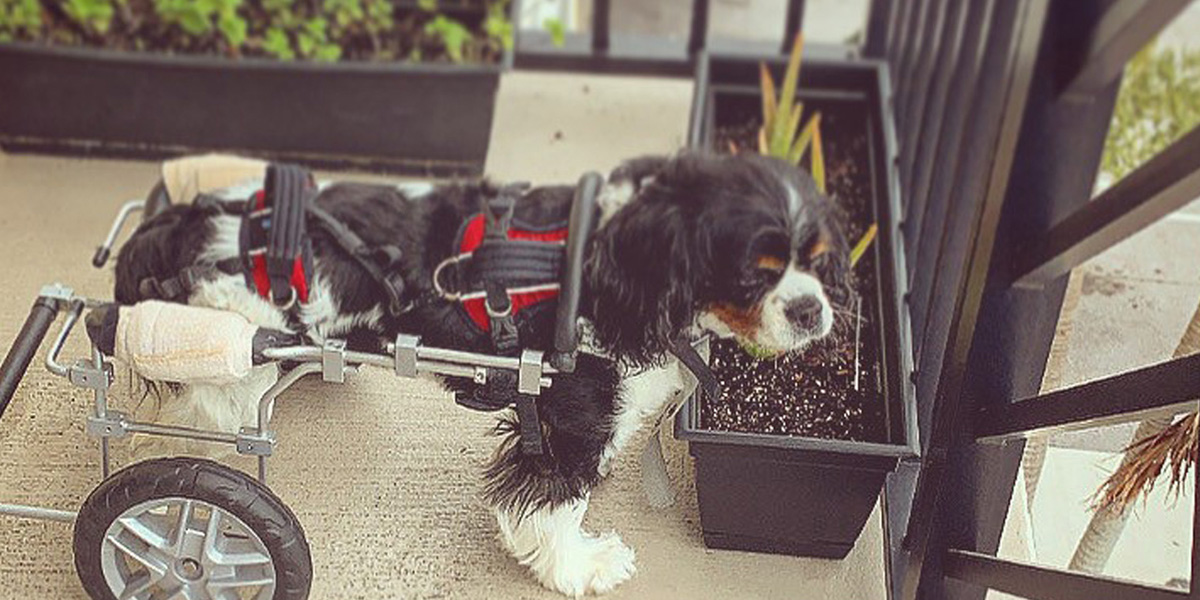 On May 3rd we celebrate National Specially-abled Pets Day! As a dog mom to a Cavalier King Charles Spaniel with Degenerative Myelopathy, this holiday is extra special for me.
Canine Degenerative Myelopathy (DM) – as its name suggests - is a progressive disease causing degeneration of the spinal cord. Degenerative Myelopathy is often compared to ALS, also known as Lou Gehrig's Disease, though DM's early stages more resemble osteoarthritis or hip dysplasia.
Degenerative Myelopathy Diagnosis
Degenerative Myelopathy is more common in larger breeds, like German Shepherds, but smaller dogs and other breeds are at risk as well. DM is most often seen in Corgis, Bernese and Great Pyrenean Mountain Dogs, Golden Retrievers and Chesapeake Bay Retrievers, Boxers, Wire Fox Terriers, Borzoi, and Cavalier King Charles Spaniels.
Signs of DM typically begin to appear between 8 to 14 years old on average. When my Cavalier Dixie was 8 she became less active, as is common for senior pups. Our vet at the time suspected arthritis and changed her food to something more supportive for joints. But a couple of years later I noticed her staggering at times when walking. By age 11, she began falling over and could no longer hold herself up to use the bathroom. We visited a veterinary specialist who told us about the Help 'Em Up® Harness, but her mobility seemed to be getting worse. A few months later she began crying and refusing to walk anywhere except carpeted areas. I covered our wood floors in rugs and brought her into our new primary DVM.
DNA Test
Before finding Dixie's current veterinarian, we'd been told the only way to find out what was wrong would be through an MRI. But because she also has a heart murmur, I was hesitant to put her under anesthesia. A couple of vets had mentioned Degenerative Myelopathy symptoms but were more suspecting that she had Syringomyelia or Chiari Malformation – diseases common in Cavaliers and diseases also affecting the spinal cord. I was thrilled when our new vet told us a blood test could potentially determine if Dixie had DM ... but heartbroken when I got his call a few weeks later.
The Orthopedic Foundation for Animals considers a dog to be at-risk for DM if their DNA test results in two copies of the mutated gene. These dogs are also at risk of passing the mutated gene on to their offspring. A dog with one mutated copy of the gene and one normal copy of the gene is considered a carrier. These dogs are far less likely to develop Degenerative Myelopathy, though a few cases have been confirmed. A dog with two normal copies of the gene is unlikely to develop DM or pass it on to their puppies.
Stages of Degenerative Myelopathy
The Veterinary Teaching Academy divides DM into five stages: Early Stage (slight signs), Early to Mid-stage (neurological deficits noted), Mid-stage (partial paralysis), Late Stage (complete paralysis), and Final Stage (ascending paralysis to front limbs).
Early Stage
According to handicappedpets.com, Degenerative Myelopathy is difficult to diagnose in its early stages because hind leg weakness and gait change are almost invisible. Dogs in the early stage of DM show weakness in their hind legs and slight changes in gait. Paw pads on the hind legs can become scuffed and the inner paw nails become worn down.
Early to Mid-stage
As the disease progresses, dogs with Degenerative Myelopathy begin having trouble standing up and maintaining balance on their own. Response time may also be delayed. The hind legs will cross when walking, and the nails on the rear paws will scrape. Knuckling and knee-buckling are also common. Many dogs experience paw pain at this stage, from using their toes and upper paws to compensate when walking.
Mid-stage
By the mid-stages of Degenerative Myelopathy, weakness is progressing to paraplegia. Tail movement becomes less active, and reflexes may be delayed. Dogs in this stage become unable to walk on their own, and can easily fall over when standing. Stumbling and tripping are common due to faulty foot placement. Dogs in the mid-stage of DM may start showing signs of incontinence.
Late Stage
When Degenerative Myelopathy progresses to the late stage, dogs experience complete paralysis of the hind limbs, as well as urinary and fecal incontinence, which can often result in bladder infections. Tail movement is now erratic and jerky. Dogs are no longer able to control their leg movement, which can result in kicking for no reason. I especially notice this when Dixie is sleeping. I like to say she's dreaming about when she was still able to chase lizards! Another strange feature of this stage of DM is Cross Extensor Response – if you touch one paw the other will react.
Final Stage
In the final stages of Degenerative Myelopathy, paralysis has now ascended throughout the body, causing weakness in the shoulders. As it continues to progress, it can involve the neck, brain, and brain stem. Dogs will eventually have trouble breathing and swallowing, their necks may become wobbly or stiff, and complete organ failure is now possible.
Degenerative Myelopathy Prognosis
Degenerative Myelopathy and its stages affect every dog differently, but the prognosis ranges from 6 months to 1 year. DM is uncommon in cats and younger dogs. Although there is no cure for DM, controlled physical activity can slow the progression by maintaining mobility and muscle strength. It is also a good idea for dogs to maintain a healthy weight to avoid obesity and extra strain on the body.
Life with Degenerative Myelopathy
While it can be frustrating for pet parents to watch their dog's mobility decline, Degenerative Myelopathy is fortunately not a painful disease. And thanks to advancements in veterinary medicine, there are treatment options that can help a dog with DM live longer and more comfortably.
Wheels, Harnesses, and Socks
I previously mentioned our Help 'Em Up® Harness. This 2-piece harness made helping her walk almost as easy as carrying a suitcase. It also made it easier to pick her up off the couch or her dog bed. Dixie hadn't gained any weight but had become much heavier and harder to lift as she lost more and more muscle tone.
Our vet also helped us order a cart from Eddie's Wheels. They took her measurements to customize a wheelchair for her. I feared it would be a waste of money, but just like the Help 'Em Up® Harness, it was a game-changer. She was hesitant at first but treats and encouragement helped, and within a few months of her diagnosis, she was relying on them completely.
Her wheelchair served as her hind legs, so we purchased socks to protect her back paws from dragging. As her DM progressed, socks were also helpful in keeping her front paws from slipping. We tried a few different options but eventually found luck with PAWks by RC Pets. They even had Mary Janes and a sock monkey style! I made a point to keep the fur in between her paw pads trimmed, to provide more traction and less slipping. We also started using Pure and Natural Pet Certified Organic Paw Rescue to heal her paw pads from the constant dragging and scraping.
Once the paralysis ascended to Dixie's front limbs she was no longer able to use her wheelchair. So we got her a new set of wheels – a pet stroller!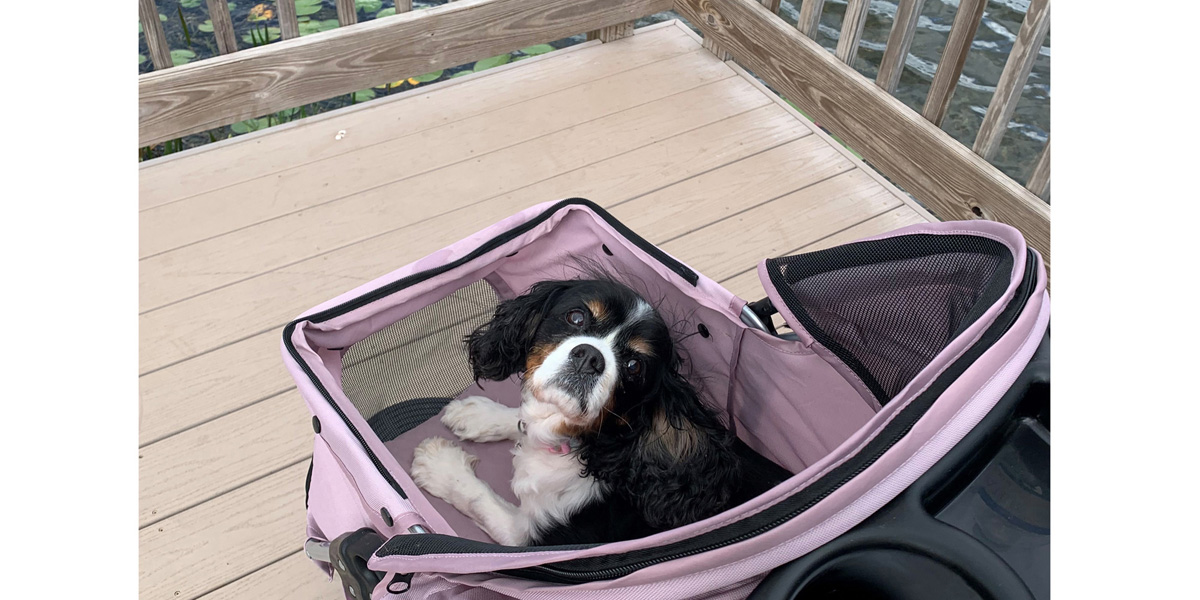 Incontinence
Dogs may first start showing signs of incontinence in the mid-stages of Degenerative Myelopathy, with worsening as they move towards the late to final stages. Our vet tech showed us how to empty Dixie's bladder and I was also able to practice emptying her bowels at home with YouTube videos. Potty pads, diapers (both washable and disposable), cotton swabs, and vet lube were helpful for this stage. But we still make a point to get outside frequently, even now that she is limited to her stroller.
Physical Therapy and Treatment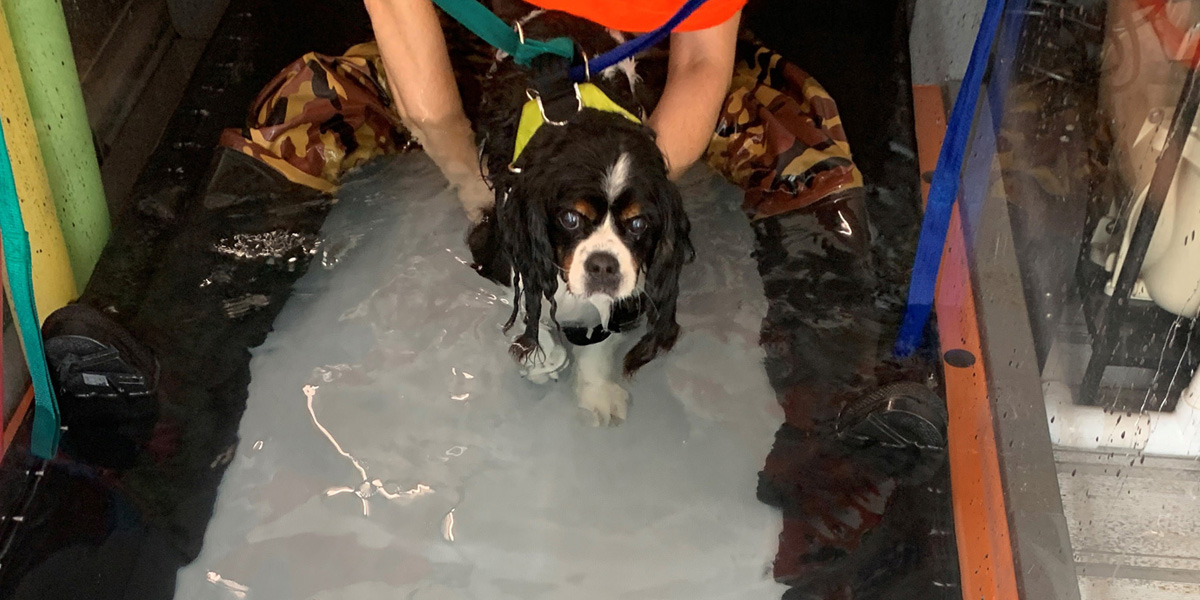 Staying active is one of the best ways to maintain muscle strength and slow down the progression of Degenerative Myelopathy. We were fortunate that our vet clinic offered physical therapy, acupuncture, laser treatment, and hydrotherapy. They also showed me exercises we could do at home in between our bi-weekly rehab visits, as well as massage therapy – Dixie's shoulders and upper body were becoming tight and sore from working overtime for her lower body.
As DM progresses it becomes harder to keep dogs comfortable. Our rug collection grew, as did our variety of beds and blankets. As Dixie reached the late stages of DM, her front limbs weakened and she became unable to hold herself upright. Bolster-type beds are best at this stage and a lot of pillows for propping up. It can sometimes take several hours to find a position comfortable for her, and dogs need to be repositioned often once they're no longer able to do so on their own.
Medication and Anxiety
Dixie has had separation anxiety since she was a puppy. When she was younger we worked with a behaviorist and also incorporated medications. But her anxiety increased significantly when she developed DM. Not being able to follow me around or do things on her own caused her to become more fearful and stressed. While already on Clomicalm, Trazodone and Acepromazine were added to her daily regime, as well as Gabapentin to help with nerve activity. Furthermore, Incurin and Proviable have been helpful for incontinence.
Swipe
Products You Might Like