Our Vet's Favorite Pet Food & Ratings
How would your pet satisfy hunger in the wild? They would never choose an ear of corn over fresh meat. Most common, lower quality pet foods are full of corn, wheat and other fillers. Such ingredients are species inappropriate for an animal that is a meat eater by nature, with a digestive tract designed to process mainly meats and fat.
A raw diet is ideal but can be difficult to keep up with in regards to both cost and convenience. My top recommendations for dry pet food are those brands that come as close as possible to the natural wild diet.
Common pet store foods that have a low nutritional value per cup will require more food to meet your pet's nutritional needs. In fact, your pet may need to eat three times as much low-quality food as premium quality food to be satisfied. The price may be lower, but you will be buying more of it. Factors you should consider when comparing pet foods are:
Fat-to-protein ratio
Amount necessary to provide adequate nutrients
Price per serving
The dry foods below come very close to the optimal fat-to-protein ratio pets naturally require while eliminating empty calories that cause excessive hunger and resultant weight gain.
Compare Dr. Dym's top pet food picks
Below you can compare how each of my most recommended foods stack up according to protein content, fat content, fat-to-protein ratio and overall cost per day.
Compare: Wysong Epigen 90, Now Fresh Grain Free Adult Recipe Dry Dog Food, and Taste of the Wild Wetlands Canine w/Roasted Fowl .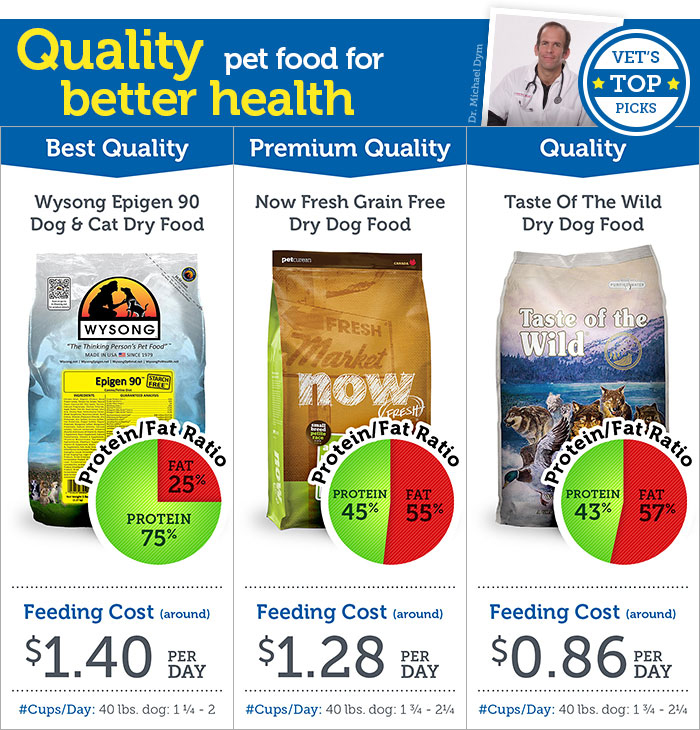 With the development of Epigen 90, Wysong has made great strides to create a dry kibble that closely mimics the nutritional content and fat-to-protein ratio of the natural prey cats and dogs would eat in the wild. This fat-to-protein ratio is the key to supporting your pet's lean muscle mass, meeting energy needs and satiating the natural dietary needs of carnivores.
Going far beyond those brands that claim to be "grain-free", Epigen pet food is indeed Starch Free™. This means that it has no ingredients that are altogether unnatural to the wild carnivorous diet. Some brands will replace grains with starches from potatoes, peas, tapioca or other starch sources. This is good for pets with grain allergies or sensitivities but doesn't address the fact that starch is a poly-sugar, which is not a natural component of the carnivore diet.
Epigen recipes contain only the critical food elements your pet needs for optimal nutritional support. These vital food elements include probiotics, prebiotics, enzymes, phytonutrients, nutraceuticals, natural form antioxidants, vitamins and minerals. All of these help support the digestive process, extracting nutrients and turning them into the energy your pet needs.
Recommended Wysong Varieties
Although the fat-to-protein ratio of Now Fresh Grain Free Adult Recipe Dry Dog Food is not as ideal as Wysong Epigen 90, it does have the added benefit of whole dried egg as a protein source, which is easy to digest and of high biological value. It also provides vitamins, minerals and antioxidants from natural sources. Now Fresh does not contain rendered meats, by-products or artificial preservatives. Prebiotics and probiotics are included to promote optimal digestion.
Recommended Now Fresh Varieties
Taste of the Wild is a quality food with meat as the #1 ingredient. What I like best about this brand is it is made with meat sources that are certified hormone free and antibiotic free. It is also grain-free and contains named meat meals, which are a good source of concentrated protein. Unnamed meat meals
Recommended Taste of the Wild Varieties
Vet Tip

When switching your pet to a high protein, nutrient-dense food be sure to make the transition slowly. Start with a small amount added to your pet's current dry food, gradually increasing the amount over a period of 7-10 days.