Managing Muscle Loss in Senior Dogs
Ask the Vet

Back to results
Enter Your Information
All fields are required
While efforts are made to answer all questions as quickly as possible, if an immediate answer is required or if your pet is in need of urgent or emergency care, contact your pet's veterinarian immediately.
Ask the Vet

Thank you! Your question has been submitted.
You will receive an answer from Dr. Lindsay and our vet/tech team as soon as possible, usually the same day.
All answers are provided for informational or educational purposes only, and are intended to be a supplement to, and not a substitute for, the expertise and professional judgment of your pet's veterinarian.
It may be necessary to consult your pet's veterinarian regarding the applicability of any opinions or recommendations with respect to your pet's symptoms or medical condition.
Close
Ask the Vet

Oops! Your question has not been submitted.
An error has occurred, please reload the page and try again.
Close
Ask the Vet

Got questions? Ask Dr. Lindsay & our Vet Team:
While efforts are made to answer all questions as quickly as possible, if an immediate answer is required or if your pet is in need of urgent or emergency care, contact your pet's veterinarian immediately.
Do these answer your question?
Have another question, or can't find your answer?
Submit your question
We're Sorry!
There is no answer related to your question
Can't find your answer?
Submit your question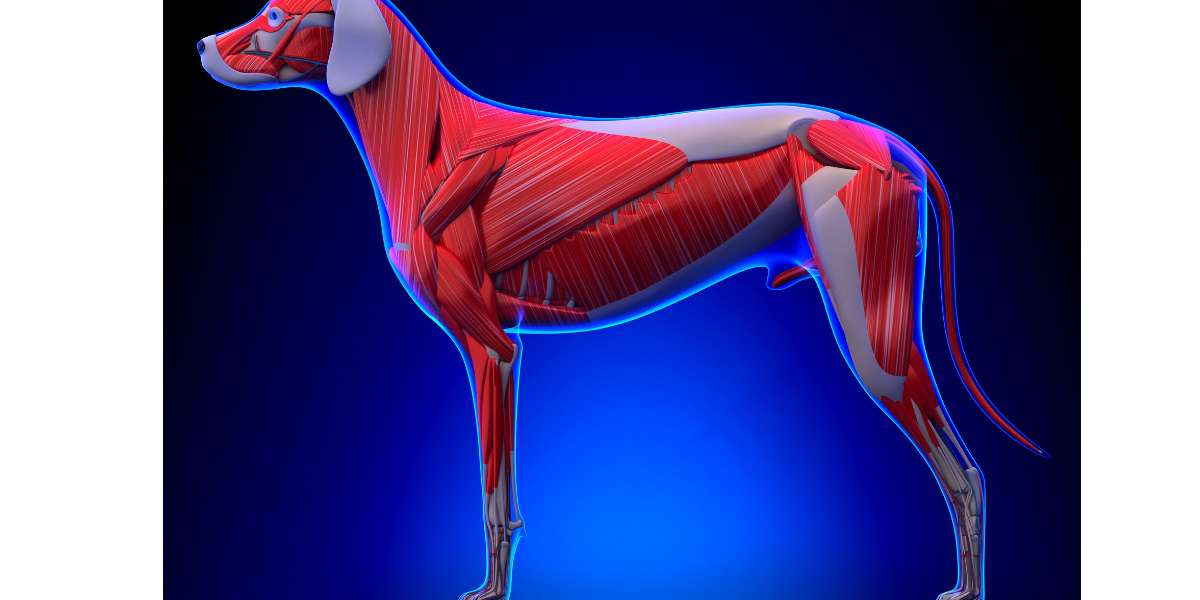 April marks Canine Fitness Month, and as we learn how to keep our dear dogs in shape, we can't forget about our silver-muzzled seniors. Senior dogs have special needs when it comes to staying fit and healthy.
Most senior dogs will experience muscle atrophy or muscle loss at some point. It usually comes on gradually as a normal sign of aging, but when caused by illness or injury, it might be more noticeable. While we cannot stop our canine companions from aging, we can slow down muscle loss to keep them stronger and healthier in their later years.
What is Muscle Atrophy in Senior Dogs?
There are two main types of muscle loss in senior dogs: sarcopenia and cachexia.
Sarcopenia
is the gradual breakdown of muscle tissue that's seen in all senior dogs to some degree, though diet and exercise can help maintain healthy muscle tone.
In young dogs, hormones, protein consumption, and exercise keep the muscles in a steady cycle of growth, recovery, and repair. But as dogs get older, their muscles are not as responsive to growth signals. They need more protein and more exercise just to maintain their muscle tone.
Cachexia
is muscle wasting due to an illness such as chronic kidney disease, heart disease, or cancer. It can be associated with a loss of appetite, but even if the dog is eating normally, they will experience severe, obvious muscle loss and weakness. With severe illness, the body may break down muscle tissue to help fight disease, or the condition can make it harder for the body to utilize nutrients in food.
Muscle atrophy may cause a dog to slow down, and they may be less playful and more easily tired out than they once were. If you feel your dog's muscles over their back, hips, and shoulders, you may be able to detect changes in muscle tone. Keep in mind that dogs with muscle loss can appear underweight or overweight. It's possible they may have a lot of body fat, but little muscle.
If you suspect your dog is losing muscle, see your veterinarian for an exam to rule out a chronic health condition. Even those with normal signs of aging may have concurrent health issues like arthritis that can affect their mobility and activity level, and by working with your vet, you can create a plan to keep your senior dog on the move.
Senior Dog Diets To Slow Muscle Loss
Often, senior dogs do not get enough protein because they may eat reduced portions to help manage excessive weight gain. While seniors usually need fewer calories than their younger counterparts due to a slower metabolism and a more sedentary lifestyle, they need more protein than ever to avoid muscle loss. In some seniors, a diet with a higher ratio of protein to calories can be beneficial.
But some seniors have health conditions that are exacerbated by a high protein diet. Those with chronic kidney disease are required to eat a low protein diet. Normally, protein is broken down into amino acids in the stomach, which are then metabolized in the liver, creating a waste product called urea. The kidneys then filter the urea so it can be eliminated in the urine.
When a senior dog has chronic kidney disease, their kidneys have a harder time filtering waste. A low protein diet puts less of a strain on the kidneys and helps relieve symptoms.
In senior dogs with normal kidney function, though, a low protein diet has not been shown to help prevent chronic kidney disease.
If you think your senior dog may benefit from more protein in their diet, make sure to ask their veterinarian first. They may need a checkup with a senior dog blood panel to ensure that they do not have any underlying conditions that could be exacerbated by a diet that's higher in protein.
Exercise for Senior Dogs
A high protein diet alone will not help build or maintain muscle mass in senior dogs. They still need exercise, though it may be difficult if your dog has symptoms of osteoarthritis or other chronic conditions that affect their mobility. Low-impact exercises like walking and swimming are excellent for senior dogs, helping to not only maintain muscle tone but also possibly slowing the progression of arthritis.
A canine physical therapist can help if you are having trouble keeping your senior dog active. Underwater treadmill walks, gentle stretches, acupuncture, physical therapy, and massage can all be helpful.
For older dogs, regular vet visits are more important than ever. More and more treatments and therapies are becoming available to help keep your senior dog healthy and happy for as long as possible.
Swipe
Products You Might Like