Rimadyl: Anti-Inflammatory Pain Reliever For Your Dog
Just like we use Ibueprohen, Rimadyl can be used as a pain reliever for our pets that are diagnosed with arthritis or have undergone surgery. Depending on the type of surgery and pain your dog is experiencing, your veterinarian will be able to prescribe your dog with Rimadyl to help with recovery.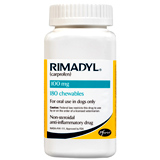 Rimadyl Can Help Manage Your Pet's Pain
Managing post-operation pain is important for the quick recovery of your pet. Rimadyl, when administered by a veterinarian, will help your dog recuperate. To start, Rimadyl can be administered an hour or two before your pet's surgery to allow the body to get a head start on fighting pain before the surgery begins.
Rimadyl is the only pain-relief NSAID medication that comes conveniently as both an injection and a pill. Your vet can inject your pet with Rimadyl prior to surgery and alleviate some of the pain for the next 24 hours, when it is the most severe. From this point on, you can help to alleviate your dog's pain in the following days from home with Rimadyl chewables or caps that your veterinarian will prescribe if necessary.
Rimadyl is approved to be used on the following soft-tissues and orthopedic surgeries for your pet (as young as six weeks old):
Soft-Tissue
Spay/Neuter
Cystotomy
Dental Prophylaxis
Tumor/Mass Removal
Abdominal Exploratory
Gastrointestinal Foreign Body Removal
Orthopedic
Fracture Repair
FHO (femoral head and neck ostectomy)
Dental Extractions
CCL (cranial cruciate ligament) Repair
MPL (medial patellar luxation) Repair
Total Hip Replacement
Help relieve your dog's pain and buy Rimadyl pain medication from 1800PetMeds.