How To Make Homemade Pet Food
Ask the Vet

Back to results
Enter Your Information
All fields are required
While efforts are made to answer all questions as quickly as possible, if an immediate answer is required or if your pet is in need of urgent or emergency care, contact your pet's veterinarian immediately.
Ask the Vet

Thank you! Your question has been submitted.
You will receive an answer from Dr. Lindsay and our vet/tech team as soon as possible, usually the same day.
All answers are provided for informational or educational purposes only, and are intended to be a supplement to, and not a substitute for, the expertise and professional judgment of your pet's veterinarian.
It may be necessary to consult your pet's veterinarian regarding the applicability of any opinions or recommendations with respect to your pet's symptoms or medical condition.
Close
Ask the Vet

Oops! Your question has not been submitted.
An error has occurred, please reload the page and try again.
Close
Ask the Vet

Got questions? Ask Dr. Lindsay & our Vet Team:
While efforts are made to answer all questions as quickly as possible, if an immediate answer is required or if your pet is in need of urgent or emergency care, contact your pet's veterinarian immediately.
Do these answer your question?
Have another question, or can't find your answer?
Submit your question
We're Sorry!
There is no answer related to your question
Can't find your answer?
Submit your question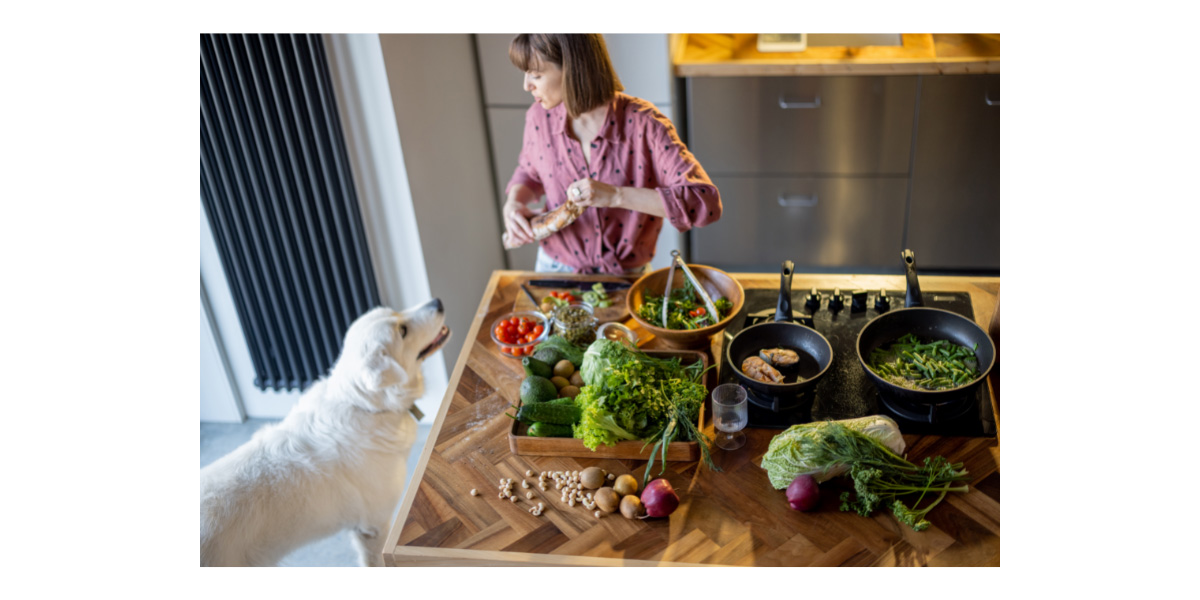 August is RAWgust, a month-long observance dedicated to spreading awareness about the importance of a fresh-food-based diet for both humans and their four-legged family members.
If you love cooking up healthy meals for your family, why not make food for your pets too? A fresh, homemade diet can be highly beneficial to your pet's health, is usually much tastier than their regular cat or dog food, and, best of all, it's easier than you may think to get started.
7 Benefits of Making Your Own Pet Food
A balanced homemade diet has numerous benefits over most commercial cat and dog foods, including:
Higher moisture content than kibble for urinary tract and digestive support
Can be adapted for pets that need a limited ingredient diet due to allergies
Sometimes cheaper than premade foods, especially if you use seasonal and on-sale ingredients
Can be better for helping pets lose or maintain weight
Variety can improve gut microbiome (good bacteria) for healthier digestion
Can result in smaller, less smelly poop
Preferred by picky pets
Keys To A Successful Homemade Diet
Cooking for your pets is a bit different than cooking for your family. While your human family members can get all of the nutrients they need from a varied diet, you'll need to take extra care to make sure your pet's food meets their nutritional needs.
Commercial cat and dog food usually contain a balanced blend of vitamins and minerals that meet or exceed guidelines set by the Association of American Feed Control Officials (AAFCO) according to your pet's life stage.
Whether your pet has health issues that may be linked to their existing diet, or you just want to feed them for their best long-term well-being, their homemade diet will need to be carefully tailored to include the right balance of vitamins and nutrients, proteins, and fats, and calcium and phosphorus.
Avoid using recipes that you find on social media or websites. Many pet food recipes are written by people who do not have a background in pet nutrition. The recipes can be, at best, unbalanced for daily feeding, and at worst they can contain ingredients that are toxic to animals.
How To Make Homemade Pet Food - 3 Ways
You can choose from three ways to make homemade pet food that perfectly fits your pet's nutritional needs, your budget, and your schedule.
Find A Pet Nutritionist
Scheduling a consultation with a pet nutritionist is the best way to get tailor-made recipes that are perfectly balanced to meet your pet's unique needs. It's surprisingly affordable with many nutritionists offering online consultations.
You'll want to work with someone qualified and experienced in formulating diets for pets. A board-certified veterinary nutritionist is a doctor of veterinary medicine (DVM) who has had additional training to become certified as a Diplomate of the American College of Veterinary Nutrition (DACVM).
You can find a vet who offers consultations through the American College of Veterinary Nutritionists online directory.
Make Snacks Instead of Meals
If you're not ready to transition your cat or dog to a completely homemade diet, you can boost their existing diet with homemade additions. Your pet's kibble or wet food is already complete and balanced, and as long as their treats, snacks, and toppers do not exceed 20% of their diet, you can experiment with introducing fresh, healthy foods.
Dry kibble tends to be high in carbohydrates, so you'll want to avoid additional sources of carbs like rice, pasta, potatoes, and oats. Instead, boost your pet's amino acid intake by adding a few pieces of raw, dehydrated, or cooked, unseasoned chicken, beef, pork, or eggs to their meal.
You can also give your pets regular meals as per usual, then give homemade snacks between meals. Just make sure to account for extra calories, which can lead to weight gain.
Use A Base Mix
For adult dogs, you can use Honest Kitchen Base Mix to create complete and balanced homemade meals. A base mix contains a dehydrated blend of fruits, veggies, grains, nuts, seeds, herbs, and supplements to provide a complete, wholesome meal.
To use a base mix, just follow the package instructions. There will be serving size guidelines according to your pet's weight that will help you mix the correct ratio of dehydrated base mix, warm water, and raw or cooked protein. Chicken, eggs, fish, beef, and pork are all possible choices. You can make meals with a base mix each day or you can cook up multiple portions at once, then refrigerate leftovers for up to three days or freeze for up to six months.
Swipe
Products You Might Like