7 Ways Dog Training Can Lead To A Happier, Well-Rounded Dog
Ask the Vet

Back to results
Enter Your Information
All fields are required
While efforts are made to answer all questions as quickly as possible, if an immediate answer is required or if your pet is in need of urgent or emergency care, contact your pet's veterinarian immediately.
Ask the Vet

Thank you! Your question has been submitted.
You will receive an answer from Dr. Lindsay and our vet/tech team as soon as possible, usually the same day.
All answers are provided for informational or educational purposes only, and are intended to be a supplement to, and not a substitute for, the expertise and professional judgment of your pet's veterinarian.
It may be necessary to consult your pet's veterinarian regarding the applicability of any opinions or recommendations with respect to your pet's symptoms or medical condition.
Close
Ask the Vet

Oops! Your question has not been submitted.
An error has occurred, please reload the page and try again.
Close
Ask the Vet

Got questions? Ask Dr. Lindsay & our Vet Team:
While efforts are made to answer all questions as quickly as possible, if an immediate answer is required or if your pet is in need of urgent or emergency care, contact your pet's veterinarian immediately.
Do these answer your question?
Have another question, or can't find your answer?
Submit your question
We're Sorry!
There is no answer related to your question
Can't find your answer?
Submit your question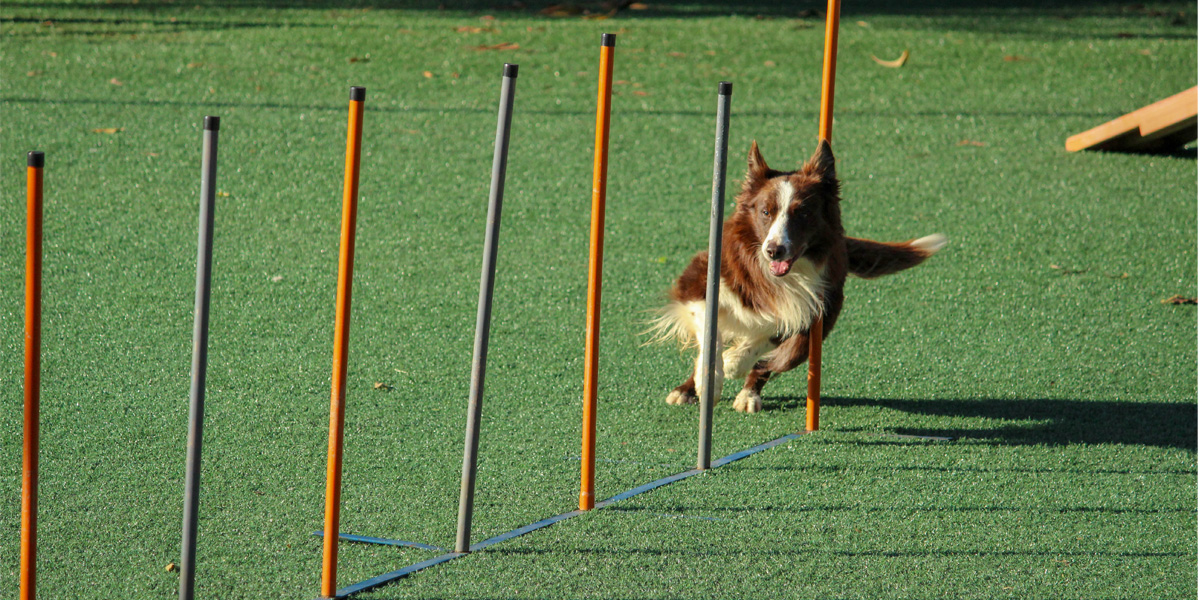 For many pet parents, the majority of dog training happens in their puppy's first year. But what about after your dog is "trained," as in, does their business outside and knows a few basic commands? In honor of Dog Training Education Month, learn why dogs benefit from ongoing training and how you can make your dog's education an everyday practice.
What Can My Dog Learn?
Your dog's training goals and abilities will vary. Some dogs simply do not like being around strangers, or will not be interested in participating in sports or competitions. Whether your dog just needs to touch up on their manners, or you'd like to advance their skills to the next level, you can set realistic goals for your dog and take small steps every day. There's always something new your dog can learn, and you might be surprised at just how smart they can be.
7 Ways Dog Training Can Lead To A Happier, Well-Rounded Dog
Improve your dog's confidence. Dogs that lack confidence often feel uncertain how to react to new situations, and they may feel unsure how to gain the approval of their favorite humans. Training, especially when you constantly expose your dog to new environments and challenges, gives your dog opportunities to make decisions, win your approval, and conduct themselves appropriately anywhere, anytime
Make walks more enjoyable. Walks can be a chore if your dog drags you down the sidewalk, stopping and sniffing and getting working up over people and other animals. Incorporating training games into your walk teaches your dog to focus on you, and you can teach them to take "sniff breaks" so they still have opportunities to take in the world around them at their own pace. When training is fun, you suddenly become more interesting to your dog than that chatty squirrel or your neighbor's cat
Teach your dog to communicate with you. Training isn't just about telling your dog what to do. Communication is a two-way street, and the more you train your dog, the more they learn to get what they need from you. You can also use noise-making bells, voice-recording buttons, signs, visual cues, and other tools to open the lines of communication between you and your dog.
Get your dog in better shape. Training isn't just practicing sit and stay over and over again. You can teach your dog action-based skills like jumping through hoops, dashing through an agility course, hunting for treats or nosework scent tubes, fetching (and actually returning the ball!) and so much more to help your dog get off the couch, burn calories, and build muscle. Don't forget to reward your pup with healthy, low fat dog treats.
Manage anxiety. Many dogs struggle with anxiety, which can take the form of separation anxiety, barking at strangers, travel anxiety, noise anxiety and more. Training teaches your dog to put their trust in you so you can show them how to react to new, unfamiliar situations. Keeping your dog's mind and body active also helps them relax, especially when they're left alone.
Help family members connect with your dog. Many breeds have a tendency to latch onto one family member, but that doesn't mean your dog can't ever connect with other people. Training, especially when you share what you and your dog have learned with family members, can set important boundaries and demonstrate how to spend time with the dog in a way that's respectful and productive. For example, a person who sneaks the dog table scraps can learn to earn the pup's love through training, instead of through indulgence. Children who tend to play rough with dogs can learn training games that engage the dog in a safer way.
Get invited over more often. A well-trained dog is always welcome in pet-friendly spaces, though even the best-behaved pets are not allowed the same public access rights as service animals. Instead, you can look forward to friends and family members who want you to bring your dog when you visit. Outings like trips to pet-friendly stores, parks, and beaches are much more fun when you and your dog have practiced good manners.
How To Continue Your Dog Training Education
Whether your dog has a behavioral issue, you'd like to learn the basics, or you're hoping to learn some advanced skills, you can find a dog training class or private dog training to help you meet your goals with the help of a professional. Look for a trainer that's listed with a professional association with values that match your own. You can also use books, online classes, and videos to find inspiration for new ways to challenge your dog
VISION
Every pet deserves to live a long, happy, healthy life.
Swipe
Products You Might Like