Raw Feeding for Cats: Top 5 Pros and 5 Cons
Ask the Vet

Back to results
Enter Your Information
All fields are required
While efforts are made to answer all questions as quickly as possible, if an immediate answer is required or if your pet is in need of urgent or emergency care, contact your pet's veterinarian immediately.
Ask the Vet

Thank you! Your question has been submitted.
You will receive an answer from Dr. Lindsay and our vet/tech team as soon as possible, usually the same day.
All answers are provided for informational or educational purposes only, and are intended to be a supplement to, and not a substitute for, the expertise and professional judgment of your pet's veterinarian.
It may be necessary to consult your pet's veterinarian regarding the applicability of any opinions or recommendations with respect to your pet's symptoms or medical condition.
Close
Ask the Vet

Oops! Your question has not been submitted.
An error has occurred, please reload the page and try again.
Close
Ask the Vet

Got questions? Ask Dr. Lindsay & our Vet Team:
While efforts are made to answer all questions as quickly as possible, if an immediate answer is required or if your pet is in need of urgent or emergency care, contact your pet's veterinarian immediately.
Do these answer your question?
Have another question, or can't find your answer?
Submit your question
We're Sorry!
There is no answer related to your question
Can't find your answer?
Submit your question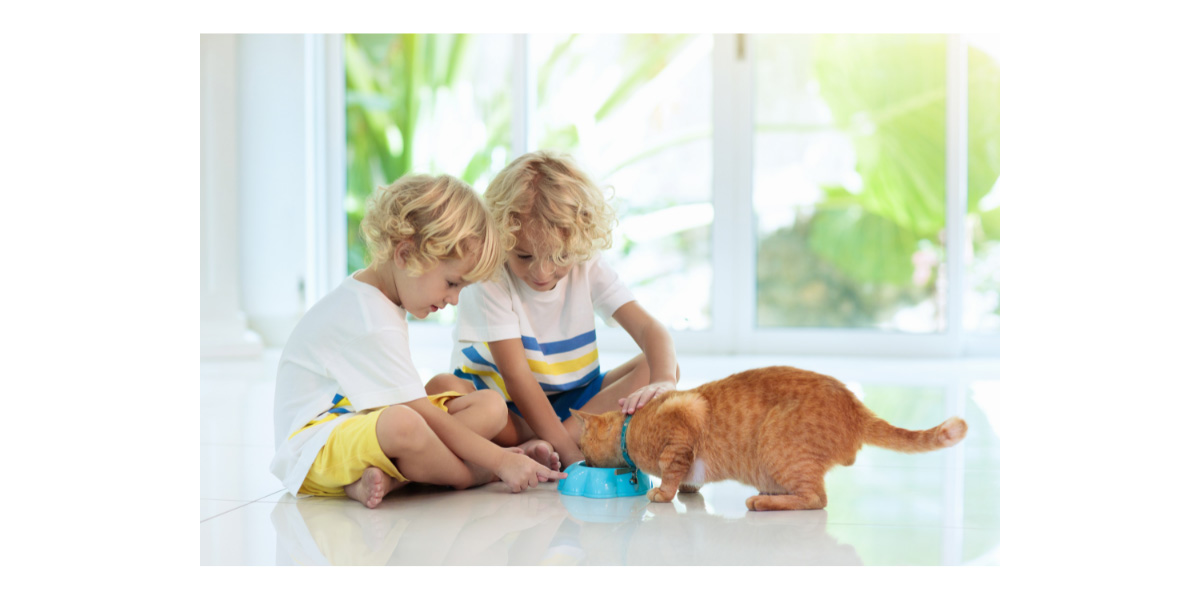 Have you been wondering if raw feeding could benefit your cat? While cats eating fresh meat is nothing new, raw diets for domestic cats have been growing in popularity over the last decade or so.
Still, raw feeding for cats is controversial. Holistic and integrative veterinary professionals and raw feeding advocates tout the benefits, but most veterinarians as well as the American Veterinary Medical Association (AVMA) advise against it. In celebration of National Raw Feeding Week, learn about the pros and cons of feeding your cat a raw diet, and what you can do if you'd like to feed fresh food.
5 Potential Benefits of Raw Feeding for Cats
1 Raw food may be good for your cat's teeth Chewing on whole, raw meaty bones can help reduce plaque, strengthen the jaw, and help clean between teeth that may be hard to reach with brushing. While there's no strong evidence that raw bones are best for your cat's dental health, some raw feeders report improvements after switching to a fresh diet. That said, a raw diet does not eliminate the need for brushing and regular dental checkups.
2 Raw cat food is high in moisture Health issues due to inadequate hydration are common in cats. Those that eat dry kibble will not normally drink enough water to make up for a lack of moisture in their diet. Raw meat is about 75% water. A high moisture diet can help prevent urinary tract issues like urinary tract infections and kidney disease
3 Raw food is high in protein and low in carbs Protein from quality animal sources like fish, chicken, and beef is essential for cats. Carbohydrates, which can come from foods like rice, corn, and peas, also offer an energy source but are not essential to your cat's diet. A raw diet high in protein and low or free of carbs may help maintain a healthy weight, manage blood sugar, and build and repair muscle
4 Fresh food can be easier to digest Cat parents that feed raw diets report smaller, less-smelly stools, improvements in digestive health, and improvements in cats with symptoms like vomiting and diarrhea
5 Raw diets can be more nutritious with vitamins, minerals, and enzymes found in fresh foods that may be more bioavailable, easier for the body to break down and utilize. Many high processed pet foods are extruded at high temperatures which may compromise nutrients and enzymes found in fresh ingredients
5 Reasons Raw Feeding Is Not For Every Kitty
1 Raw foods are not backed by scientific research while vet-recommended commercial pet foods are formulated by board-certified veterinary nutritionists with the help of decades of research studies and long-term feeding trials. Most of the evidence that supports raw feeding is anecdotal and owner-reported, and many cases only report on short-term benefits, rather than long-term effects of feeding a raw diet over the animal's lifetime
2 Not all raw foods are complete and balanced Most pet foods are formulated to meet standards set by Association of American Feed Control Officials (AAFCO) according to your pet's life stage. Commercially prepared raw pet foods can be complete and balanced, though, as well as homemade raw diet recipes approved by a veterinary nutritionist. Keep in mind that an unbalanced diet can lead to nutritional deficiencies, which can cause hair loss, heart and skeletal issues, blindness, even death
3 Raw meat carries pathogens Bacteria, viruses, and parasites that cause illness in humans are found not only in raw meat but can also be shed in a raw-fed pet's feces or other body fluids. Those that feed raw should take care when preparing, storing, and serving their pet's food, as well as when cleaning up after their pet. Dogs and cats have a highly acidic stomach and a short digestive tract that does not easily allow pathogens to grow, but it's still possible for raw food to make pets sick, especially those that are immunocompromised.
4 Raw feeding can be impractical A raw diet can be significantly more expensive than other types of pet food. Some raw feeders, especially those that prepare their own pets' meals, need an extra freezer, meat grinders, and other expensive equipment. Making, serving, and cleaning up raw pet food can be time-consuming and impractical for many pet parents.
5 Raw food just doesn't work for some cats While some cats love eating raw food and seem to benefit from it, others refuse to eat it, or might not tolerate the fat content, high protein, or lack of fiber in a raw diet
Alternatives to A Raw Diet for Cats
Feeding a raw diet is not the be-all, end-all to supporting your cat's health and longevity. In time, scientific pet nutrition research can help us learn why some cats seem to thrive on a raw diet, and what pet parents can feed to give their cat the best chance at a long, healthy life. In the meantime, there are many ways to add fresher foods to your cat's existing diet.
Partial Raw Diet for Cats
If you already feed your cat a complete, balanced diet, you can try adding fresh toppers, mix-ins, and between-meal snacks that consist of raw ingredients or complete raw pet foods. Extras should make up no more than 15% of your cat's diet to avoid skewing the ratio of nutrients in their existing diet. You might need to cut back your cat's meals to account for extra calories in their raw additions
Freeze Dried and Dehydrated Cat Food
Freeze dried and dehydrated cat foods are minimally processed and can offer many of the benefits of a raw diet without the costs, risks, or cleanup. They're shelf-stable and easy to store, just add warm water to reconstitute just before mealtimes
VISION
Every pet deserves to live a long, happy, healthy life.
Swipe
Products You Might Like