All About Greyhounds: Care Guide and Breed Info
Ask the Vet

Back to results
Enter Your Information
All fields are required
While efforts are made to answer all questions as quickly as possible, if an immediate answer is required or if your pet is in need of urgent or emergency care, contact your pet's veterinarian immediately.
Ask the Vet

Thank you! Your question has been submitted.
You will receive an answer from Dr. Lindsay and our vet/tech team as soon as possible, usually the same day.
All answers are provided for informational or educational purposes only, and are intended to be a supplement to, and not a substitute for, the expertise and professional judgment of your pet's veterinarian.
It may be necessary to consult your pet's veterinarian regarding the applicability of any opinions or recommendations with respect to your pet's symptoms or medical condition.
Close
Ask the Vet

Oops! Your question has not been submitted.
An error has occurred, please reload the page and try again.
Close
Ask the Vet

Got questions? Ask Dr. Lindsay & our Vet Team:
While efforts are made to answer all questions as quickly as possible, if an immediate answer is required or if your pet is in need of urgent or emergency care, contact your pet's veterinarian immediately.
Do these answer your question?
Have another question, or can't find your answer?
Submit your question
We're Sorry!
There is no answer related to your question
Can't find your answer?
Submit your question
All About Greyhounds: Care Guide and Breed Info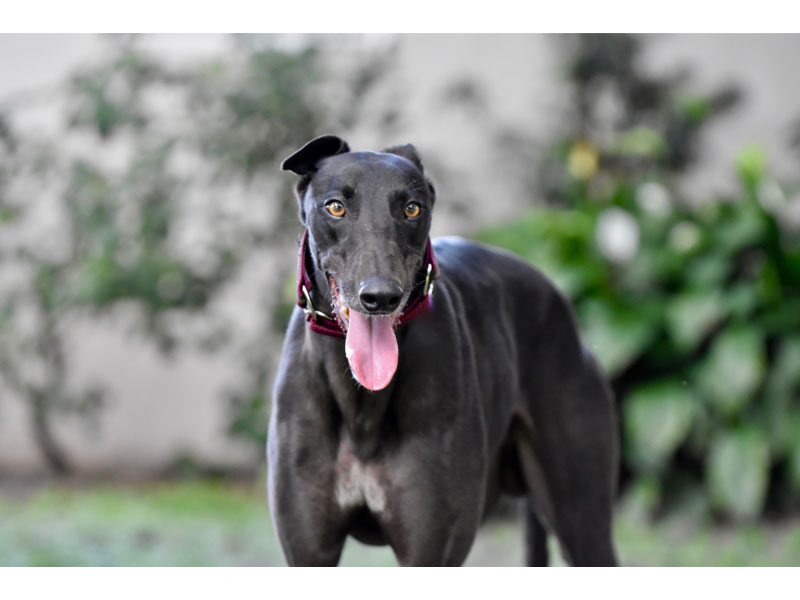 It may come as no surprise that the Greyhound is the fastest dog breed in the world. But to their pet parents, they're affectionately known as the 45 MPH couch potato, "great"-hounds, noodle horses, noodle necks, or simply, "noodles."
In honor of National Adopt a Greyhound Month, learn how the Greyhound breed came to be and what pet parents should know to keep their Greyhound happy and healthy.
How The Greyhound Breed Came To Be
The Greyhound is one of the founding dog breeds, first recorded as early as 6,000BC. All modern breeds have descended from Greyhounds, though you may only notice the family resemblance in other sighthound breeds like the Whippet, Borzoi, or Saluki.
Throughout human history, Greyhounds have been highly valuable to humans, hunting in packs to chase down not only small game like hares and rabbits, but also large game like deer, boars, and bears.
In ancient Greece, artworks of Gods were often illustrated with loyal Greyhounds by their side. In ancient Egypt, predecessors of Greyhounds were Gods, owned only by pharaohs like Tutankhamen and Cleopatra, worshiped in life and honored after death, mummified and buried with their owners.
Over the next thousands of years, Greyhounds were held in high prestige in almost all parts of the world, making their way from Greece to England, where they hunted alongside noblemen.
When Greyhounds were brought to the United States in the late 1800s, their primary role was to use their incredible speed to hunt jackrabbits that were destroying crops. Farmers raced Greyhounds with the use of live hares as bait, and by the early 1900s, a mechanical lure was developed for a sport that would soon become a national pastime.
The End of Greyhound Racing
Through the 1900s, betting on greyhound racing grew popular, and for breeders and handlers, highly profitable. Unfortunately, Greyhounds were no longer regarded as royalty. Instead, the greyhound racing industry became a hotbed for inhumane conditions, including abandonment and euthanasia of unsuccessful and retired racing dogs, use of illegal enhancement substances, untreated injuries and constant confinement.
Greyhound rescue groups formed to find forever homes for retired racing dogs. As pets, Greyhounds are affectionate and laid-back, with a friendly, intelligent temperament and they adapt quickly to life outside the racetrack.
Now that greyhound racing is nearly eradicated in the United States, there are fewer and fewer retired greyhounds available for adoption. Greyhound rescues have shifted their focus either to importing and rehoming greyhounds from countries where racing is still popular, or to helping dogs of all breeds.
Greyhound Breed Traits
The Greyhound as we know the breed today is still built for speed. They're said to spend 75% of the time in the air when they run, reaching speeds of up to 45 miles per hour. However, greyhounds are sprinters. Between short bursts of energy, they prefer to spend the majority of their day lazing around and snuggling with their favorite humans.
According to the AKC breed standard, Greyhounds have a slim, aerodynamic build with a deep chest and a high "tuck up" at the waist. Their paws have thick padding, possibly an adaptation from running over hot desert sand, or to help absorb shock. A Greyhound's eyes are located at the sides of their head, giving them an extra wide 270 degree range of vision.
Even their ears are designed for bullet-like momentum, perpetually folded back and lying flat against their head. While flattened ears can be a sign of anxiety in other breeds, flat ears in the Greyhound are the default, resting position.
Greyhounds have a smooth coat that lacks a downy undercoat. They rarely shed and produce little odor or dander. Their coat comes in a wide variety of colors, from solid black, gray, or blue to brindle, with mask markings or parti-color with patches of black, tan, or brown.
Common Greyhound Health Issues
Greyhounds are relatively healthy dogs, but like all other breeds, they are prone to certain health complications.
Due to their deep chest, they're susceptible to bloat, a condition in which the stomach twists and fills with gas. Bloat is a medical emergency that requires surgery, and becomes fatal in just hours if left untreated. To prevent bloat, Greyhounds should not exercise immediately before or after meals, and should not be allowed to quickly gulp their food. Accommodations like a slow feeder bowl and crate rest around mealtime can help prevent bloat in Greyhounds.
Greyhounds are susceptible to an eye issue called pannus, or chronic superficial keratitis (CSK), an autoimmune condition that causes brownish pigmentation to appear on the cornea on both eyes. It usually appears around 2-5 years of age. In early stages, pannus is not painful, but can eventually cause irritation and sometimes blindness in severe cases.
Due to their musculo-skeletal structure, it's uncomfortable for most Greyhounds to sit. When at rest, they prefer to stand or lie down. This is typical and on its own not a cause for concern.
Even so, Greyhound owners should look out for any signs of lameness, stiffness, or pain. Retired racing greyhounds may have inflammation from old injuries. Limping can indicate osteochondritis (OCD), a condition in dogs that have extra cartilage growth at the end of the bone, which can separate and become painful.
Greyhounds are also susceptible to lumbosacral stenosis (LS) as they age, a condition in which the spine narrows, putting pressure on the nerves, similar to sciatica in humans. Greyhounds are also more likely to develop bone cancer than other breeds.
Because of their low body fat and the slow rate at which their liver breaks down certain substances Greyhounds are highly susceptible to adverse reactions from anesthesia and other medications.
Caring For Your Greyhound
While your Greyhound may no longer have their sights set on mechanical hares, and they may no longer hunt wild game, they still have strong prey instincts. Greyhounds should be kept on-leash in open spaces, as they can take off in pursuit of wild animals in the blink of an eye. Their narrow head can make it a challenge to find a collar that they cannot back out of, so they need an extra wide collar or an escape-proof harness.
Greyhounds are highly intelligent, loyal, and sensitive. With consistent training, positive reinforcement, and plenty of opportunities to stretch their legs, a Greyhound can make a wonderful companion and a beloved family dog.
VISION
Every pet deserves to live a long, happy, healthy life.
Swipe
Products You Might Like