Does Your Dog Hate Baths? Try These 7 Hacks for Washing Your Dog At Home
Ask the Vet

Back to results
Enter Your Information
All fields are required
While efforts are made to answer all questions as quickly as possible, if an immediate answer is required or if your pet is in need of urgent or emergency care, contact your pet's veterinarian immediately.
Ask the Vet

Thank you! Your question has been submitted.
You will receive an answer from Dr. Lindsay and our vet/tech team as soon as possible, usually the same day.
All answers are provided for informational or educational purposes only, and are intended to be a supplement to, and not a substitute for, the expertise and professional judgment of your pet's veterinarian.
It may be necessary to consult your pet's veterinarian regarding the applicability of any opinions or recommendations with respect to your pet's symptoms or medical condition.
Close
Ask the Vet

Oops! Your question has not been submitted.
An error has occurred, please reload the page and try again.
Close
Ask the Vet

Got questions? Ask Dr. Lindsay & our Vet Team:
While efforts are made to answer all questions as quickly as possible, if an immediate answer is required or if your pet is in need of urgent or emergency care, contact your pet's veterinarian immediately.
Do these answer your question?
Have another question, or can't find your answer?
Submit your question
We're Sorry!
There is no answer related to your question
Can't find your answer?
Submit your question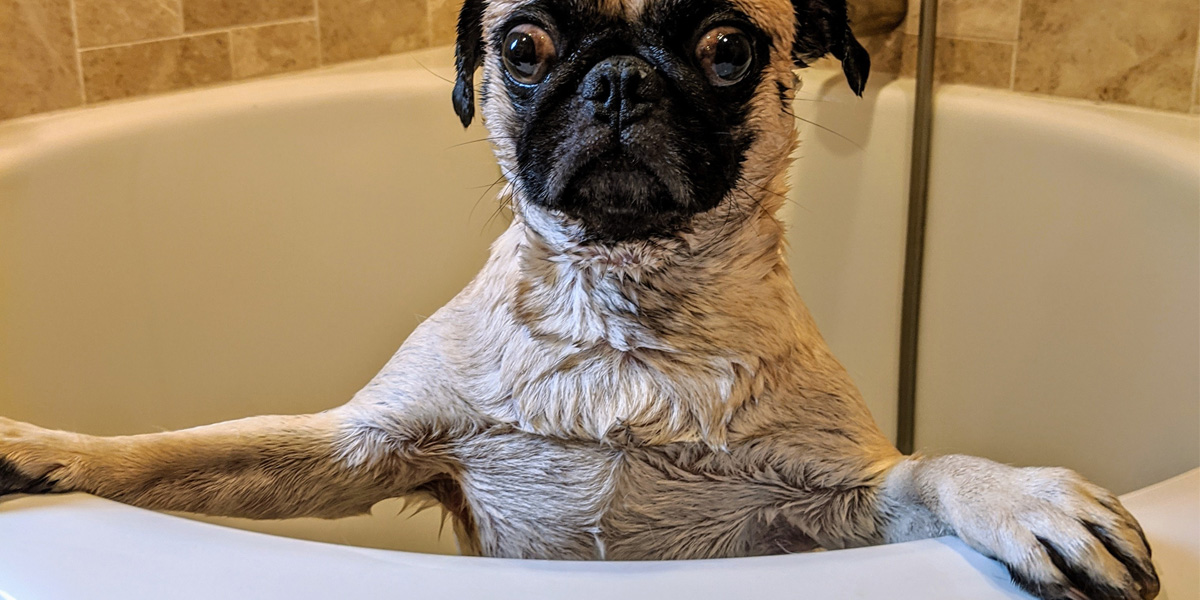 Does the mere mention of the "B" word send your dog into a quivering mess under the couch? Try these seven tips to eliminate bathtime stressors and make bath day safe and comfortable for you and your four-legged family member.
7 Game-Changing Bath Hacks for Dog Parents
1 Trim your dog's nails the day before. While we humans may look forward to being pampered from head to toe on a spa day, it's best to spread out stressful events to just one or two essential grooming tasks at a time, rather than overloading your dog's day with "the works." By trimming your dog's nails a day or two before their bath, you'll also minimize the chances you'll get scratched should they try to climb up your arms to escape the sink or tub.
2 Keep the treats close. You can offer your pet treats during their bath or even spread peanut butter on the side of the tub. Stressed dogs tend to ignore treats, but can still learn to associate bathtime with good times if you have healthy dog treats nearby during their bath. That way, they'll look forward to gobbling up a tasty reward once they're fresh and clean.
3 Collect your bath supplies before grabbing your dog. Round up towels, dog shampoo, brush, rinse cup, pet conditioner, treats, and everything else you may need before you bring your dog into the bathroom. Lay out all bath supplies within arm's reach. With everything close by, you can make bathtime fast, efficient, and less stressful. You'll also eliminate opportunities for your dog to jump out of the tub.
4 Watch out for loud noises. Another commonly overlooked source of stress on bath day is loud noises. To dampen the sound of running water, fill the tub or sink before bringing your dog into the bathroom. Also, try using a cup to rinse instead of holding your dog under the faucet, or use a handheld shower head set to a gentle streaming setting. When it comes to hair dryers, they can be great for getting your dog dry and comfortable more quickly, but make sure it's on low heat and low speed. Keep it moving and avoid hitting their face and ears, concentrating on the thick fur around their neck, shoulders, and back.
5 Never call your dog into the bathroom. The first mistake rookie dog parents make is calling out, "Bella, come get a bath!" Calling your dog into the bathroom is a sure way to give them a chance to hide under the couch. What's more, when you call your dog's name before a potentially stressful event like a bath, they're less likely to respond the next time you call them. Instead, find your dog and calmly, swiftly bring them into the bathroom. Don't forget to close the door!
6 Keep your dog's head dry. When bathing your dog, you usually only need to lather and rinse from neck to tail. There's usually no need to cleanse their face and head. That way, you'll be less likely to get soap or water in their eyes or ears. Instead, wipe their face as needed at the end of the bath using a damp washcloth.
7 Turn up the heat. Besides the sensation of being wet, being cold is a big reason bathing can be unpleasant for dogs. Before you get started, turn the faucet to the perfect temperature or fill the sink or tub. The best water temperature for washing your dog is close to their body temperature. A dog's basal body temperature is normally around 100-102.5 degrees. You'll want to heat their bath water to about 100 degrees, which will feel comfortably warm but not painfully hot to the touch. After the bath, you can keep your dog warm by turning up your home's heat or turning down the air conditioning. Then, dry your pet as quickly as possible, either under a hair dryer or by keeping them covered with a towel until they're dried off.
VISION
Every pet deserves to live a long, happy, healthy life.
Swipe
Products You Might Like