All About Your Boxer: Care Guide and Breed Info
Ask the Vet
Back to results
Enter Your Information
All fields are required
While efforts are made to answer all questions as quickly as possible, if an immediate answer is required or if your pet is in need of urgent or emergency care, contact your pet's veterinarian immediately.
Ask the Vet
Thank you! Your question has been submitted.
You will receive an answer from Dr. Lindsay and our vet/tech team as soon as possible, usually the same day.
All answers are provided for informational or educational purposes only, and are intended to be a supplement to, and not a substitute for, the expertise and professional judgment of your pet's veterinarian.
It may be necessary to consult your pet's veterinarian regarding the applicability of any opinions or recommendations with respect to your pet's symptoms or medical condition.
Close
Ask the Vet
Oops! Your question has not been submitted.
An error has occurred, please reload the page and try again.
Close
Ask the Vet
Got questions? Ask Dr. Lindsay & our Vet Team:
While efforts are made to answer all questions as quickly as possible, if an immediate answer is required or if your pet is in need of urgent or emergency care, contact your pet's veterinarian immediately.
Do these answer your question?
Have another question, or can't find your answer?
Submit your question
We're Sorry!
There is no answer related to your question
Can't find your answer?
Submit your question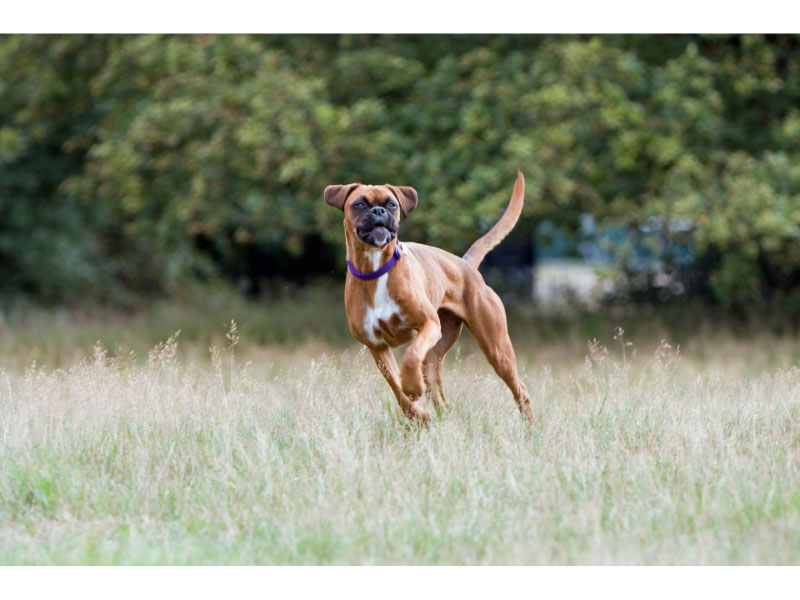 January 13th is National Boxer Day, a day to honor one of America's favorite breeds. Aptly nicknamed "The Clowns of the Dog World," Boxers are goofy and outgoing, with big, expressive brown eyes and a squished, pouty snout. Whether you love them or just want to get to know them, learn all about the Boxer's breed history, breed standard and traits, and best care to prevent and manage common health issues in Boxers.
How The Boxer Dog Breed Came To Be
The Boxer's closest ancestors, the now-extinct Bullenbeisser breed, first appeared in Germany, where they were trained to hunt wild game. Over time, the dogs charmed their way into family homes as guard dogs and companions.
The breed became officially recognized by 1895, when the Boxer Club was founded in Germany as selective breeding became more intentional. It wasn't until the 1930s when four dogs, nicknamed "The Four Horsemen of Boxerdom," were imported from Germany to the United States that the Americanized bloodline of Boxers was established. From then on, the breed grew in popularity. As of 2021, the Boxer is the 14th most popular dog breed in America.
Boxer Breed Traits
The Boxer is a medium-sized breed that weighs, on average, around 55-75 pounds. According to the official breed standard, a Boxer should have a smooth coat that's at least two-thirds fawn or brindle, with a black mask with or without white markings. About 20% of boxers are mostly or completely white. White boxers have a 1 in 3 chance of being deaf in one or both ears, and they do not meet the breed standard, but can still make wonderful pets.
Boxers are naturally born with floppy ears and a long tail. Historically, the dogs have surgeries as puppies that involve cutting part of the ears and taping them to ensure they stay upright, and docking their tail to a short bob. These modifications serve the purpose of preventing injuries in working dogs. For companion dogs, cropping and docking is not medically necessary, but some pet parents may choose to have these procedures done at 8-12 weeks as a cosmetic choice.
Common Health Issues In Boxers
The Boxer is considered a brachycephalic breed, meaning they have a short, "squished in" muzzle. This can leave them prone to respiratory issues like an elongated soft palate that partially blocks the airway and stenotic nares (narrow nostrils).
Boxers are prone to developing heart issues, especially Arrhythmogenic right ventricular cardiomyopathy (ARVC), a condition that is rarely seen in other breeds. It's sometimes referred to as "Boxer Cardiomyopathy." In dogs with ARVC, heart muscle tissue is replaced by fibrous or fatty tissue, resulting in an irregular heartbeat.
As many as 25% of Boxers will be diagnosed with ARVC, some will have few to no symptoms, while others may experience fainting, coughing, exercise intolerance, and collapse. Some dogs with ARVC will develop dilated cardiomyopathy (DCM), in which the heart's chambers become enlarged and unable to pump blood efficiently. Heart failure and sudden death can happen.
With annual testing, ARVC can be caught early, and the condition can be successfully managed with medication.
How To Care For Your Boxer
Boxers are high-energy dogs that need at least an hour of exercise per day, which can be a culmination of walks, jogs, and play sessions.
Boxers are also enthusiastic eaters, but will typically maintain a healthy body condition with sufficient exercise. Like other deep-chested breeds, they are prone to bloat, a life-threatening condition in which the stomach twists and fills with gas. Gulping food too quickly, and eating immediately before or after intense exercise are known risk factors for bloat. Use a slow-feeder bowl to prevent your Boxer from eating their food too quickly.
Due to their short muzzle, Boxers are unable to pant as efficiently as other dogs to maintain their body temperature in extreme heat. Do not leave your Boxer outside for long periods of time, and avoid exercise in hot weather.
Snoring is common in Boxers, and many pet parents see it as one of their lovable quirks. While snoring is typically harmless, it can be an indicator of a health issue. See you veterinarian for annual wellness checkups to monitor your Boxer for respiratory and cardiac issues.
Why We Love Boxers
Boxers are loyal, protective, and people-oriented. They love their families and they're great with kids, and their boundless energy makes them a wonderful match for active owners.
As puppies, Boxers have an egg-shaped head with a protruding dome - "eggheads" or "coneheads" - that matures into a blocky, squarish shape by the time they're fully grown. From awkward, bumbly puppy to noble, regal, and still-so-goofy as adults, Boxers have a special way of winning over every member of their family.
If you're looking to bring a Boxer into your family, you can find a reputable breeder in the AKC Breeder Registry or with the American Boxer Club. Or, look for a breed specific rescue near you.
Swipe
Products You Might Like