How to Use a Flea Comb
Ask the Vet
Back to results
Enter Your Information
All fields are required
While efforts are made to answer all questions as quickly as possible, if an immediate answer is required or if your pet is in need of urgent or emergency care, contact your pet's veterinarian immediately.
Ask the Vet
Thank you! Your question has been submitted.
You will receive an answer from Dr. Lindsay and our vet/tech team as soon as possible, usually the same day.
All answers are provided for informational or educational purposes only, and are intended to be a supplement to, and not a substitute for, the expertise and professional judgment of your pet's veterinarian.
It may be necessary to consult your pet's veterinarian regarding the applicability of any opinions or recommendations with respect to your pet's symptoms or medical condition.
Close
Ask the Vet
Oops! Your question has not been submitted.
An error has occurred, please reload the page and try again.
Close
Ask the Vet
Got questions? Ask Dr. Lindsay & our Vet Team:
While efforts are made to answer all questions as quickly as possible, if an immediate answer is required or if your pet is in need of urgent or emergency care, contact your pet's veterinarian immediately.
Do these answer your question?
Have another question, or can't find your answer?
Submit your question
We're Sorry!
There is no answer related to your question
Can't find your answer?
Submit your question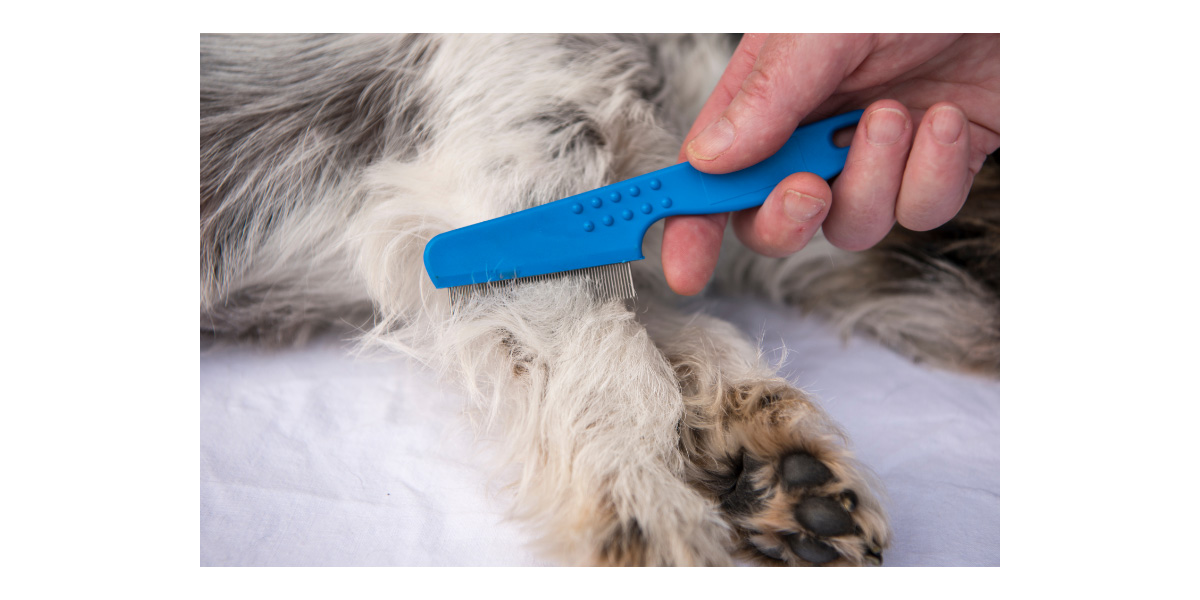 Upon discovering a family pet has fleas, most people usually have the same thought: get rid of those pesky fleas, stat! Nowadays, there are a lot of options to get rid of fleas on your dog or cat, including topical flea treatments, flea collars, shampoos, and even oral flea medicines. But there is one tool you may not have considered that can give immediate results: the flea comb.
What is a flea comb?
As the name suggests, a flea comb is a grooming tool used to comb through your pet's fur. But unlike regular combs, the teeth of a flea comb are very finely spaced allowing the comb to physically trap and remove fleas, flea eggs and flea "dirt" from your pet's fur. The tightly-spaced teeth on the comb are also useful for picking up and removing dander, dirt, and other debris from your pet's fur.
How do I use a flea comb?
You should only use a flea comb when your pet's coat is dry. It can be difficult to work a flea comb through long or thick pet fur, so first go through the fur with a regular pet brush or comb that has more widely-spaced teeth to get rid of tangles.
Prepare a bucket with hot water and dish soap mixed together. This will be used to rinse the flea comb as you're combing your pet, and will serve as a holding spot for the fleas removed during the combing process. To prevent the fleas from jumping out, be sure to use a fairly deep bucket and fill the bucket only halfway. Place newspapers under your pet and the bucket to catch any fleas, flea dirt, or flea eggs that may drop off your pet, or complete the process outside if possible.
Begin at your pet's head, neck and shoulders and work towards the back and tail. Working slowly and gently, stroke the comb in the direction of the fur growth to remove fleas, flea eggs, flea dirt, and dead hair. You'll notice the flea comb quickly filling up with debris, so frequently push down on the comb's teeth to remove all fleas, fur and other debris and drop them into the soap and water mixture. You can also rinse the comb in the soapy water. Continue down the back, chest, sides and belly of your pet. Finally, finish on your pet's legs, paws and tail. Fleas will scurry around and attempt to hide on your pet, so a second combing a few minutes later will catch fleas that were missed on your first pass. Be sure to focus on the belly, under the chin, and the tail area where fleas tend to congregate.
Once you've completed the flea combing session, let the soapy water stand for 10-15 minutes so any fleas have drowned in the bucket of water. Then dump out the water, discard any newspaper you used, and clean the bucket and flea comb. If you used the flea comb indoors, be sure to vacuum the area thoroughly.
Do flea combs work?
A flea comb is a safe, inexpensive and effective way to physically remove fleas from your pet. You only have to inspect the fleas trapped in the flea comb to see that it's working immediately to remove fleas from your pet. However, unless your dog or cat only has a few fleas, it's unlikely you will be able to remove all the fleas in one sitting so you will most likely need to repeat the process periodically. Keep in mind that to completely control a flea infestation, you will also need to treat any fleas, flea eggs, and flea larvae in your pet's environment using a room spray, fogger, or powder. Learn more about flea control indoors and outdoors.
When should I use a flea comb?
Flea combs can be used as often as necessary, provided your pet tolerates the attention. They are especially helpful for young puppies and kittens that may not yet meet the age or weight requirements for other treatments. A flea combing session can be a great bonding experience with your pet, so be sure to reward your dog or cat with plenty of praise and treats so the flea combing is a pleasant experience.
Tip
Even if you don't think your pet has fleas, using a flea comb periodically can help you identify fleas before they become a more difficult to treat problem.
Swipe
Products You Might Like