All About Underbites in Dogs and Cats
Ask the Vet

Back to results
Enter Your Information
All fields are required
While efforts are made to answer all questions as quickly as possible, if an immediate answer is required or if your pet is in need of urgent or emergency care, contact your pet's veterinarian immediately.
Ask the Vet

Thank you! Your question has been submitted.
You will receive an answer from Dr. Lindsay and our vet/tech team as soon as possible, usually the same day.
All answers are provided for informational or educational purposes only, and are intended to be a supplement to, and not a substitute for, the expertise and professional judgment of your pet's veterinarian.
It may be necessary to consult your pet's veterinarian regarding the applicability of any opinions or recommendations with respect to your pet's symptoms or medical condition.
Close
Ask the Vet

Oops! Your question has not been submitted.
An error has occurred, please reload the page and try again.
Close
Ask the Vet

Got questions? Ask Dr. Lindsay & our Vet Team:
While efforts are made to answer all questions as quickly as possible, if an immediate answer is required or if your pet is in need of urgent or emergency care, contact your pet's veterinarian immediately.
Do these answer your question?
Have another question, or can't find your answer?
Submit your question
We're Sorry!
There is no answer related to your question
Can't find your answer?
Submit your question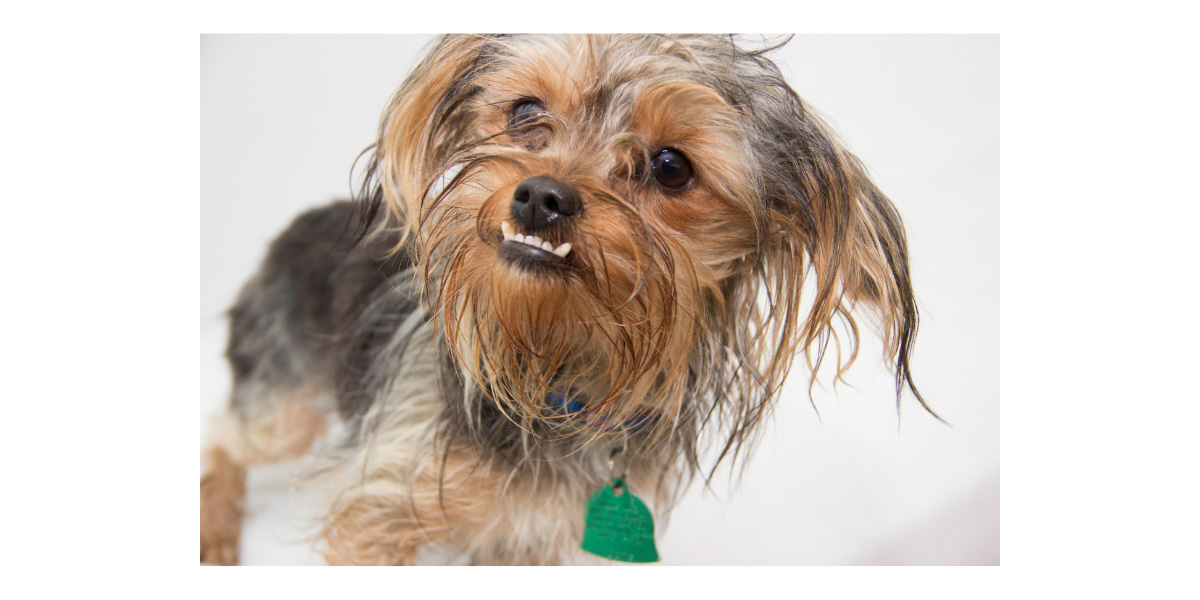 Your cat or dog's underbite, also known as a class three malocclusion, is probably one of their most special quirks. Most of the time, having a crooked smile won't cause your pet any pain or discomfort. For some dog breeds, it's considered to be a normal trait. Even so, pets with underbites need extra care to ensure their toothy grin stays clean and healthy.
What Are Underbites In Pets?
In cats and dogs with a normal bite, the bottom canine teeth will slightly overlap their top canines. For those with a class three malocclusion, the bottom canine teeth stick out a bit further than usual, and the bottom jaw may also be longer than the top. The bottom canines and incisors may be visible at all times, even when your pet's mouth is closed.
There are two types of malocclusions in pets: skeletal and dental. A cat or dog with a skeletal malocclusion will have a mishappen jaw, while those with a dental malocclusion will have a typical skull and jaw shape with teeth that are misaligned.
Why Do Some Cats and Dogs Have An Underbite?
When a kitten or puppy is born, their lower jaw is smaller so they can nurse from their mother. As their milk teeth grow in during their first few weeks, their lower jaw will grow longer. In some cases, the lower jaw grows too quickly, creating a misaligned bite.
Certain breeds are predisposed to developing an underbite. In some dog breeds, particularly brachycephalic breeds like the Pug, Boxer, and French Bulldog, an "undershot" jaw is listed as a desirable trait in the AKC breed standard.
Underbites do not always have a genetic cause. If an animal suffers a traumatic jaw injury, it can affect their bite alignment. Rough play, such as a strenuous game of tug-o-war, can put stress on developing jaw. Retained milk teeth can also affect final bite alignment when adult teeth come in.
Complications of Underbites in Pets
A malocclusion is detectable in pets as young as eight weeks of age. In some cases, the puppy or kitten may grow out of it. In others, though, it can cause complications by the time your pet's adult teeth grow in, which occurs around 6-8 months of age.
Misaligned teeth may dig into surrounding gum tissue or palate, or rub up against other teeth. Eating can be painful in these circumstances. In severe cases, a misaligned canine tooth can create an oronasal fistula, or an opening that leads into the nasal cavity, though this is rare.
Your pet's bite alignment may affect their ability to completely close their mouth, affecting their ability to breathe properly. Also, one of the functions of saliva is to wash away bacteria. If your pet's lower teeth and gums are always exposed, they may tend to dry out and become more susceptible to bacteria that causes gingivitis.
Malocclusions can even affect your pet's posture. They can be more susceptible to hip and joint issues as they get older.
When To Talk To Your Vet About Your Pet's Underbite
If your pet's breed is prone to underbites, or if you notice misaligned teeth when you first bring them home, make sure to talk to your vet about their teeth at their first appointment. Your vet can monitor changes in their bite, may recommend treatment, or might refer you to a veterinary dental specialist.
For older bites with underbites, look out for signs that your pet is experiencing dental pain or developing gingivitis. They may have trouble picking up food or chewing, might shy away when you touch their face, they may have bad breath, or you may notice blood in their saliva.
Treatment And Care for Pets with Underbites
Your kitten or puppy may need early intervention treatment to correct their bite. Your veterinarian may refer you to a veterinary dental surgeon to remove teeth that are causing an issue if they're not essential. It's also possible to reduce the height of canines that dig into oral tissue. In some cases, orthodontic appliances, similar to braces for humans, can be used to shift teeth for a more functional bite.
Most of the time, though, an underbite is a cosmetic issue - or may only add to your pet's charm - and your veterinarian will decide it's not beneficial to correct it.
Pets with a slight underbite are often at an increased risk for dental disease due to exposed teeth and overcrowding. With daily brushing, regular dentals, and a healthy diet, you can keep tartar buildup at bay. To fight buildup between misaligned teeth, which can be hard to reach with a toothbrush, you can also use dental additives, chews, and dental wipes.
Swipe
Products You Might Like