10 Halloween Safety Tips for Pets
Ask the Vet
Back to results
Enter Your Information
All fields are required
While efforts are made to answer all questions as quickly as possible, if an immediate answer is required or if your pet is in need of urgent or emergency care, contact your pet's veterinarian immediately.
Ask the Vet
Thank you! Your question has been submitted.
You will receive an answer from Dr. Lindsay and our vet/tech team as soon as possible, usually the same day.
All answers are provided for informational or educational purposes only, and are intended to be a supplement to, and not a substitute for, the expertise and professional judgment of your pet's veterinarian.
It may be necessary to consult your pet's veterinarian regarding the applicability of any opinions or recommendations with respect to your pet's symptoms or medical condition.
Close
Ask the Vet
Oops! Your question has not been submitted.
An error has occurred, please reload the page and try again.
Close
Ask the Vet
Got questions? Ask Dr. Lindsay & our Vet Team:
While efforts are made to answer all questions as quickly as possible, if an immediate answer is required or if your pet is in need of urgent or emergency care, contact your pet's veterinarian immediately.
Do these answer your question?
Have another question, or can't find your answer?
Submit your question
We're Sorry!
There is no answer related to your question
Can't find your answer?
Submit your question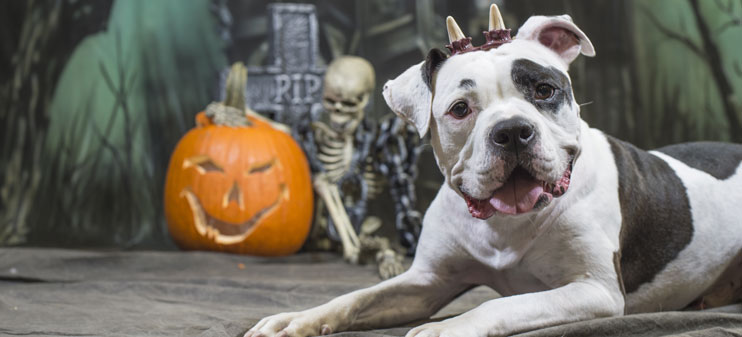 Halloween is a fun time of year where everyone has fun and children roam the streets in search of yummy goodies from neighbors. Even though Halloween usually means we're thinking about dressing up and getting candy, we mustn't leave out the furry members of our family.
Tips for a safe and pet friendly Halloween night
Here are just a few tips for your Halloween night to keep your pet safe.

Don't let your pet eat candy. Candy causes major digestive upset, and may even require a trip to the vet.
Let your pet try on his or her costume before Halloween night.
Make sure your pet's costume has nothing he or she will chew and choke on.
Don't leave your pet in his or her costume for hours.
Never force a costume on your pet.
Keep proper ID on your pet if you take him or her trick-or-treating.
If your pet has a tendency to bite strangers, make sure to keep him or her away from trick-or-treaters.
Keep lit candles and jack-o-lanterns away from your pet.
Always keep a leash on your pet when you are out walking with fellow tricksters.
Practice obedience commands a few days prior to Halloween.
Ways to celebrate Halloween with your pet
In some instances, dogs and cats are may be left out of Halloween celebrations because it's known more as a kid's holiday. However, your pet can join in on the fun whether you prefer to take him or her with you trick-or-treating, or just to stay home and enjoy the festivities. If you are wondering how to include your pet this Halloween, here are a few suggestions below.
Let your pet be a door greeter
If you are planning on staying home and greeting trick-or-treaters, why not let your pet be the center of attention. Children love to see pets do funny things. Can your pet hold the candy basket? If not, no biggie. Whether your pet has "tricks" up his or her sleeve or not, it doesn't matter. It's nice to just keep your pet in the mix.
On the other hand, if you plan to have a costume party, it would be nice to have your pooch be a part of the fun, especially if you are having costume party. If your pet is not a fan of costumes, why not have him or her greet people at the door with a festive Halloween-themed bandanna? Even dogs (and some cats) who aren't fans of wearing costumes will often proudly wear a colorful kerchief!
Take your pet trick-or-treating
Trick or Treating is a great way to spend time with the family. It's also fun to bring your pet along for the walk. Whether you dress up your pet or not, remember to always have a leash and waste bags with you. You don't want to leave any "tricks" for fellow treaters.
In addition, don't let your pet be left out on all the treats! Bring some delicious treats such as Crumps Naturals Sweet Potato Chews along with you for your journey. Just keep a few in your pocket and make your pooch happy!
Stay in and enjoy the night treating
We know some pets may be anxious having people come into their home, but that doesn't mean he or she has to miss out on the fun! If your pet gets a little antsy around strangers in costumes, try playing with your pet in a different room or even outside.
Cats can be fickle sometimes, but putting your furry feline in another room can really help calm him or her. However, don't forget to keep your cat entertained! Let your cat delve deep into his or her primal instinct to hunt and chase prey with an interactive laser toy for cats. As the laser moves your cat will love pouncing and playing with this lovable toy.
If it's nice outside, why not head out for a game of fetch. The Booda Tail-Spin Flyer or a durable football toy, are examples of classic toys redesigned with your dog's safety and enjoyment in mind. If you don't have the backyard space, consider the Himalayan Dog Chew. It's a tasty, healthy treat made from an ancient Nepalese recipe that provides hours of chewing fun. He or she will definitely be entertained for the entire night.
Tip
Running low on treats? Stock up on a variety of treats and toys for your pet just in time for the holiday, and all year-round!
Swipe
Products You Might Like