What Causes Cancer in Cats?
Ask the Vet

Back to results
Enter Your Information
All fields are required
While efforts are made to answer all questions as quickly as possible, if an immediate answer is required or if your pet is in need of urgent or emergency care, contact your pet's veterinarian immediately.
Ask the Vet

Thank you! Your question has been submitted.
You will receive an answer from Dr. Lindsay and our vet/tech team as soon as possible, usually the same day.
All answers are provided for informational or educational purposes only, and are intended to be a supplement to, and not a substitute for, the expertise and professional judgment of your pet's veterinarian.
It may be necessary to consult your pet's veterinarian regarding the applicability of any opinions or recommendations with respect to your pet's symptoms or medical condition.
Close
Ask the Vet

Oops! Your question has not been submitted.
An error has occurred, please reload the page and try again.
Close
Ask the Vet

Got questions? Ask Dr. Lindsay & our Vet Team:
While efforts are made to answer all questions as quickly as possible, if an immediate answer is required or if your pet is in need of urgent or emergency care, contact your pet's veterinarian immediately.
Do these answer your question?
Have another question, or can't find your answer?
Submit your question
We're Sorry!
There is no answer related to your question
Can't find your answer?
Submit your question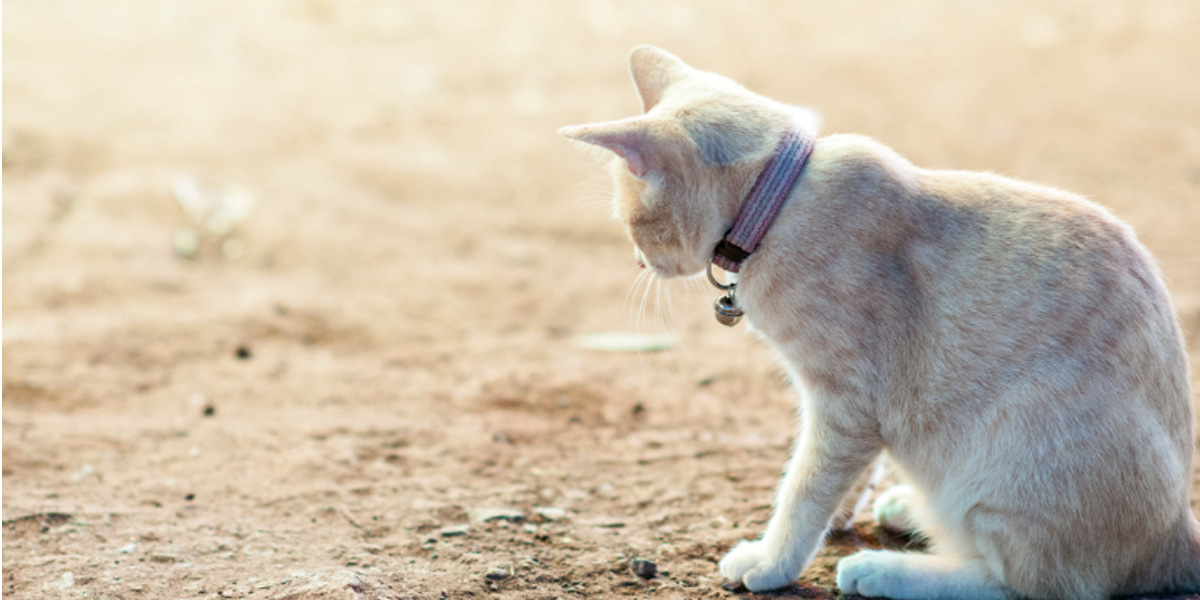 Every 1 in 5 cats will be diagnosed with cancer in their lifetime, and that number has been increasing in recent years. For Pet Cancer Awareness Month, learn what causes cancer in cats and possible reasons why cases have been on the rise, and what we can do to give our feline family members longer, healthier lives.
Viruses and Cancer in Cats
Certain infections can increase your cat's risk of cancer. The best example is the feline leukemia virus (FeLV). FeLV is a contagious (between cats) virus that can cause normal white blood cells to become cancer cells. Some FeLV-positive cats clear the virus without symptoms, others will experience severe immunosuppression and become susceptible to infection, and some develop lymphomas, cancerous tumors of white blood cells called lymphocytes.
Feline immunodeficiency virus (FIV) is another transmissible virus that has been linked to cancer in cats because it suppresses the immune system. Fortunately, FeLV and FIV are preventable. Just keep your cat indoors so they will not risk interacting with infected strays. If your cat does venture outdoors, ask your veterinarian about vaccinating for FeLV.
Do Vaccines Cause Cancer in Cats?
Vaccines protect your cat from many life-saving diseases, including the viruses that cause cancer, like FeLV. While there has been a small number of cases of cats who developed tumors at the nape of their neck, where injections are usually given, this has only occurred in a fraction of a percentage of total cats who receive injections every year.
Fewer than 1 percent of cats have a genetic predisposition to develop malignant tumors as a result of the inflammation caused by any type of injection, which includes not only vaccines, but also antibiotics, subcutaneous fluids, and other injected substances.
The fix? Vets can give injections at other parts of the body to avoid repeated trauma to the connective tissue at the nape of the neck. Some vets are now administering vaccines to the cat's tail or leg, so in the rare event that they do develop an injection site sarcoma, the cat can undergo amputation to remove it with greater odds of eliminating all traces of cancer.
Obesity and Cancer
Over 50% of cats in the United States are overweight or obese. While we do not have much data that specifically links obesity in cats to cancer, there is data from human medical research that suggests such a connection. It's possible that visceral fat that surrounds the organs can cause chronic, low-level inflammation that can prompt abnormal cell growth. Excessive body fat can also affect the way the body produces hormones, which can in turn affect cell growth throughout the body.
Environmental Carcinogens
Carcinogens, chemicals that cause cancer, are everywhere, from home cleaning products and cigarette smoke to UV rays from sunlight and air pollution. You can reduce your cat's exposure to carcinogens by quitting smoking and using natural cleaning products and pesticides, and limiting the use of artificial fragrances whenever possible.
Can Cat Food Cause Cancer?
There is limited research on the specific ingredients in pet foods that may cause or contribute to cancer. There are some suspected links between the diets our pets eat and the growing increase in cancer cases.
Aflatoxins, a type of mold that grows on corn, peanuts, and other plant-based pet food ingredients, have been linked to certain types of cancer in cats. While small amounts are considered inevitable in food production, exposure over time may increase your cat's cancer risk.
Carrageenan, a thickening ingredient used in canned cat foods, has been studied to be a possible carcinogen but research studies are inconclusive. Even so, some brands no longer use this ingredient in their recipes, just to be on the safe side.
While there is no direct evidence that high carbohydrate content in most dry cat foods causes cancer, some veterinary practitioners, especially holistic vets, believe it's best to feed a high protein, low carb diet. This would include canned, dehydrated, fresh-cooked, freeze-dried raw, and raw diets, rather than an all-dry kibble diet.
Such a diet can help your cat lose weight, stay hydrated, and can promote better digestion. These improvements can lower inflammation in your cat's body and in turn possibly prevent cancer. So, it may be worthwhile to switch your cat from dry food to canned.
Your cat's immune system helps fight cancer each day. Some exposure to carcinogens is inevitable, but it doesn't mean they will definitely develop cancer. By limiting their exposure to carcinogens, you can greatly increase their chances of staying cancer-free for life.
Swipe
Products You Might Like