Top 10 Signs of Cancer in Pets
Ask the Vet
Back to results
Enter Your Information
All fields are required
While efforts are made to answer all questions as quickly as possible, if an immediate answer is required or if your pet is in need of urgent or emergency care, contact your pet's veterinarian immediately.
Ask the Vet
Thank you! Your question has been submitted.
You will receive an answer from Dr. Lindsay and our vet/tech team as soon as possible, usually the same day.
All answers are provided for informational or educational purposes only, and are intended to be a supplement to, and not a substitute for, the expertise and professional judgment of your pet's veterinarian.
It may be necessary to consult your pet's veterinarian regarding the applicability of any opinions or recommendations with respect to your pet's symptoms or medical condition.
Close
Ask the Vet
Oops! Your question has not been submitted.
An error has occurred, please reload the page and try again.
Close
Ask the Vet
Got questions? Ask Dr. Lindsay & our Vet Team:
While efforts are made to answer all questions as quickly as possible, if an immediate answer is required or if your pet is in need of urgent or emergency care, contact your pet's veterinarian immediately.
Do these answer your question?
Have another question, or can't find your answer?
Submit your question
We're Sorry!
There is no answer related to your question
Can't find your answer?
Submit your question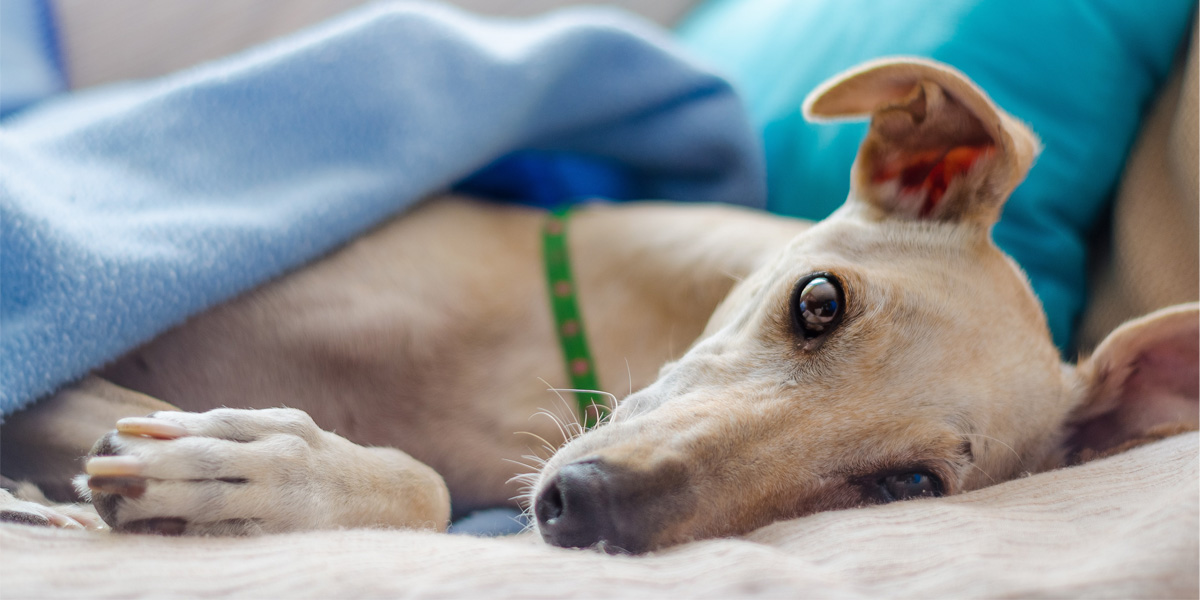 May marks Pet Cancer Awareness Month. Approximately 1 in 5 cats and nearly 1 in 2 dogs will get cancer at some point in their lifetime. Chances are, if you're a pet parent you have had a pet with cancer or will someday have a pet diagnosed with some form of cancer.
While it's hard to think about, there is some good news. By getting to know the most common signs of cancer in pets, you'll know to look for, and maybe even one day save your pet's life. Many forms of cancer are treatable, especially if caught early, and cats and dogs actually experience fewer adverse side effects from treatments than you might expect.
Top Ten Signs Of Cancer In Pets
Keep in mind that cancer symptoms are usually nonspecific, which means that they can be attributed to a number of health conditions. See your veterinarian as soon as possible if you notice any of these symptoms:
1. Growths, spots, or bumps
2. Unexplained weight loss
3. Lack of appetite
4. Fatigue
5. Abdominal swelling
6. Neurological changes
7. Difficulty breathing
8. Increased thirst and urination
9. Enlarged lymph nodes
10. Unkempt coat
1. Cancerous Growths in Pets
Lumps, bumps, growths, and spots appear on pets from time to time, and they're not always cancerous. Older pets tend to get benign fatty tumors that only require treatment if they impede your pet's comfort. But cancerous tumors can take on many appearances. They can be flat or rounded, small or large, smooth or textured, and can vary in color from whitish to red to pink to black, or may appear multi-colored. If you notice a new growth on your pet, you should see your veterinarian, who can take a tissue sample to check for cancer cells.
2. Unexplained Weight Loss
Unintentional, unexplained weight loss is never a good thing, even if your pet is overweight. Weight loss can be an early sign of many types of cancer, including those that affect organs and tissue close to the digestive system, but any type of cancer can cause the body to struggle to absorb nutrients. Abnormal weight loss can be accompanied with loss of appetite, but it can also happen even if the pet is eating normally.
3. Lack of Appetite
It's not unusual for pets to go off their food every now and then, especially if they already have a finicky appetite. But when they are refusing to eat or not finishing their meals more than usual, a vet visit is in order. Cancers of the digestive system and nearby tissues can put pressure on the stomach, making it feel full even when your pet hasn't eaten. Changes in metabolism can also affect appetite.
4. Fatigue
Excessive tiredness, lowered tolerance for exercise, and changes in activity can point to many types of cancer. It can be attributed to the cancer stealing nutrients from the body. Lymphoma can prevent the body from producing red blood cells, leading to anemia and fatigue.
5. Abdominal Swelling
A bloated, distended belly should be treated as a medical emergency. In dogs, it can indicate bloat. In both cats and dogs it can be a sign of intestinal worms. A tumor in the abdominal cavity can cause a distended belly, and may be surrounded by fluid buildup.
6. Neurological Symptoms
Tumors affecting the brain or spinal cord can cause neurological symptoms like seizures, stumbling, head tilt, weakness in limbs, strange eye movements, and circling. In some cases cancer can cause unusual behavior like aggression.
7. Difficulty Breathing
A tumor that affects the lungs or an organ or tissue in the abdominal cavity could potentially interfere with breathing. Coughing, rapid breathing, wheezing, and lethargy can indicate cancer, as well as many other serious conditions like congestive heart failure, but can be attributed to respiratory issues like allergies or asthma. Regardless, breathing issues warrant a vet visit or trip to an emergency vet.
8. Increased Thirst/Urination
Cancers of the thyroid, adrenal, or pituitary can cause increased thirst, which in turn can result in frequent urination, accidents in the house, or urination outside the litterbox. A tumor of the urinary tract can cause increased urination and straining to urinate, and can make your pet more susceptible to bladder infections.
9. Enlarged Lymph Nodes
Lymph nodes contain white blood cells to fight infection in the body, so if your pet is fighting an acute illness, they may have slight temporary swelling. Lymphoma is one of the most common cancers in cats and dogs. It affects the white blood cells, causing non-specific symptoms throughout the body and symptoms manifesting as swollen lymph nodes. Swollen lymph nodes are commonly found under the neck, in the arms, in the groin, behind the knees, and in the armpits.
10. Unkempt Coat
Cancer that affects the endocrine system can cause changes in your pet's skin and coat. It may be unusually dry, flaky, or greasy in appearance, and they may have hair loss due to overgrooming. Your pet may lick itchy or painful areas of their body, which can lead to bald patches and hot spots. Cats that do not feel well may no longer groom themselves.
Remember, every single one of these common cancer symptoms in pets is nonspecific. Just because your pet has one or more symptoms does not mean they have cancer. Even so, they will still need veterinary care for a diagnosis and treatment plan to alleviate painful or uncomfortable symptoms.
Swipe
Products You Might Like