Can Cats Eat Cheese?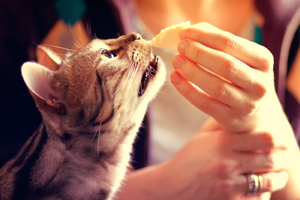 While most people can agree dogs are irresistible when begging for food. What some may find surprising is that cats might give dogs a run for their money when it comes to begging for food. As pet parents it's important to know what is safe for cats to eat as well as what is unsafe or toxic for cats to eat. Some foods like chocolate and grapes are well-known unsafe foods for both dogs and cats, but what about cheese?
Yes, cheese is safe to give to cats in moderation. It is definitely ok for a treat or as a disguise for medication. However, depending on the cat, it might not be a good idea.
In plenty of cartoons, cats and bowls of milk almost always coincide, but the truth is, cow's milk and other dairy products aren't really good for cats. Once cats are weaned from drinking their mother's milk, the body's production of lactase significantly decreases, meaning most cats are actually lactose intolerant. Because of the intolerance to lactose, cats' bodies have a hard time digesting cheese and eating a lot of dairy can cause a gastrointestinal upset. If your cat is lactose intolerant and ingests dairy, your cat could experience gas and diarrhea.
What if my cat isn't lactose intolerant?
If your cat isn't lactose intolerant, it's still best to give cheese in moderation because cheese is very high in fat and sodium. Adding too much cheese to a cat's diet can cause weight gain, which can lead to many health issues down the road such as diabetes, obesity, heart disease and joint problems. The high sodium in cheese can also cause increased thirst and abnormal urination, and if a high-salt diet is continued, it can lead to hypertension and kidney problems.
Ultimately, cats are carnivores and have no real need for cheese, but some may find it tasty because of the fat and protein content in cheese. If you do decide to give your cat cheese, make sure to do so in moderation and keep an eye on them in case the cheese doesn't sit well with their digestive system.