Ask the Vet About Vaccine Side Effects in Dogs and Cats
Ask the Vet About Vaccine Side Effects in Dogs and Cats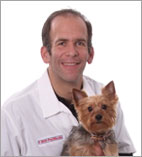 As a practicing veterinarian, Dr. Dym has over 19 years of experience and dedication to enhancing the overall health and well-being of pets. His commitment and passion for pet health continuously drives him to learn more about the art and science of homeopathy through ongoing training and education.
Submit Your Question
Category:
Vaccine Reaction
Topic:
Puppy Vaccine Reaction
Question:I got my eight week old 3 1/2 pound puppy his first DAPP vaccine on Saturday, he vomited once Saturday night but then seemed fine for a few days, but then became lethargic, unsteady on his feet, and his two ears are swelled up, he will only eat if I bring food to his bed and will only drink water if I hand feed him with an eye dropper. Could this be a delayed reaction from the vaccine? My vet is prescribing prednisolone (5MG/5ML) at 1.8 ML by mouth until there is improvement and then taper him off of it. Does this seem like the right dosage for such a little puppy? I found a website that said the anti-inflamatory dose is .1 to .3 mg per pound and my puppy is only 3.5 pounds.
Answer:There is a really wide range of dosage for prenisolone. I usually like to start lower and then increase if needed.
Category:
Vaccine Reaction
Question:If I scewed up and used the salution to mix parvo and carona virus can I substitute water
Answer:No - don't inject tap water under their skin.
Category:
Vaccine Reaction
Topic:
Vaccination Symptoms
Question:I took two of my 4 month old puppies to get their vaccinations today and now they're both vomiting alot and now the vets are closed. Is there a way to stop the vomitting?
Answer:If they are vomiting, they need to be rechecked by a veterinarian - see an emergency veterinarian if yours is closed.
Category:
Vaccine Reaction
Topic:
Vaccinations needed at three yeard
Question:My five pound Cocapoo needs a rabies vaccination. He also needs vaccinated for a regular visit. Thank you,, Augusta Collins. 812-777-9169
Answer:In most states a veterinarian must administer the Rabies vaccine, so contact a veterinarian in your area for help getting those vaccines.
Category:
Vaccine Reaction
Topic:
In Stupor After Vaccin
Question:Hi there. My dog is having an adverse reaction to a vaccine. He has been in a stupor, peed his bed, and cannot get in position to poop outside. What can the vet do? Will he be okay?
Answer:Have him rechecked immediately - if it is a vaccine reaction, often the vaccine company will reimburse you.
Category:
Vaccine Reaction
Topic:
My dog have parvo virus.
Question:Hlo sir , My dog have parvo virus . How can i treat or save my dog . tell me simple methods.
Answer:At home treatment is not recommended unless treatment at your vet is simply not an option at all. Here is a link to our article about treating parvo virus, with a section about at-home care: https://www.1800petmeds.com/education/parvovirus-treatment-dogs-30.htm
Category:
Vaccine Reaction
Topic:
Disoriented and weak
Question:My dog got her vaccines Wednesday and Friday and Saturday she?s been disoriented, weak, and crying. What?s wrong with her can it be a reaction?
Answer:That far after the vaccines, that would be unusual if she was totally normal on Thursday, but definitely have your veterinarian recheck her.
Category:
Vaccine Reaction
Question:I had my 10 year old Havanese vaccinated yesterday. He had Rabies and a 6 in 1 vaccine. When we got home he started vomiting but we thought it was due to the car ride. All night he has been restless and is still vomiting periodically and coughing occasionally. Could this be an anaphylactic reaction?
Answer:Yes, have your veterinarian recheck him. If he is better, still inform your veterinarian - they will want to spread out vaccines or skip them in the future with him, so they'll need to note that in his record.
Category:
Vaccine Reaction
Question:How often do dogs need vaccines to be ?up to date?? I?ve read different opinions. Some say once a year, others say that vaccines are too strong to do once a year and that it should be every few years.
Answer:It depends on the individual vaccine - most are approved for once every 3 year adminstration, but not all and different states are different and your individual dog's vaccine history matters as well.
Category:
Vaccine Reaction
Question:Is vomiting after annual vaccinations common?
Answer:No, not really common - and it can be a sign of an adverse or allergic reaction but if it was just once, was associated with the motion of the car, and seemed to resolve really quickly, it may not be from the vaccine. Either way, let your veterinarian know so they can decide if they need to alter your dog's vaccine protocol.
Category:
Vaccine Reaction
Topic:
Reaction to vaccine
Question:My dog has diahrrea after vaccines yesterday, she vomited twice also. She seems ok otherwise, should I worry a out this, is she in danger?
Answer:That is an adverse reaction to the vaccine - have your veterinarian recheck her if she still feels bad. If she is fine now, when you get this, still call and inform your veterinarian that she had a hard time with the vaccines - they will want to alter her vaccine protocol in the future so that doesn't happen.
Category:
Vaccine Reaction
Topic:
4 vaccines in 4 days
Question:Hello Dr. Dym, my 8 week old French bulldog has not been the same since he was administered Lyme and Bordetella vaccinations as well as a heart dewormer chewable. The night of the same day he received the vaccine, he started breathing extremely heavy and was trembling as he took breaths inward. He was brought to the Vet ER and left there in a oxygen station for the evening. The next morning, the vet called me and advised my pup could have had an allergic reaction to the vaccines but they were not 100% sure. The vet further advised my pup was doing better and was acting like a ?normal puppy?. Now being a few days later, my puppy is still lethargic, sometimes breathing heavy, and not being active whatsoever. The day I adopted the French bulldog pup(3 days prior) he was vaccinated for distemper and a dewormer. My question is, was my pup Over-vaccinated? And if so, what home remedies options do I have? Thank you for your help.
Answer:We usually try to wait a couple of weeks between vaccines. I don't live in an area where Lyme is super common so maybe you need to worry about it more than we do and start vaccinating them younger than we do or something. You may want to contact the vaccine manufacturer and discuss treatment options - they need to know the vaccine may have caused this as well. There isn't anything (that I can think of) over-the-counter that would be stronger than what they have already treated him with at the emergency clinic.
Category:
Vaccine Reaction
Question:My dog was vaccinated 2 days ago and seems to have a hard time opening his eyes and is lethargic what should I do I took him to the vets because I thought he might have something in his eyes but nothing was there what do you recommend
Answer:That is an adverse reaction to the vaccine - have the veterinarian that gave the vaccine recheck him - even if he is better, be sure they know so they alter his vaccine protocol in the future.
Category:
Vaccine Reaction
Question:Hi there. My 10 week old Lab Retriever Pup (20lbs in weight) just had his Parvo shot yesterday & seems to be in a bit of discomfort today. No swelling at the site. But he does seem sore to the touch in the injection site & is crying quite a bit & is very restless today. No vomiting or diarrhea. Should I consider administering any pain meds? Thank you! Best, Belinda
Answer:Let your veterinarian know that he is painful - he shouldn't be painful enough to need pain medications the day after the vaccine. You can only give aspirin, never any other human pain medications.
Category:
Vaccine Reaction
Topic:
Vaccines vs generic
Question:Is a generic heart guard vaccine as good as a generic
Answer:There is no Heartgard vaccine, but the generic chewables with the same active ingredient as heartgard are just as good (like TRiHeart and Iverhart, etc), so yes.