Ask the Vet About Urinary Tract Infections in Dogs and Cats
Ask the Vet About Urinary Tract Infections in Dogs and Cats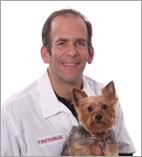 As a practicing veterinarian, Dr. Dym has over 19 years of experience and dedication to enhancing the overall health and well-being of pets. His commitment and passion for pet health continuously drives him to learn more about the art and science of homeopathy through ongoing training and education.
Submit Your Question
Question:Hello! So I have a question about my one year old Girl Tabby Cat, I have noticed for the 2nd day now that she's been going to her litter box obsessively and she looks like she's peeing but she doesn't and that's getting me a bit worried.. I'm thinking maybe a UTI? And if so what can I give her to help her if she's in discomfort?
Answer:Once they have obvious clinical signs of a urinary tract infection (if that is what it is), they are at the point where they need antibiotics which requires a prescription from a veterinarian that has met her face-to-face, so go ahead and see your veterinarian if her symptoms persist. Crystals or FLUTD are just as common and are treated differently so a urinalysis is ideal to either confirm or deny the UTI - this is usually quickly and easily done at your vet's office. Increasing the water in her diet by gradually switching her to canned food can help either problem not recur in the long run.
Question:I was wondering about giving a dog Clavamox who takes Denamarin. She seems to have a UTI, her sister also just had one. I'm sure they are unrelated but we were given more Clavamox than needed, by double. So, I'm considering giving her the extra full dose of Clavamox that we have.
Answer:A dog can usually take Clavamox and Denamarin at the same time but it is ideal to consult your veterinarian that prescribed the denamarin and has access to your dog's blood work to say for sure.
Topic:
Constant Urination
Question:What would be the reasons that my dog pees so much?
Answer:Often there will be an underlying medical problem like a urinary tract infection, kidney disease, diabetes, Cushings disease, etc. - most treatable but treated very differently, so have your veterinarian run some quick tests to see what's going on.
Question:Hi! my dog has a recessed vulva and prone to UTIs. Today I noticed a wet spot, not sure if urine or discharge. From past experiences I don't think its a UTI. My question is, is it normal that she has discharge or leaked some urine? Thank you
Answer:Incontinence is a totally separate issue but possible - see your veterinarian for a definitivie diagnosis and to rule out another UTI - it is usually pretty easy to treat.
Topic:
Blood in urine after being spayed
Question:I have two cats that were spayed and about a week afterwards began having blood in their urine. One is 1 year old and the other is 6 months. Both exhibit no other health issues. They eat well, play, climb, jump, and are affectionate towards us. They are outside cats that visit inside daily, use a litterbox inside. We made them stay in a couple of days before surgery and a couple aftewards. They were ready to go back outside. They hunt outside for food as well as are regularly fed dry cat food and plenty of water. I know going to vet would be the best to get answers but we are unable to afford all of the tests they will want to do on two cats after paying for surgey and check ups. If at all possible if we can do something at home for them would be better on all of us. The drive is 30 minutes to and from the vet and stresses them out greatly. They got sutures and had to go to the vet to get them removed yesterday. The doctor said everything looked great and got home and now they are peeing blood.
Answer:That is very unusual. You need to call the veterinarian that did the surgery. There is nothing over-the-counter I can recommend that would actually help.
Question:hello, my male rotti (aged 3) was recently diagnosed with an uti 3 days ago. prior to diagnosis he had started urinating blood only for about 36 hours. he's on baytril and the blood has stopped being in urine. however for several hours now he's been urinating almost non stop while sitting or laying down, even when asleep. it started while blood was still present and i initially thought it was helping toxins leave the body. he's on day 2 of the baytril (today will make 3) and my question is, is this apart of him barely urinating any for 36 hours (few blood only drops per 1-2), while drinking more water than normal or is this apart of the healing process?
Answer:It possibly could just be part of his healing process, but I would inform your veterinarian who will want to run some blood work (if they didn't the other day) and check his kidney function and screen for things like diabetes to be sure nothing else like that is going on.
Question:My pin-pug came on with a UTI this morning. She is not wincing or showing signs of pain. She is drinking water to hydrate herself. Her urine is a dark yellow with droplets of blood at the end of her urination. She does squat 2-3 more times as if she needs to urinate again and this is when the liquid is more blood than urine. I have collected a sample, but is there anything you can suggest to help her today/tonight before I can get her to the vet tomorrow? Thanks
Answer:Just try to encourage her to drink as much water as possible. Keep her from urinating a couple of hours before her appointment as they will probably want to collect a sterile sample.
Topic:
3 yr old dog peeing while asleep
Question:Hello, I have a 3 year old spayed Black Labrador Retriever who suddenly started peeing while she was asleep 3 weeks ago. Her vet did a urinalysis and results were normal except her ph was high (ph=8.) The vet gave her antibiotics for the last week to see if that could help but bedwetting accidents continue. The last few days when she goes outside she needs to pee twice to empty her bladder. She has no other symptoms- no accidents when awake, appetite is fine, still very playful and water consumption is only slightly elevated (most likely elevated due to summer weather.) My other dog displays no symptoms. The vet is stumped and suggested I take her to an internal medicine specialist or urologist for more tests. What could be causing this issue and what treatments would be needed?
Answer:It is ideal to see an internal medicine specialist to rule out many rare things, but spay incontinence is not that uncommon and usually responds pretty nicely to Proin. (https://www.1800petmeds.com/Proin-prod10304.html)
Topic:
Urinate indoors after being boarded for a week. Now whimpers when he needs to potty.
Question:Is there anything I can do for him now he's home?
Answer:That is quite odd for a male dog. I would definitely have your veterinarian check him out if he continues. Keep him from urinating a couple of hours before his appointment so they can collect a urine sample.
Topic:
Bladder incontinence
Question:My dog will dribble pee when bending backwards trying to itch her but, what could it be?
Answer:Have your veterinarian run a urinanalysis and rule out a urinary tract infection. Incontinence in older females is usually pretty easy to control - we usually start with Proin: https://www.1800petmeds.com/Proin-prod10304.html
Topic:
Possible interactions with Metacam and Zeniquin prescribed for cat
Question:My cat was having trouble urinating. I took her to my vet and she prescribed Metacam and Zeniquin for her. I always look up drugs that are prescribed to my animals to make sure there are no interactions I should be aware of. Several online veterinary sites say that Metacam should not ever be given to cats as it causes renal failure and death in cats. Also, I read that the Zeniquin should not be taken within two hours of food that contain iron, calcium, magnesium or zinc and both her dry and wet food contain them. Are these drugs safe to give me cat and do I give them with food. My vet is unavailable today.
Answer:Using metacam sparingly in cats is ideal because of the potential for side effects. It has recently been approved for use in cats & works better than just about anything, so it should be fine for pain relief for her urinary issues. Then I have neevr heard that about Zeniquin, but I don't use it a lot, so contact the manufacturer for the best advice - Zoetis is the manufacturer and they are usually very helpful to pet parents. (Be sure a urinalysis was performed to rule out crystals and confirm a bladder infection. Also gradually changing over to canned food seems to help these kitties with urinary issues.)
Topic:
Urinary incontinence
Question:I have a 13 1/2 year old Shiba Inu. She has been fairly healthy up until the past couple of months. She has been suffering with urinary incontinence sometimes during the day but mostly at night. I began giving her Active Chews cranberry urinary health chews and VetriScience Bladder control tablets. Is it safe to take these two things together. I have not seen any improvement but it has only been a week. Thanks
Answer:Proin works nicely for this problem in our older female dogs. Your veterinarian will run a quick urinalysis to rule out a bladder infection and then they can prescribe it - here is a link to read about it: https://www.1800petmeds.com/Proin-prod10304.html
Topic:
My cat is fixed and spraying
Question:Why is my fixed cat spraying and what can I do to stop it
Answer:I always like to do a urinalysis on them to make sure there is no underlying medical problem because male cats have a problem with getting plugged up where they cannot urinate and this becomes an expensive life-threatening situation - it's uncomfortable fo rfemales as well. If it is caught early, it is cheap and easy to fix with prescription food (usually canned food to increase his water intake) that is formulated for urinary tract problems. If it is behavioral, start by getting more litter boxes that are different shapes and sizes and contain different types of litter. Here is a good article, written by another veterinarian, from a site that I trust with more pointers and advice about "inappropriate urination in cats": https://veterinarypartner.vin.com/default.aspx?pid=19239&id=4951508
Question:My Chihuahua had bladder stone surgery removal on Monday unable to urinate after procedure on the following day. A catheter has been inserted to assist relief of urine. Has some clots from urine. No blockage or tumors in urethra. Why can my dog pee? He's an Addison's dog and on prednisone 1/4 of 1 ml. Also on thyroid meds.
Answer:With no access to his x-rays, records or surgery, it is really hard for me to guess - your veterinarian, who has access to all of that is definitely the best one to ask. You can ask for a referal to a veterinary urologist is his problems continue.
Question:My two male cats keep peeing everywhere. Yes they are both intact so I do know they spray still. But they are squating down and urinated in large amounts. I got them both their own litterbox, unscented litter, they both seem healthy, I really dont know what else to do. Please help?
Answer:Have your veterinarian perform a urinalysis on them to be sure they don't have underlying medical problems (crystals, urinary tract infection, etc.) but it is probably because they are not neutered.