Ask the Vet About Dry Eye (KCS) in Dogs and Cats
Ask the Vet About Dry Eye (KCS) in Dogs and Cats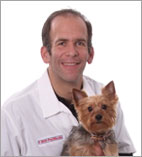 As a practicing veterinarian, Dr. Dym has over 19 years of experience and dedication to enhancing the overall health and well-being of pets. His commitment and passion for pet health continuously drives him to learn more about the art and science of homeopathy through ongoing training and education.
Submit Your Question
Question:I think my dog may have conjunctivitis but I won't be able to seee a vet till next Monday will she be ok
Answer:It is ideal for you veterinarian to check her out before Monday - I don't like to take a chance with eyes, especially because I can't see it to gauge the severity. Use an eye lube until you can get her like this one: https://www.1800petmeds.com/Optixcare+Eye+Lube+-prod12294.html
Topic:
Changing iris color
Question:I have a mix breed dog that looks like a black nose cure. when out of its comfort zone a spot on it's iris changes to a bright pail green then goes away when it feels at home.
Answer:That is certainly unusual. I would have to see what you are talking about to give you any kind of advice, so definitely show that to your veterinarian when you can.
Topic:
Surrounding Eyelining Infection
Question:My dog is a male 1 year old. For the past few days he's had redness around (not in) the eye area. He is 55 pounds and is very active. But im wondering what it could be because we haven't moved or done anything new in the house but the redness is getting worse. The red spots are around his right eye and he lost a little fur in that spot. Its really close to his eye and its 2 tiny red spots. Would you happen to know the issue and what i can do to help my dog get better? Thank you
Answer:There are many things that cause hair loss around the eye like that (allergies, mange, ringworm, etc) and most are treated differently so have your veterinarian run some quick tests and make a diagnosis. Since allergies are the most common, here is a link to our article about various treatments for allergies, both over-the-counter and prescription: https://www.1800petmeds.com/education/allergy-treatment-dog-cat-9.htm
Question:My dog woke up today with small eyes and the skin/fur around his eyes were slightly swollen. It itches for him and I can tell he's pretty uncomfortable. The night before everything was normal with him and nothing seemed wrong. When I applied a wet towel on his eyes it seemed like it was soothing for him. Other than his eyes he is eating and acting like normal. Is is an allergic reaction or something more serious?
Answer:It sounds like an allergic reaction. Oral antihistamines (like benadryl or zyrtec) should help - if not, see your veterinarian for a definitive diagnosis.
Question:My 11 year old Golden Retriever has suddenly developed some kind of eye issue where he can't open his eyes and they seem filled with thick mucus. He also seems a little lethargic
Answer:At his age, really a lot of things could be going on, so having your veterinarian check him out is ideal.
Question:My dog is having some discharge from her eyes, what can I administer to her to her stop it.
Answer:It is ideal for your veterinarian to see her to diagnoses an underlying cause (allergic conjunctivitis, dry eye, etc.) because lots of problems are treated differently. If it is minor, she may respond to an over-the-counter eye lube like this one: https://www.1800petmeds.com/Optixcare+Eye+Lube+-prod12294.html
Topic:
Fish has white eyes?
Question:My fish Karen, aged two, eyes turned white after I added new decor, and the tank had a white film all over, after cleaning the tank and removing all the new items, her eyes are still white and she is lethargic.
Answer:I am solely a small animal (just dogs and cats) veterinarian so contact a veterinarian that specializes in exotics for help with your fish. You can often find them at your local veterinary school or on websites like Justanswer.com.
Question:Hi my phone number is 443-522-1717 please give me a call I want to schedule an appointment tomorrow for my Chinese water dragon at Saturday June 6th at 8:15 p.m.
Answer:This is the Ask the Vet section for medical questions only. Contact a veterinarian that specializes in exotics for help with your ferret. You can often find them at your local veterinary school or on websites like Justanswer.com.
Question:We want a dna testing kit. Gold standard. Breeder in denial. Recommend a dna kit for PRA testing please.
Answer:I usually use Wisdom labs for DNA testing. Here is a link to their site: https://www.wisdompanel.com/en-us. I don't think they do PRA testing - you would have to contact a veterinary ophthalmologist about that.
Topic:
Looks like an eye infection
Question:Is there is any eye medication for it. it's the right eye
Answer:It really depends on what it is secondary to - often it will be allergic conjunctivitis which will need a steroid as well as an antibiotic, BUT your veterinarian will need to stain the cornea to be sure there is no corneal involvement before starting a topical steroid.
Question:My Beagle has a cherry eye. Is there anything I can do for her?
Answer:Here is a link to a really good article about Cherry Eyes, written by another veterinarian, from a site that I trust: https://veterinarypartner.vin.com/default.aspx?pid=19239&id=4951447
Topic:
Eye swollen maybe infected
Question:Old enough to eat solid food. Right eye extremely swollen and shut.
Answer:If you cannot see the eyeball, it is so severe that seeing a veterinarian is certainly ideal to potentially save the kitten's vision. If that is just not an option at all, try Terramycin ointment, if the kitten is old enough - I can't tell exactly how old by what you describe.
Question:Rosie my 11 yo bulldog mix has been doing ok and then last Monday my dogs were playing in the dog park and my younger pit bull played a little too hard and Rosie got tripped and fell over. Monday night she developed a red milky hazy circular shape on top corner of her iris. Wednesday she went to Vet and the vet didn?t know what it is so she referred her to opthamologist. The appt is tomorrow. Rosie has been eating and drinking and using the bathroom fine. But I can tell she is in pain. She keeps her eye closed and this morning there is a milky discharge out of her effected eye. I have a rx for her for carprofen, she hat can I give her for pain until appt tomorrow. I feel so awful she is hurting. I don?t know how to help her. Please help.
Answer:I'm glad she has the appointment with the ophthalmologist tomorrow because I can't tell exactly what is going on with her. The carprofen should be enough to ease the discomfort until tomorrow. Don't give anything else because it may interact with the Carprofen and/or whatever plan the ophthalmologist makes for her tomorrow.
Question:Meds for dog with cataracts please you dont have category for cataracts
Answer:Surgery is really the only treatment for cataracts - controlling an underlying condition, like diabetes, helps them not get thicker, but once they have them, surgery is necessary. Here is a good article about cataracts, written by another veterinarian, from a site that I trust: https://veterinarypartner.vin.com/default.aspx?pid=19239&id=4951531
Question:My English bull dog has one red eye and has been red for a few days and then started squinting this morning. What should I do
Answer:It is ideal to see your veterinarian for a diagnosis, but if that is not an option, You can try over-the-counter things like human saline eye wash solution and/or eye lubs like this one: https://www.1800petmeds.com/Puralube+Vet+Ointment-prod1621.html