Ask the Vet About Diabetes in Dogs and Cats
Ask the Vet About Diabetes in Dogs and Cats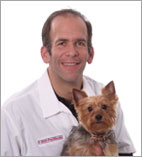 As a practicing veterinarian, Dr. Dym has over 19 years of experience and dedication to enhancing the overall health and well-being of pets. His commitment and passion for pet health continuously drives him to learn more about the art and science of homeopathy through ongoing training and education.
Submit Your Question
Question:My dog has Diabetes and will not eat for me to give her an insulin shot what should I do
Answer:Picky diabetic dogs can be a serious problem - I would need a LOT more information to really help you through this as it is more of a behavior problem - there is no magic cure that helps all dogs so work closely with your veterinarian that treats her to find what you can do for her.
Question:My dog has diabetes. I give her 8 units of insulin morning and nighttime. Her glucose is fine in the morning but it is very high at night. What can I do?
Answer:There are so many variables involved in their blood sugar (not only insulin but diet of course, exercise, other complicating medical conditions, etc.) so it is really ideal to work closely with your veterinarian who can factor in everything and make a good individual plan for your dog. Here is a good article, written by another veterinarian, from a site that I trust, about diabetics that are hard to regulate & different plans: https://veterinarypartner.vin.com/default.aspx?pid=19239&id=4952918
Topic:
Significant weight loss
Question:Is it possible that my dog may have diabetes. She has loss all her energy and playfulness. She looks to be malnourished, but eats 6 cups of dry Borel pet food with 2 to 3 tablespoons of borel wet food per day. She also has some table scraps. Her condition has gotten worse in the past 2 months and it started at least 6-8 months ago.
Answer:There are MANY causes of weight loss in a dog - everything from intestinal parasites to cancer and about a million in between, including diabetes. Your veterinarian can run some quick tests on her to determine what is going on. Intestinal parasites are easy to treat, but you need to know which one(s) she has - there are many - if you start just guessing, use a broad spectrum dewormer that covers whip worms, like Panacur - there is a link to Panacur in this link about causes of weight loss and potential treatments, both over-the-counter and prescription: https://www.1800petmeds.com/education/causes-weight-loss-dog-cat-37.htm
Question:Hi, my dog is 12 pounds and a Pomeranian. She?s the regular sized one. Not a throwback or a toy size. I read she?s supposed to be the max of 7 pounds. She just got diagnosed type 1 diabetes. She is 9 years old. I bought natural balance fat dogs food which is a low calorie food. It says for 10 pounds or less give 3/4 cup per day. But for 10-20 pounds give 3/4 cup to 1.5 cup. How much should I give her? 3/4 cup? Or less than 3/4 cup a day?
Answer:If she is diabetic, one of the prescription foods for diabetics is much more ideal. Then every dogs metabolism is so different, you have to kind of guess and then adjust the food according to whether she is an appropriate weight for her frame. It is always important that she eats a little when she gets her insulin.
Question:My dog is drinking a lot of water, not eating much and seems to get over heated easier then usual. He is a bigger shitzu/Pom.
Answer:Those are possibly signs of diabetes, but could be something else as well like kidney disease or Cushing's disease. All of these are treated entirely differently so have your veterinarian run some quick tests and make a diagnosis.
Topic:
Frequent ruination and weight loss
Question:Does my dog have diabetes?? He is an 11 yr old American Bulldog. He has been urinating frequently for the past 2 to 3 months and he stopped eating as much as he was doing.
Answer:Diabetes is possible, but so are other possibilities (kidney disease, Cushing's disesase, etc) - all of these are treated very differently so have your veterinarian check him out and run some blood work to see what is going on so you can treat him appropriately.
Question:Thank you for your response. My cat has diabetes, but does not have any other urinary issues. The urinary tract formula food that I am asking about states 3,728 kcal/kg (402kcal/cup). Is this bad or good for him? Thanks again.
Answer:If he has no urinary tract issues, a food formulated for cats with diabetes is ideal. The prescription ones work the best - Purina DM in particular - they are expensive but save you money in the long run because the diabetes is so much more well-controlled.
Question:Is a "urinary tract formula dry food" good for cats with diabetes?
Answer:Not necessarily but it depends on the individual cat (does s/he have urinary issues as well as diabetes?) and the food you are talking about (is it low carb/sugar?).
Question:My dog has been urinating quite a bit. She isn?t fixed so it may be because we moved into a new apartment. However the urine smells sweet like syrup.
Answer:Many things can cause this (urinary tract infection, diabetes, kidney problems, Cushings disease, etc etc.) so have your veterinarian check her out if it continues or worsens. Keep her from urinating before her appointment so they can collect a urine sample.
Topic:
Standard range of sugar level
Question:Hello, my 9 year old cat has diabetes and gets 2 insulin injections per day of 6 units each dose. What is the range that is safe for cats? Is a high protein diet best for him? Thank you.
Answer:There is a LOT of individual variation with cats so your veterinarian is the best one to talk to about the dosage, but yes, 6 units is a lot. You are looking for a low carb/low sugar diet, not really a high protein diet, which is not recommended for older cats. There are really fantastic diets formulated for cats with diabetes - some cats are able to come off of insulin entirely if they will eat them, like Purina DM: https://www.proplanvetdirect.com/dry-dm-dietetic-management
Topic:
diabetic 11 year old dog
Question:My 11 year old, 120 pound, neutered, Rottweiler gets 28cc of Novolin N every 12 hours. is that a lot? Also, he eats a lot of grass, should I make him stop? He was diagnosed on November 5th, 2019. Prior to the diabetes he weighed 130 pounds. I've had him since he was 4 months old.
Answer:28cc would be fatal so I assume you mean 28 units of insulin - yes, some large dogs need that much.
Topic:
Checking blood sugars
Question:Is there a way to do a test at home with a human finger prick and human monitor? If so where would be best for you to prick the dog to get blood?
Answer:Here is a really great article, written by another veterinarian, from a site that I trust all about this (and lots of other information): https://veterinarypartner.vin.com/default.aspx?pid=19239&id=4952916
Topic:
Excessive water/urination/Tiredness
Question:I have a young Staffordshire mix M/N almost 2 years old. He drinks a lot of water and also urinates a lot. When he plays with other dogs he seems to get extremely tired. In January and February of this year he would vomit when he got up in the morning I started feeding him two meals a day and the vomiting stopped. My main concern is the water intake and Urinating and tiredness could you please give me some guidance
Answer:At his age, it may be nothing (or behavioral, like an obsessive compulsive disorder) BUT since there could be an underlying medical problem (diabetes, kidney disease, Cushings disease, etc.) it is dieal for your veterinarian to run some blood on him and perform a urinalysis. Even if all the blood work comes back normal, it is good to establish baselines for everything the blood work checks for (red count, white count, platelet count, blood sugar, kidney enzymes, liver enzymes, electrolytes, etc etc.)
Topic:
Newly diagnosed cat with diabetes
Question:I'm getting no information from the vet about this and am getting angry. They were able to provide me with the astronomical amount I am to be billed for this vet visit though. Maybe you can help? I was given a script for Glargine insulin qty 1. And a script for U-100 insulin syringes. I asked how many doses per bottle the vet told me to ask the pharmacist, the pharmacist should know how much the dosage is for the cat? My thought immediately, you're the vet, shouldn't you know? Asked about the size of the syringe apparently there seems to be different sizes of the U-100 (dose?) I got nothing from the vet again, other than U-100? Can someone please help? I've already paid a grand, looking at a lot more than that for the hospital and I'm not even sure if I can afford the insulin? Does this only last a month or please for a cat let it be a longer supply???
Answer:It depends on the dosage and frequency that you are giving the insulin and the size of the vial of insulin. I would need to know all of that, which yes, your veterinarian and the pharmacist should have all of that information, so just shoot them an email.
Topic:
I think my dog has diabetes
Question:Gary suddenly could not walk properly turns out it i because he can?t see all of a sudden . He has been drinking and urinating a lot lately . He is 11 years old dachshund
Answer:Yes, it sounds like he has diabetes, so see your veterinarian to confirm that (easy blood and/or urine tests) and get him started on treatment - usually insulin injections which are easier to give than you think.