Top 5 Exercises for Dogs with Arthritis
Ask the Vet

Back to results
Enter Your Information
All fields are required
While efforts are made to answer all questions as quickly as possible, if an immediate answer is required or if your pet is in need of urgent or emergency care, contact your pet's veterinarian immediately.
Ask the Vet

Thank you! Your question has been submitted.
You will receive an answer from Dr. Lindsay and our vet/tech team as soon as possible, usually the same day.
All answers are provided for informational or educational purposes only, and are intended to be a supplement to, and not a substitute for, the expertise and professional judgment of your pet's veterinarian.
It may be necessary to consult your pet's veterinarian regarding the applicability of any opinions or recommendations with respect to your pet's symptoms or medical condition.
Close
Ask the Vet

Oops! Your question has not been submitted.
An error has occurred, please reload the page and try again.
Close
Ask the Vet

Got questions? Ask Dr. Lindsay & our Vet Team:
While efforts are made to answer all questions as quickly as possible, if an immediate answer is required or if your pet is in need of urgent or emergency care, contact your pet's veterinarian immediately.
Do these answer your question?
Have another question, or can't find your answer?
Submit your question
We're Sorry!
There is no answer related to your question
Can't find your answer?
Submit your question
Back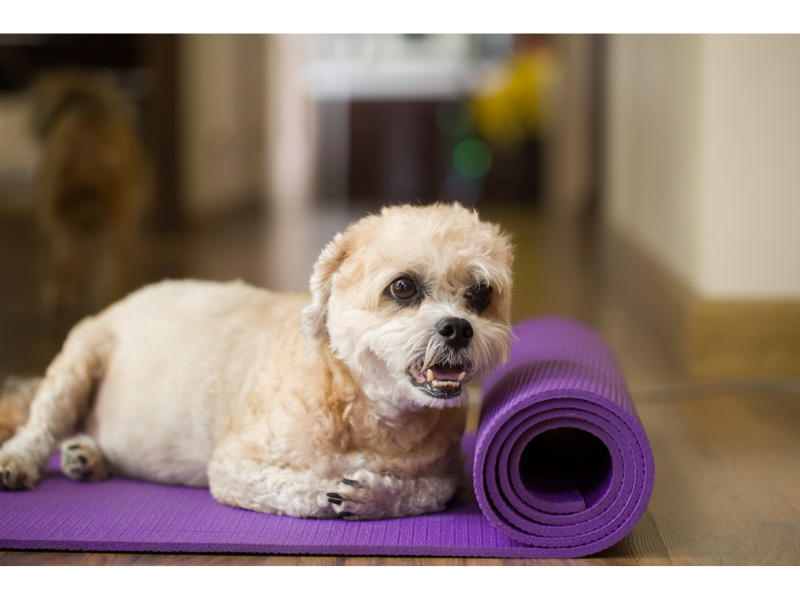 Most senior dogs will develop arthritis in at least one joint as they get older. Osteoarthritis, caused by the wear-and-tear on joints that comes with aging, affects over 80% of dogs over eight years old. Other forms of arthritis can affect younger dogs, including that caused by autoimmune diseases, soft tissue injuries, and hereditary disorders like hip dysplasia.
Dogs with any form of arthritis, and both mild and severe symptoms, can benefit from light exercise. Keeping an arthritic dog moving increases circulation, helps control painful inflammation, and keeps their muscles strong and flexible. Plus, exercise helps your dog stay at a healthy weight, helping to reduce strain on their joints.
For Animal Pain Awareness Month, learn about our favorite low-impact activities, pain relief techniques, and exercises for dogs with arthritis.
Preventing Pain When Exercising A Dog With Arthritis
High-impact movements will be painful for dogs with arthritis and can lead to injuries and worsened inflammation. Avoid allowing your dog to play fetch, jump in and out of a car without a ramp, climb on and off furniture without steps, and practice agility. Any activity that involves jumps, sharp turns, long distances, or high speeds is best avoided.
When exercising outdoors, consider the ambient temperature, too. Cold weather thickens the synovial fluid in the joints, making them feel creaky and less lubricated. Dry air and changes in barometric pressure can contribute to tightness, swelling, and increased pain. If your dog must go out in the cold, keep trips short and insulate their joints with long-sleeved bodysuits, coats, boots, or even doggy leggings.
Alternatively, keep your dog out of extreme heat. While warmth can be beneficial for achy joints, older dogs can struggle to maintain their body temperature. Keep walks short on hot summer days and make sure your dog always has access to fresh, clean water. Dehydration can lead to cramping, muscle spasms, poor circulation, and decreased synovial fluids, leading to more pain and inflammation.
Stretching and Warm-Ups for Dogs with Arthritis
It's smart to start any exercise with a warm-up - literally. Applying a warm compress to your dog's achy joints helps the blood vessels expand, increasing circulation of blood, oxygen, and nutrients and reducing inflammation. You can use a hot water bottle or a homemade microwaved rice compress, just take care that it's not too hot or applied for more than a few minutes at a time to prevent burns.
Stretching, too, helps improve circulation and range of motion. Work with a canine physiotherapist to learn how to help your dog stretch. It's imperative that you're careful not to put your dog at risk for increased pain and injury. Working with a hands-on practitioner is the best way to learn to safely and effectively do stretching exercises at home.
Massage, too, can be helpful, but can be harmful if done incorrectly. Always learn from a professional, go slowly, and pay attention to your dog's signals. Stop periodically when using stretching or massaging techniques to gauge if your dog is experiencing pain. Stretches and massage should never hurt.
Top 5 Exercises for Dogs with Arthritis
Once your dog is warmed up and ready to move, you can try some light-impact activities in short sessions. Remember, It's better to be consistent with short sessions each day, than to push your dog too far or for too long.
1. On-leash walks.
Unfortunately, letting your dog run loose at a dog park is one of the worst activities for those with arthritis. Even if your dog is in pain, they may push themselves too far. A moderately paced, on-leash walk is a great way to bond with your dog while ensuring that they are not overexerted. Stick to flat surfaces and soft, but not unstable terrains. Hard surfaces like concrete can be painful, and certain flooring and ice can be slippery. Sandy beaches, too, can be difficult to walk on. Grassy fields and carpeted environments are perfect for achy joints.
2. Swimming.
Dogs that find exercise painful can often still swim. The buoyancy of water supports your dog's mass, making them feel weightless. Keep in mind that if your dog hates swimming, they still may not like it now that they're older. Underwater treadmill therapy, available at some vet clinics and rehabilitation centers, can be a great alternative to swimming. Plus, it's temperature-controlled, so you won't have to worry about potentially cold water shocking your dog's joints.
3. Nosework.
Did you know that mental stimulation can be just as fulfilling as exercise? Nosework activities, whether done at a training facility or at home, allows your dog to follow their nose at a relaxed pace. Sniffing has also been linked to a lower heart rate and stress relief for anxious dogs. It can be as simple as hiding a few treats around your home, or as involved as using professional equipment with essential oils to fine-tune your dog's nose.
4. Balance exercises.
Working on your dog's balance is a low-impact activity that can help reduce their susceptibility to injuries, improve their posture, and strengthen more muscle groups than walking alone. Exercises that incorporate stability balls, balance pods, see-saws, and ramps can all help improve balance and improve flexibility but should be used under the guidance of a canine physiotherapist to avoid strain and injury.
5.Trick-training.
Obedience training, doggy dancing, and trick training can all be great ways to expand your dog's mind, provide mental stimulation, and incorporate light exercise in fun, creative ways. Just take care to avoid cues that could be painful for your dog. Dogs with painful shoulders may struggle with "take a bow," but can build core strength with "sit pretty."
Pain Management for Dogs with Arthritis
Always talk to your veterinarian before starting or changing your dog's exercise plan. Your veterinarian can conduct a physical examination and diagnostic tests to find out which joints are affected, the stage and severity of symptoms, and rule out any underlying health issues.
Also talk to your veterinarian about pain management options like over-the-counter pain relievers, prescription arthritis treatments and medications, and food and supplements that can help keep your dog active and healthy.