15 Most Overlooked Signs of Anxiety in Dogs
Ask the Vet

Back to results
Enter Your Information
All fields are required
While efforts are made to answer all questions as quickly as possible, if an immediate answer is required or if your pet is in need of urgent or emergency care, contact your pet's veterinarian immediately.
Ask the Vet

Thank you! Your question has been submitted.
You will receive an answer from Dr. Lindsay and our vet/tech team as soon as possible, usually the same day.
All answers are provided for informational or educational purposes only, and are intended to be a supplement to, and not a substitute for, the expertise and professional judgment of your pet's veterinarian.
It may be necessary to consult your pet's veterinarian regarding the applicability of any opinions or recommendations with respect to your pet's symptoms or medical condition.
Close
Ask the Vet

Oops! Your question has not been submitted.
An error has occurred, please reload the page and try again.
Close
Ask the Vet

Got questions? Ask Dr. Lindsay & our Vet Team:
While efforts are made to answer all questions as quickly as possible, if an immediate answer is required or if your pet is in need of urgent or emergency care, contact your pet's veterinarian immediately.
Do these answer your question?
Have another question, or can't find your answer?
Submit your question
We're Sorry!
There is no answer related to your question
Can't find your answer?
Submit your question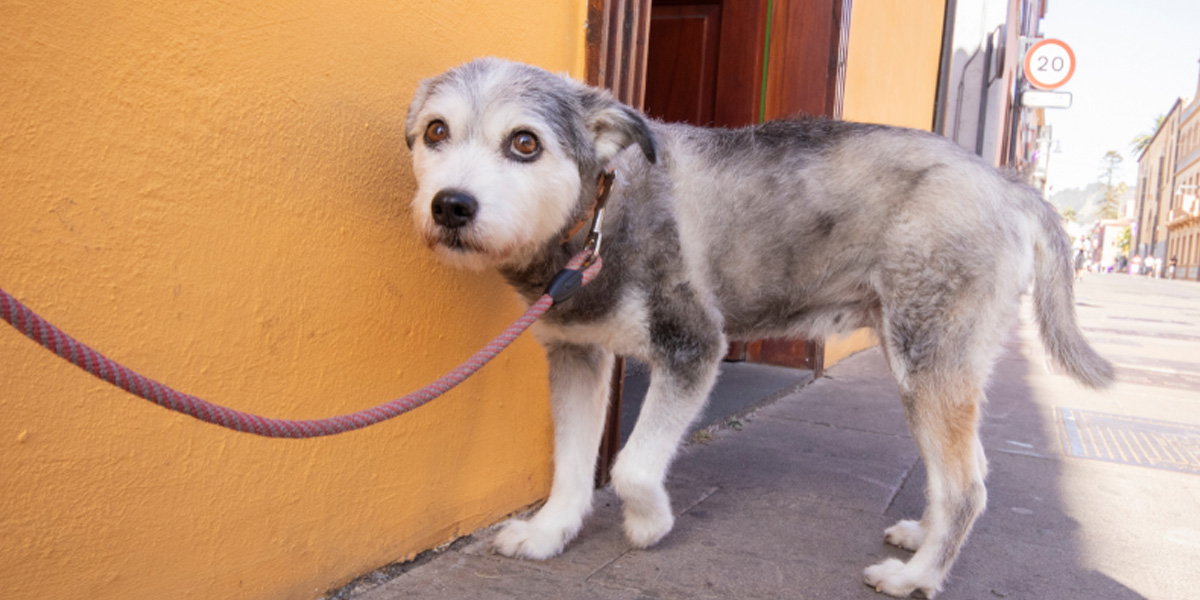 Did you know that at least 50 percent of dogs show signs of anxiety? The most common triggers for dogs are loud noises, separation anxiety, and reactivity around unknown humans and other animals.
In honor of Pet Anxiety Awareness Month, we're highlighting some of the most commonly overlooked signs of anxiety in dogs. Symptoms of anxiety are commonly mistaken for spite, overprotectiveness, dominance, and willful disobedience, but they can actually be signs that your dog needs a little extra help to feel safe and secure.
Top 15 Signs of Anxiety in Dogs
Destructive chewing
Self-mutilation
Potty accidents
Lip-licking
Yawning
Avoiding eye contact
Ignoring commands or cues
Shaking off
Pacing
Excessive barking
Clinginess
Reduced appetite
Gastric upset
Excessive shedding
Emptying anal glands
Destructive Chewing
Have you ever left your dog home alone, only to come home to a flurry of pillow stuffing, gnawed shoes, or other destroyed belongings? While most dogs will go through a destructive chewing phase while they're a puppy, with training and redirection they usually outgrow it by the time they're two years old.
If your dog is destroying your belongings long past that chewing phase, especially if it doesn't happen while you're home, it could be a sign of separation anxiety. Some dogs suffer extreme stress when alone, and may direct that stress into destruction. They may also destroy their surroundings in an attempt to escape isolation.
Self-Mutilation
Instead of chewing objects, some dogs take out anxiety on themselves. They may lick, scratch, or chew at their own skin, sometimes to the point of forming raw, patchy, even bloody areas on their body. When caused by a food intolerance, you'll typically notice this behavior pretty much anytime, even when you're home, but an anxious dog will only scratch, lick, or chew on themselves in moments of extreme stress.
Potty Accidents or Anxiety?
If your dog has been house-trained, yet they're suddenly having accidents around your home, anxiety could be the culprit.
Since scent is such an important part of your dog's communication and the way they navigate their environment, it makes sense that they might relieve themselves in unexpected places when they're feeling anxious. It's not uncommon for dogs with separation anxiety to have accidents when they're left alone, especially in places that smell like their favorite humans, for example on a bed or in a pile of laundry.
What Are Calming Signals?
During a stressful interaction with their human or another animal, dogs sometimes use a nonverbal form of communication known as "calming signals" to avoid confrontation. You might notice this when your dog seems to be ignoring you during training, or when another dog is being too overzealous during play.
Calming signals can manifest as yawning when your dog is not actually tired, avoiding eye contact, and sniffing the ground even though there's nothing there. They may "shake off" after a stressful encounter even though they're not wet as though to shake off the anxiety.
The "Whale Eye" of Anxiety
Compared to humans, dogs have a large iris, and you normally can see little to none of their sclera (white part) of their eye. If your dog is stressed, though, they may turn their head away and look at you from the corner of their eye.
Commonly known as "whale eye," it can be a sign that your dog is anxious or uncomfortable. When seen during stressful encounters, such as a too-tight hug, or if you approach your dog while they're eating, it may be a warning sign that your dog may bite. The "whale eye," is a dog's way of saying, "give me space!"
Physical Symptoms of Anxiety in Dogs
Some signs of anxiety present as physical symptoms, rather than behaviors. An anxious dog may drool excessively, vomit, or seem to go off their food. Many dogs with separation anxiety refuse to eat or drink water until their pet parent returns.
It's normal for your dog to shed as the seasons transition, and some breeds shed year-round. In stressful situations, you might notice that your dog leaves extra hair everywhere - on your clothes, in the backseat of your car, or even on the vet's table. Adrenaline can actually cause your dog's fur to fall out instantaneously.
Anal gland expression is another common response to stress. Like skunks, dogs have a gland on either side of their anus, which normally empties as they defecate. When your dog is anxious, their anal glands may spontaeiously leak a brown, fishy-smelling fluid.
Treating Anxiety in Dogs
Every dog feels anxious from time to time, but those who suffer from ongoing issues may need support. Talk to your veterinarian about creating a treatment plan which may include over-the-counter supplements, prescription medications, or referral to a veterinary behaviorist.
Swipe
Products You Might Like