3 Benefits of Adopting a Senior Pet
Ask the Vet
Back to results
Enter Your Information
All fields are required
While efforts are made to answer all questions as quickly as possible, if an immediate answer is required or if your pet is in need of urgent or emergency care, contact your pet's veterinarian immediately.
Ask the Vet
Thank you! Your question has been submitted.
You will receive an answer from Dr. Lindsay and our vet/tech team as soon as possible, usually the same day.
All answers are provided for informational or educational purposes only, and are intended to be a supplement to, and not a substitute for, the expertise and professional judgment of your pet's veterinarian.
It may be necessary to consult your pet's veterinarian regarding the applicability of any opinions or recommendations with respect to your pet's symptoms or medical condition.
Close
Ask the Vet
Oops! Your question has not been submitted.
An error has occurred, please reload the page and try again.
Close
Ask the Vet
Got questions? Ask Dr. Lindsay & our Vet Team:
While efforts are made to answer all questions as quickly as possible, if an immediate answer is required or if your pet is in need of urgent or emergency care, contact your pet's veterinarian immediately.
Do these answer your question?
Have another question, or can't find your answer?
Submit your question
We're Sorry!
There is no answer related to your question
Can't find your answer?
Submit your question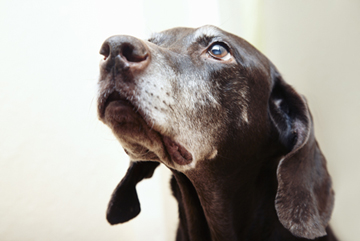 According to pet adoption site Petfinder, the average pet in rescue spends 12 weeks listed on the site looking for a home. However, senior pets and other less-adoptable animals take nearly four times as long to get adopted. A survey run by the site this year showed that 28 percent of shelters and rescues considered senior pets to be the hardest to place in homes, more than any other group.
With pet and human life spans increasing, more and more senior pets are ending up in shelters and rescues through no fault of their own. Unfortunately, not all of these pets have a happy ending. Approximately 400,000 senior animals die in shelters each year in the USA, according to Jackie Meyers, founder of senior dog rescue Peaceful Passings Senior Animal Rescue.
While many people look first to puppies/kittens and young adult pets when adopting, senior pets have a lot to offer families. We reached out to several senior pet experts to give us the top benefits senior pets offer that younger pets may not.
Those experts are:
Jackie Meyers, founder of Peaceful Passings Senior Animal Rescue in Virginia
Rosalyn Acero of Golden Woofs and mom to active senior dog, Sugar
Sherin Thommes, Vetting Manager of Grey Face Rescue and Retirement, a foster-based senior dog rescue in central Minnesota
Easier training
Puppies are harder to train because their attention is all over the place. Senior dogs are calmer and can focus better, therefore, they are easier to train. Senior dogs are smart and if you adopt one, they will walk into your home with some knowledge of house manners and commands. Younger dogs have to be taught from scratch."- Jackie
Laid-back company
"Senior dogs tend to be calmer. They care more about being with you, than out running after squirrels. Senior dogs care about what you are saying to them and will listen. Younger dogs care about where the ball is and who is going to throw it next."- Jackie
"Many shelter senior dogs are healthy and well-mannered companions. They are experienced in many ways and can be great for first-time dog owners. Senior dogs are not frisky like young dogs. Most of them are content taking a short relaxing walk or just quality downtime on the couch."- Rosalyn
Gratitude and devotion
"Senior dogs bring bucket(s) full of love and a special kind of joy. When you adopt a senior dog, you give an extraordinary gift, and in return, you'll be loved unconditionally."- Rosalyn
"A benefit of adopting a senior dog is that they want a family to love and a comfy spot to sleep. They don't ask for much and give lots of love in return."- Sherin
"Puppies naturally get a lot of attention and come to expect it. Not so for senior dogs. When you give your love, care, and attention to a senior dog, they truly appreciate it and will show it with their devotion. Puppies are too young to know what devotion means."- Jackie
Dogs are typically considered seniors at 7 years old, although the actual age of seniority depends on the pet's size. For a small-breed dog, 7 might be middle-age, whereas for a giant breed, a 5-6 year old dog might be considered a senior. For more information, learn how to care for a senior dog should you decide to adopt.
Even with all the benefits senior dogs offer, many families are hesitant to adopt due to concerns about medical needs or a shortened lifespan. If you're not ready to adopt a senior pet, you can still help this needy group by fostering! Senior dogs benefit from low-stress home environments, and foster families can continue working with pets on training and socialization before adoption.
Shelters and rescues across the country are constantly looking for foster families. To find a senior pet in need of a foster or temporary home near you, visit 911fosterpets.
Swipe
Products You Might Like