Does Salt Kill Fleas?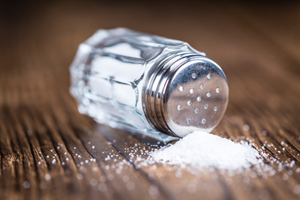 A common saying about fleas is that when you see one flea on your pet, there are 1,000 more in your home. Flea infestations can be a real pain and require a committed effort in order to rid your home of fleas. When fleas get in your home, they invade just about everything, including the furniture, rugs and carpets, and just about anywhere your pet goes. This happens as a result of adult fleas jumping off your pets onto other surfaces and laying eggs. The best way to make sure this doesn't happen is to prevent it all together by using effective flea preventions, like NexGard, on your pet.
Vet-Recommended Flea Prevention:
With that said, life happens and you might find yourself with a home infestation of fleas. Have no fear, you will be able to get rid of them through treatments and other home remedies. Popular home and yard treatments include Advantage Carpet and Upholstery Spray for inside the home and Advantage Yard & Premise Spray for outside the home. Both quickly and effectively kill fleas and ticks and help control infestations. Other natural remedies include vacuuming and steam cleaning, which also help.
A less common, but surprisingly effective way to get rid of fleas in your home is by using the salt from your kitchen cabinet. Yes, believe it or not, salt is a natural flea killer.
How does salt kill fleas?
Because of sodium's moisture-absorbing qualities, it acts as an abrasive that can easily damage and penetrate through fleas' exoskeleton. As a result, when salt is sprinkled onto a flea, it dries out the flea's body, leading to no chance of survival.
Either finely ground refined household salt or sea salt can be used to kill fleas in your home. Simply sprinkle the salt evenly over carpeted areas or furniture and leave it be for about 12-48 hours. Since flea eggs can fall in between carpet fibers, it's best to brush the salt in for better results. Also, make sure not to touch the salted areas so as not to track it all over the home. Ensure your pet does not have access to these areas as well because can be harmful to pets if ingested. After 12-48 hours, thoroughly vacuum the treated areas as well as possible.
Max's Tip

Check your pet daily for fleas or ticks!