Can Cats Eat Bread?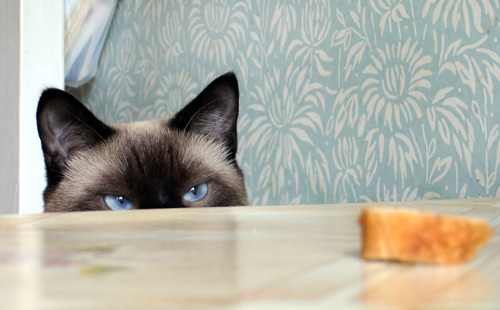 Does your cat beg for a bite of your baguette? Do they moan and meow when you eat sandwiches, bagels and rolls?
As it turns out, cats can eat bread, but it's not the best thing for them. Here's what you should know before letting your cat sample your sourdough:
Is Bread Toxic To Cats?
Most breads contain simple ingredients like flour, water, milk, eggs, yeast and olive oil. None of these ingredients are particularly harmful to cats in small amounts.
So, if your cat accidentally gets their paws on your loaf, they will most likely be just fine. At worst, your cat will experience acute indigestion.
If your cat eats a substantial amount of bread, or is showing any symptoms of discomfort, or you're otherwise worried, see your veterinarian for assistance.
If you're unsure of whether or not your cat needs an emergency vet visit, you can talk to your vet over the phone or call the ASPCA Animal Poison Control Center at (888) 426-4435.
When Can Bread Be Dangerous To Cats?
While most bread is harmless to cats, there are a few exceptions.
For example, if your cat gets into uncooked bread dough, it can actually expand within the warm, moist environment inside their stomach.
This can lead to bloating and stomach distention, and, in the worst case scenario, cause a potentially life-threatening digestive blockage.
What's more, as the yeast ferments, it actually releases alcohol, which can lead to alcohol poisoning.
If your cat eats any amount of bread dough, seek immediate veterinary help.
Garlic, shallots, and onions are toxic to cats. They can cause anemia and in large doses, organ failure. If your cat eats garlic bread or any other kind that may contain these seasonings, see your vet.
Is Bread Good For Cats?
Though most bread is harmless to your cat, it's not the best choice for a snack.
That's because cats are strict carnivores. They need to get most of their nutrients from meat-based sources. Even so, cats are able to digest carbohydrates found in kibble and canned cat foods.
Regardless of what your cat eats as their primary diet, they will not benefit nutritionally from the addition of carb-rich, low-protein bread. While it's not harmful as an occasional snack, too much bread can put your cat on an accelerated path to obesity and diabetes.
In summary: while bread is not bad for your cat, it's not good for them either.
Your cat is likely curious about your bread because it's a novelty, but they'd benefit more from healthy cat treats or a fresh food snack such as meat, eggs or berries.