Benefits of Dogs in the Workplace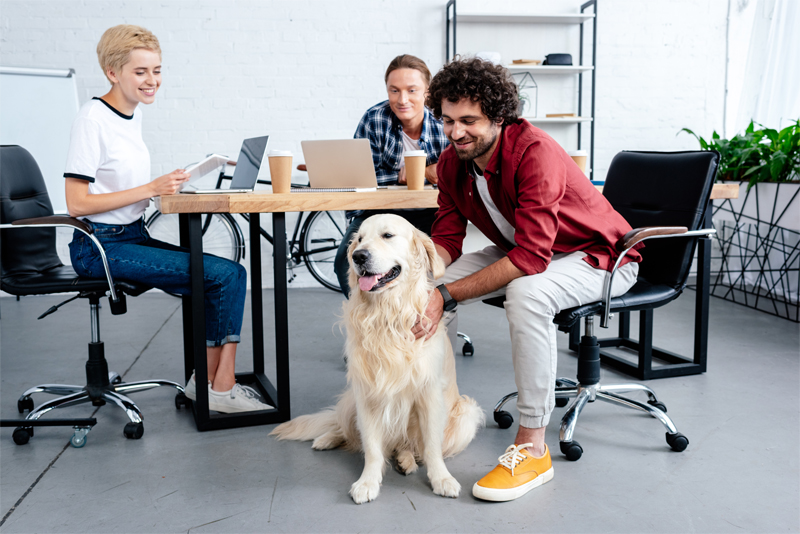 In the past 30 years, the number of households containing pets in the U.S. has risen over 30%. According to the APPA National Pet Owners Survey, 68% of households, (over 84 million homes) own a pet. Of that 68%, 48% of those households have a dog. This rising trend of pets at home has led to the rising trend of dogs in the workplace. In recent years, many big-name companies, such as Google and Amazon, have moved towards a dog-friendly workplace. Because of the many benefits dogs in the workplace provide employees, other companies are following suit and shifting towards dog-friendly policies.
Imagine Take your Dog to Work Day is every day and you can spend every day with your pup. A survey done by the Society for Human Resource Management (SHRM,) 2016 Employee Benefits Research, shows that only 7% of employers allow pets in the workplace, a decrease from 8% in 2015 and an increase from 4% in 2014. The main reason for allowing pets in the workplace is the great benefits pets give employees. According to a 2016 study done by Banfield Pet Hospital, 82% of employees felt a greater sense of loyalty to pet-friendly companies as opposed to non-pet-friendly companies. In addition, more than 50% of employees said that they would be more likely to stay at their company if they allowed pets in the workplace. In the same survey, 88% of employees agreed that pets in the workplace improve morale.
Benefits of dogs in the workplace
High morale is great for a company because it can inspire loyalty and uphold a productive workplace. In addition to improving all-around morale in the company, dogs in the workplace can bring so much more to the table in terms of benefits. Some of the major benefits of having dogs in the workplace are the positive effects on mental health and well-being in people. Having dogs in the workplace can provide employees with social support, which can help improve performance and even increase social interactions.
In a survey conducted by the American Pet Products Manufacturers Association, it concluded that 55 million Americans agree that pets in the workplace increase creativity, while 38 million agree it creates a more productive environment. In the same survey, 53 million Americans agree pets in the workplace decreases absenteeism, 37 million agree pets in the workplace improves and encourages the relationships between employee and manager, and 46 million agree that employees who bring their pet to the workplace work longer hours.
Generally, having pets in the workplace can reduce stress and increase overall happiness in the workplace. As a result, dogs in the workplace can lead to an increase in employee retention. Similarly, bringing dogs to work can also be beneficial for the dogs. Instead of being cooped up at home or in a crate, dogs can spend the day next to their person as well as socializing with other friendly people.
Disadvantages of dogs in the workplace
Understandably, not everyone agrees that dogs in the workplace are beneficial. Phobias and allergies are among many reasons individuals prefer to keep workplaces free of pets. According to the Asthma and Allergy Foundation of America, up to 30% of Americans are allergic to dogs and cats.
While dogs in the workplace can be refreshing for some, dogs in the workplace could be downright distracting for others, causing a decrease in some employees' productivity. Because dogs are animals, they can make messes if they're not housebroken.
Simple rules for dogs in the workplace
Allowing dogs in the workplace can quickly turn into a nightmare for many reasons. Untrained and non-socialized dogs can not only make a mess, but also cause a raucous and even hurt someone. Dogs that constantly bark can cause a great distraction among employees as well as dogs that seem to get into everything. Dogs in the workplace can be a great thing as long as a few rules are followed. Generally, dogs must be:
Trained
Housebroken
Well-socialized (people and other dogs)
Up-to-date on vaccinations
Flea/tick free and using preventatives
Clean and well-maintained
Additionally, pet parents bringing in their dog should make sure it's ok with their manager and nearby coworkers, especially if someone is allergic. They must also take responsibility for their dog and clean up after them in case of any messes.
Sources:
Workforce.com
AAFA.org
AmericanPetProducts.org
Banfield Pet Hospital