What Causes Dandruff in Dogs?
Ask the Vet
Back to results
Enter Your Information
All fields are required
While efforts are made to answer all questions as quickly as possible, if an immediate answer is required or if your pet is in need of urgent or emergency care, contact your pet's veterinarian immediately.
Ask the Vet
Thank you! Your question has been submitted.
You will receive an answer from Dr. Lindsay and our vet/tech team as soon as possible, usually the same day.
All answers are provided for informational or educational purposes only, and are intended to be a supplement to, and not a substitute for, the expertise and professional judgment of your pet's veterinarian.
It may be necessary to consult your pet's veterinarian regarding the applicability of any opinions or recommendations with respect to your pet's symptoms or medical condition.
Close
Ask the Vet
Oops! Your question has not been submitted.
An error has occurred, please reload the page and try again.
Close
Ask the Vet
Got questions? Ask Dr. Lindsay & our Vet Team:
While efforts are made to answer all questions as quickly as possible, if an immediate answer is required or if your pet is in need of urgent or emergency care, contact your pet's veterinarian immediately.
Do these answer your question?
Have another question, or can't find your answer?
Submit your question
We're Sorry!
There is no answer related to your question
Can't find your answer?
Submit your question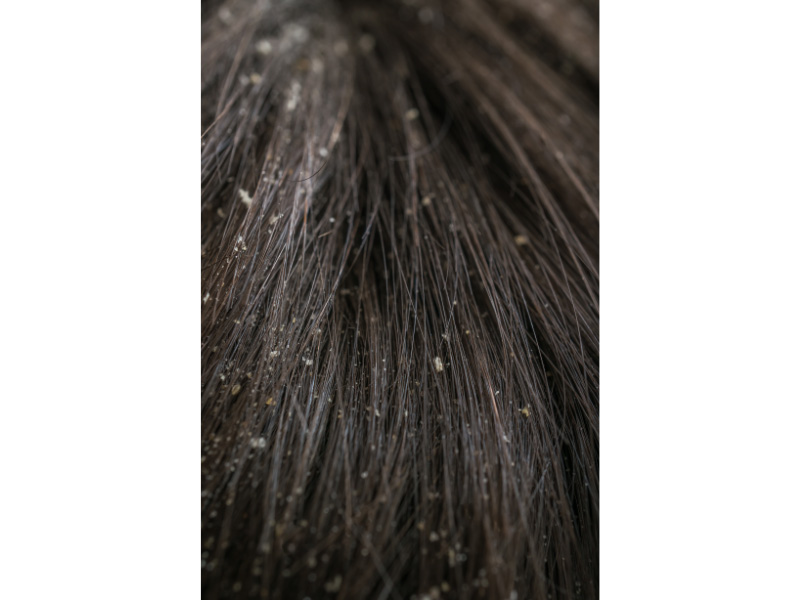 August marks Itchy Pet Awareness Month, a good time to reflect on one of the most common health symptoms that affect our pets. Often attributed to food intolerances and environmental allergies, pruritus, also known as itchy, irritated skin, is common in dogs. A lesser-known symptom of pruritus is dandruff, or excess buildup made up of dead skin cells and oils.
What is Dandruff in Dogs?
In normal, healthy skin, the top layer of the epidermis is made up of dead skin cells that protect the more delicate lower layers of the skin. These dead cells are constantly shedding to make way for new skin cells.
In dogs with dandruff, the skin cells are shedding faster than usual. Dry winter weather can sometimes be the culprit, leaving the skin itchy and irritated, but when we talk about dandruff, we're usually referring to seborrhea or oily dandruff. This happens when there's increased production of sebum, or the skin's natural protective oils, resulting in greasy clumps of stuck-together skin cells.
What Causes Dandruff in Dogs?
When dogs have oily dandruff, it usually means their skin is irritated, possibly due to:
Mites
Hormonal imbalance e.g. increased cortisol from Cushing's disease
Bacterial or fungal skin infections
Food intolerances
Environmental allergies
If you're trying to decode your dog's dandruff, be on the lookout for concurrent symptoms like itching, hair loss, body odor, and poor coat quality.

Allergies and Food Intolerances and Dandruff
One of the most common causes of dandruff in dogs is exposure to an allergen.
An environmental allergy is an immune system reaction to something in your dog's environment. Flea bites, grass, pollen, certain fabrics, household cleaners, and dust mites are some common environmental allergies in dogs. Sometimes you can pinpoint an allergy by noticing if your dog itches more in some seasons, or if they seem to develop symptoms shortly after being outside. Often, though, environmental allergies are difficult to distinguish from food intolerances.
Your dog could have a food intolerance to one or more ingredients in their food or treats. Food intolerance happens when a dog is unable to produce enzymes to properly digest foods. It's unlike a true allergy in that the symptoms will not be immediate. Symptoms of intolerance occur hours to days after exposure to a problem food.

Could it Be A Fungal Infection?
Food intolerances may be linked to skin infections in dogs, particularly those caused by yeast overgrowth. The skin's microbiome is made up of bacteria and fungi (including yeast), and in healthy dogs, these microorganisms do not cause any issues.
When the skin is extra oily, possibly due to an allergy or intolerance, yeast can overgrow, leaving the skin greasy and flaky. Yeast overgrowth can give the skin a distinct "bread" or "popcorn" odor. It's also associated with itching and red, inflamed skin.

Treating Dandruff in Dogs
Dandruff is generally caused by oily skin and coat, rather than dry skin. A bath with medicated shampoo and a thorough scrub and rinse can take care of a mild, acute case. Between baths, you can use itch relief spray to help manage symptoms.
But if your dog has underlying health issues, dandruff and itching will return shortly after a bath.
Your veterinarian can rule out mites, hormonal imbalances, and nutritional issues that may contribute to dandruff. If your dog seems otherwise healthy, the culprit might be an environmental allergy or food intolerance.
You can try an elimination diet or an at-home 5Strands Pet Intolerance Test to find out what's making your dog itch. Skin symptoms clear up within a few weeks after you eliminate allergens from your dog's diet.
Swipe
Products You Might Like