How Often Should I Give My Dog A Bath?
Ask the Vet

Back to results
Enter Your Information
All fields are required
While efforts are made to answer all questions as quickly as possible, if an immediate answer is required or if your pet is in need of urgent or emergency care, contact your pet's veterinarian immediately.
Ask the Vet

Thank you! Your question has been submitted.
You will receive an answer from Dr. Lindsay and our vet/tech team as soon as possible, usually the same day.
All answers are provided for informational or educational purposes only, and are intended to be a supplement to, and not a substitute for, the expertise and professional judgment of your pet's veterinarian.
It may be necessary to consult your pet's veterinarian regarding the applicability of any opinions or recommendations with respect to your pet's symptoms or medical condition.
Close
Ask the Vet

Oops! Your question has not been submitted.
An error has occurred, please reload the page and try again.
Close
Ask the Vet

Got questions? Ask Dr. Lindsay & our Vet Team:
While efforts are made to answer all questions as quickly as possible, if an immediate answer is required or if your pet is in need of urgent or emergency care, contact your pet's veterinarian immediately.
Do these answer your question?
Have another question, or can't find your answer?
Submit your question
We're Sorry!
There is no answer related to your question
Can't find your answer?
Submit your question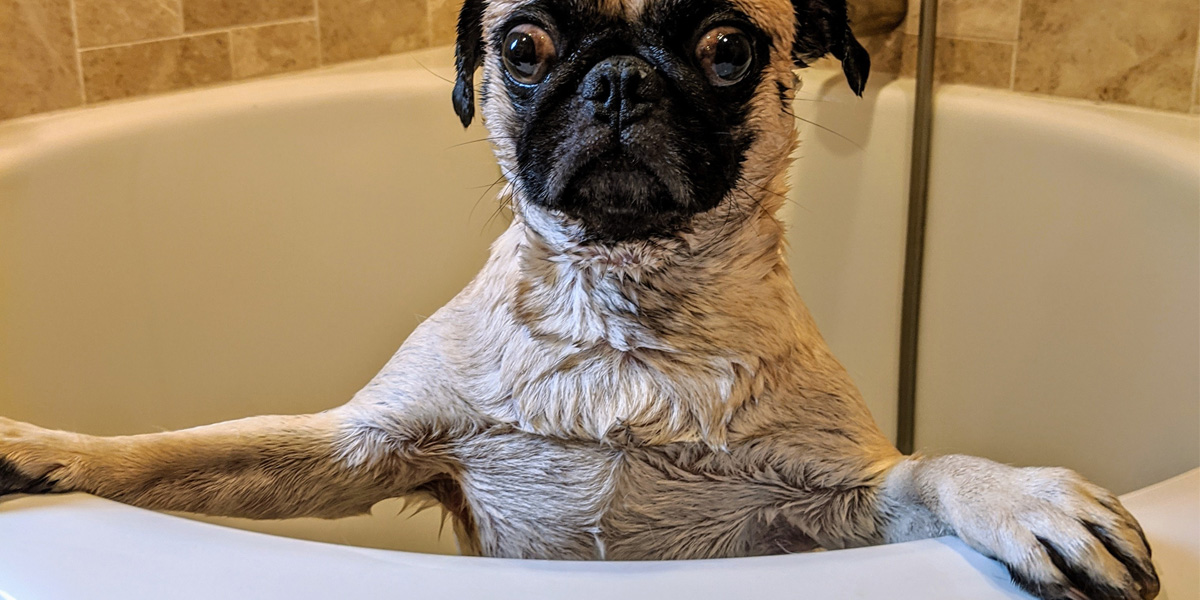 Unlike cats, dogs don't bathe themselves. They need our help to keep their skin and coat healthy, shiny, and smelling fresh. While every dog is different, there are some basic guidelines you can follow to decide on the best bathing schedule for your pampered pup.
How Often Do Dogs Need Baths?
For the average, healthy dog with a short, low-maintenance coat, you can get away with bathing as infrequently as every three months, or on an as-needed basis when your dog is stinky or visibly dirty.
You might bathe your dog as often as every two weeks. More than that, and you may strip the protective barrier of natural oils, or sebum, in your dog's skin and coat, leaving it dry, itchy, and prone to infection.
Signs Your Dog Needs A Bath
Sometimes, your dog will need a bath even if they pass the "smell test" and aren't particularly dirty. Signs your dog needs a bath include:
Excessive shedding
Excessive itching and scratching
Flaky or greasy buildup
Fleas or flea dirt
Swam in a chlorinated pool
Swam in a beach, pond, or lake
Giving your dog a bath helps loosen shed fur during shedding season. It can also temporarily relieve itchy, irritated skin. You'll also want to bathe your dog any time they're immersed in substances that could make them sick - for example, when they take a dip in a chlorinated pool or swim in a natural body of water, which can contain bacteria and parasites.
Baths to Relieve Allergies in Dogs
Itchy, inflamed skin is a common symptom of allergies in dogs. Dogs can have environmental allergies just like people. They can be allergic to grass, dust mites, pollen, and trees. Some allergies are seasonal. Bathing your dog more often can help remove traces of allergens from their paws and coat while also relieving the itch.
Dogs can also have food allergies, which are often actually intolerances. A food intolerance is when your dog's body does not make enough of certain enzymes to properly digest ingredients in their food. Itching is a common sign of a food intolerance. Some dogs with intolerances also suffer hair loss, recurring ear infections, and a yeasty, corn-chip-like body odor.
A bath will temporarily relieve itching, but your dog's symptoms will return unless the allergy or intolerance is treated. Schedule an appointment with your vet if your dog is always itchy or has other symptoms of allergies.
For dogs with severe symptoms, you may be directed by your veterinarian to bathe with a medicated shampoo as often as daily or every other day. This may be necessary to get the symptoms under control and treat a skin infection or yeast overgrowth while also allowing the skin to heal. You can also use a medicated spray between baths as needed.
Why Does My Dog Flaky, Greasy, or Itchy Skin?
Do you bathe your dog only for them to be smelly, itchy, flaky, or greasy a week or two later? It's not normal for a dog to need frequent baths. Poor skin and coat quality is often a sign that there's an imbalance in your dog's diet, for example, too much or too little fat. It could also mean that your dog may have a parasitic, fungal, or bacterial skin infection, or could have an endocrine issue like Cushing's. See your vet if these issues persist.
How To Go Longer Between Baths
If your dog's skin and coat seems healthy, but they often need baths, you can protect their skin by finding other ways to keep them clean and smelling fresh.
Bath wipes are the most convenient way to keep your dog clean between baths. Baby wipes made for humans are not generally safe for dogs because they're formulated to match the pH in a human's skin, not a dog, and your dog could ingest the solution if they lick their skin or paws afterward. Use doggy bath wipes or paw wipes for their body, and tear stain wipes for their face.
You can also use a made-for-pets deodorant or coat conditioner to leave your pup smelling clean. A homemade mixture of warm water and baking soda, mixed up in a spray bottle, can also do the trick. Spray directly onto the coat, avoiding the face and eyes, or spray onto a brush and apply.
Don't forget to brush between baths. Dogs with all coat types benefit from brushing to distribute natural oils through their coat, stimulate blood flow, and remove dirt and debris.
That's all it takes to keep your dog looking and feeling their best. If you're having trouble maintaining your dog's coat, talk to your groomer or veterinarian, who has had experience with all coat types and can point you in the right direction.
Swipe
Products You Might Like