Decoding Alopecia or Hair Loss In Dogs
Ask the Vet

Back to results
Enter Your Information
All fields are required
While efforts are made to answer all questions as quickly as possible, if an immediate answer is required or if your pet is in need of urgent or emergency care, contact your pet's veterinarian immediately.
Ask the Vet

Thank you! Your question has been submitted.
You will receive an answer from Dr. Lindsay and our vet/tech team as soon as possible, usually the same day.
All answers are provided for informational or educational purposes only, and are intended to be a supplement to, and not a substitute for, the expertise and professional judgment of your pet's veterinarian.
It may be necessary to consult your pet's veterinarian regarding the applicability of any opinions or recommendations with respect to your pet's symptoms or medical condition.
Close
Ask the Vet

Oops! Your question has not been submitted.
An error has occurred, please reload the page and try again.
Close
Ask the Vet

Got questions? Ask Dr. Lindsay & our Vet Team:
While efforts are made to answer all questions as quickly as possible, if an immediate answer is required or if your pet is in need of urgent or emergency care, contact your pet's veterinarian immediately.
Do these answer your question?
Have another question, or can't find your answer?
Submit your question
We're Sorry!
There is no answer related to your question
Can't find your answer?
Submit your question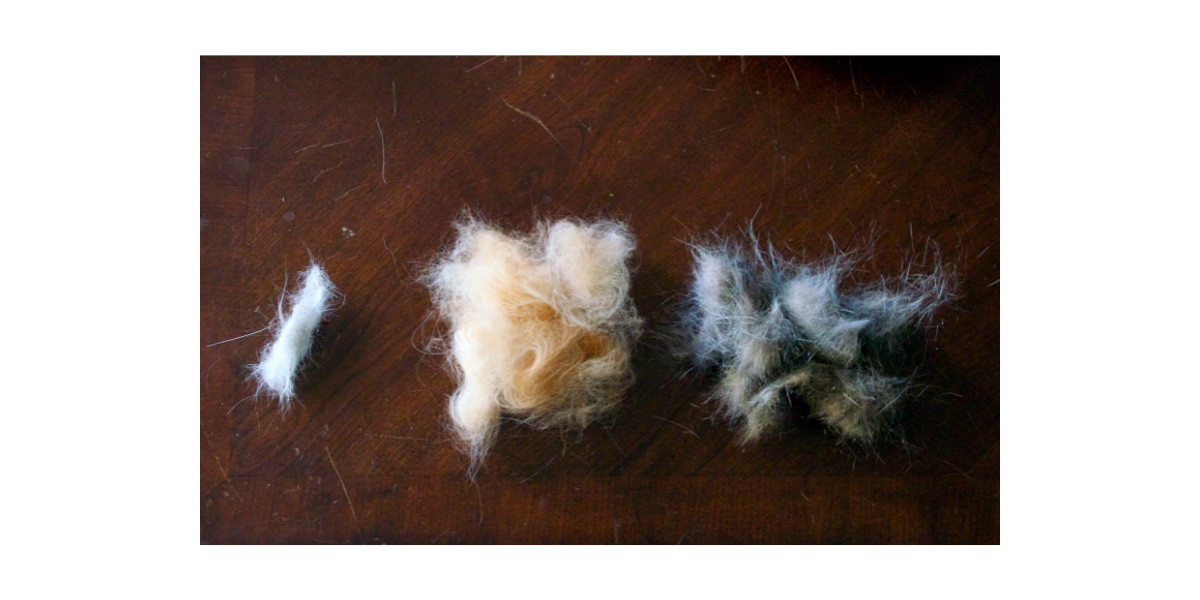 All dogs shed, whether they have a double coat or a single "hair" coat. But when you start to notice bald patches, or your dog's hair is coming out in clumps, it might mean they're experiencing something other than regular shedding.
The word alopecia describes hair loss as a symptom. Your dog can develop alopecia as a result of allergies, parasites, an autoimmune issue, a congenital disorder, or even from the friction from a sweater, collar, or harness.
Itching and Alopecia In Dogs
Hair loss concurrent with itchy, inflamed skin may be caused by allergies, food intolerances, or parasites.
With allergies and food intolerances, you may also notice a yeasty odor, and your dog may also suffer from recurring ear infections. If you suspect a food intolerance, an elimination diet can help you figure out what's making your dog itch.
Parasites are not always obvious in dogs, especially those with a long or thick coat. Over-the-counter treatments like Frontline Plus control parasites that cause itching and hair loss, including fleas and the mites that cause sarcoptic mange.
Fungal infections such as ringworm can also cause bald patches with or without itching. With ringworm, you'll typically see reddish, inflamed patches of crusty, scaly skin.
Any time your dog has unexplained itching and hair loss you should see your veterinarian as soon as possible. Parasites, infections, and allergies can all weaken your dog's immune system ad impact their long-term health.
Hair Loss Without Itching
If your dog is experiencing hair loss without itching, an endocrine dysfunction like hypothyroidism, Cushing's disease, or Addison's disease can be the cause.
Dogs with an endocrine condition produces too much or not enough of the hormones that control their metabolism, energy levels, and immune system. If you notice other symptoms like unexplained weight gain, unexplained weight loss, a lack of energy, change in appetite, change in water consumption, or increased urination, have your vet test your dog for a hormonal imbalance.
Your dog's nutrition can also affect hair growth. A diet insufficient in protein or fats can cause poor hair growth. Nursing and pregnant dogs can experience temporary hair loss as their body devotes nutrients to their growing pups. Make sure your dog's food is complete and balanced and suitable for their life stage.
Unexplained alopecia that is not caused by a hormonal imbalance, infection, or parasites can sometimes be genetic. Greyhounds are prone to "bald thigh syndrome," a cosmetic condition not unlike "male pattern baldness" in humans. Alopecia X is common in Nordic breeds like the Husky and Pomeranian, and it, too, is a cosmetic condition.
Seasonal flank alopecia is a disorder in which dogs develop bald spots in the winter months. It's suspected that dogs with this condition are unable to produce sufficient melatonin in the winter. The bald patches may develop hyperpigmentation, but the condition is not associated with any other symptoms like itching.
Supplements for Hair Loss In Dogs
While over-the-counter supplements cannot treat health conditions that cause hair loss, they can aid regrowth after your dog has been to a veterinarian for a diagnosis and treatment. Ask your vet before adding supplements to your dog's diet.
Melatonin is the hormone produced by both humans and animals like cats and dogs that helps control the sleep cycle and also promotes hair growth. Melatonin supplements contain a synthetic form of the hormone. They're relatively inexpensive and rarely cause side effects. Many conditions associated with hair loss respond well to melatonin.
Omega-3 fatty acid chews can help relieve itching and inflammation, and they also support healthy skin and fur. They also can also benefit immunity, joint health, and cognitive function.
Swipe
Products You Might Like