10 Ways To Be An Eco Friendly Pet Parent
Ask the Vet

Back to results
Enter Your Information
All fields are required
While efforts are made to answer all questions as quickly as possible, if an immediate answer is required or if your pet is in need of urgent or emergency care, contact your pet's veterinarian immediately.
Ask the Vet

Thank you! Your question has been submitted.
You will receive an answer from Dr. Lindsay and our vet/tech team as soon as possible, usually the same day.
All answers are provided for informational or educational purposes only, and are intended to be a supplement to, and not a substitute for, the expertise and professional judgment of your pet's veterinarian.
It may be necessary to consult your pet's veterinarian regarding the applicability of any opinions or recommendations with respect to your pet's symptoms or medical condition.
Close
Ask the Vet

Oops! Your question has not been submitted.
An error has occurred, please reload the page and try again.
Close
Ask the Vet

Got questions? Ask Dr. Lindsay & our Vet Team:
While efforts are made to answer all questions as quickly as possible, if an immediate answer is required or if your pet is in need of urgent or emergency care, contact your pet's veterinarian immediately.
Do these answer your question?
Have another question, or can't find your answer?
Submit your question
We're Sorry!
There is no answer related to your question
Can't find your answer?
Submit your question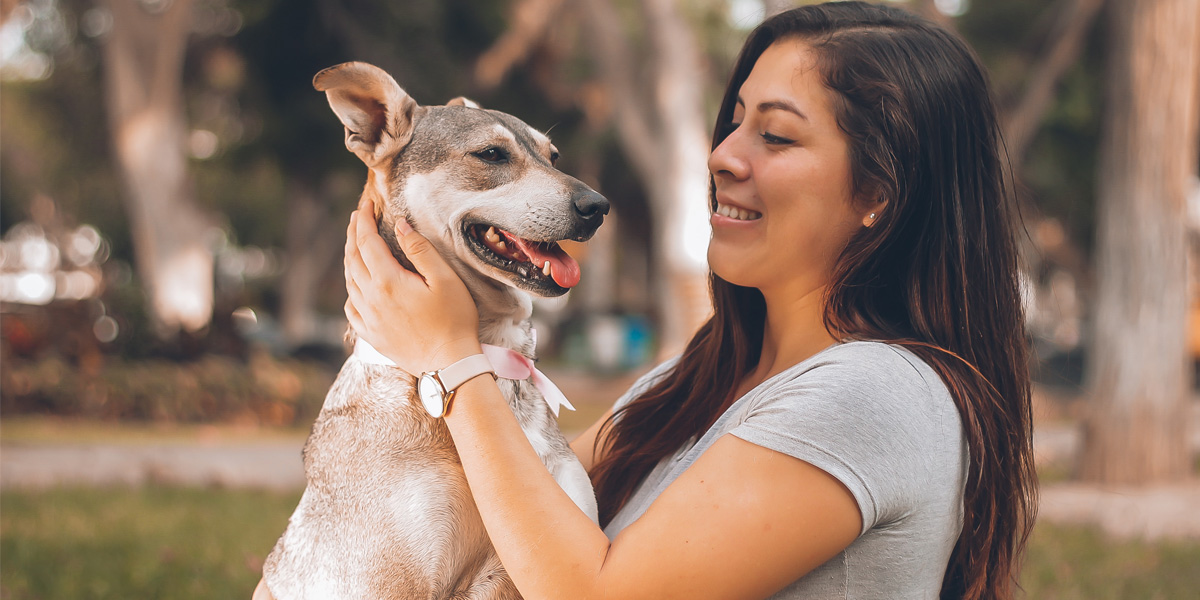 Dogs and cats don't litter, leave lights on, or take hour-long showers. Their environmental impact is dependent on the decisions we make as pet parents.
Everything from waste disposal and cleaning products to food, toys, and treats can potentially have a negative effect on the environment. Many of the products we use daily are made with ingredients or materials that may not be sustainably sourced. Manufacturing, transportation, and packaging, and eventually, disposal, can all have a long-term impact on the world around us.
While it may be impossible to reduce your pet's carbon pawprint to zero, making greener choices can help create a cleaner, safer environment for our pets and for generations to come.
10 Ways To Be An Eco Friendly Pet Parent
1 Feed responsibly
The number one environmental impact of pet ownership is pet food sourcing. Meat and dairy farming harms the environment through deforestation, contamination of soil and waterways, and, most significantly, greenhouse gasses that contribute to climate change. Ruminants, like cows used to produce beef-flavored pet foods, produce methane through belching and through manure decomposition. Dogs and cats still need animal-sourced ingredients in their pet food to thrive. When possible, choose foods made with more sustainable ingredients like chicken, turkey, and farm-raised fish over beef.
2 Clean up your pet's poop
Believe it or not, leaving your pet's poop outside does NOT benefit plant life. Your cat or dog's poop is too acidic to work as a fertilizer. What's more, even a healthy pet's wastes can contain bacteria, viruses, and parasites that can cause illness in other animals, as well as children that may make contact with the poop when they play outside. Poop can also wash into local waterways, leading to algae overgrowth that essentially suffocates fish. Always pick up your pet's poop and dispose of it in the trash. If possible, use degradable poop bags.
3 Choose biodegradable cat litter
Most clumping cat litter is made from clay, using materials that must be mined using processes that are harmful to the environment. Mining leads to soil erosion, air and water pollution, and lasting damage to wildlife habitats. Clay litters are also not biodegradable, unable to break down in landfills. Silica cat litter, while offering the benefit of being more compact and requiring less frequent changes, is not biodegradable either. Natural cat litter made of recycled newspaper, corn, pine, green tea, or walnut husks are biodegradable and do not use materials that must be harvested or processed in ways that harm the environment.
4 Recycle paper, metal, and plastic
Some pet food and product packaging, including aluminum cans, cardboard packaging, and certain pet food bags can be recycled in your home recycling bin. For hard-to-recycle items, consider using a local recycling program or a brand-specific Terracycle program that allows you to drop off or send in old packaging to be recycled. If your favorite pet food brand does not offer a free-of-charge recycling program, consider switching to one that does.
5 Reuse what you can't recycle
When it's not possible to recycle packaging, consider making at least one extra use of it before dumping it in the trash. Empty pet food bags that cannot be recycled can be used instead of a plastic bag to clean out a litter box.
6 Repair items instead of throwing them away
Pet toys are often made of synthetic materials that do not break down in landfills. When possible, wash and repair toys, making sure to remove any broken parts that can pose a choking hazard, like loose stuffing and squeakers.
7 Donate what you can't reuse
Did your puppy grow out of his crate and collar? Does your cat have a pile of toys that no longer catch their eye? Animal shelters can often accept gently used items as long as they're clean and in good condition. Household items like old towels and blankets, too, can be useful for animals in need.
8 Switch to reusable puppy pads, male wraps, and diapers
If your pet is incontinent, uses potty pads for training, or uses disposable potty pads or diapers for long-term use, consider switching to reusable, washable options. While disposable items are convenient and sometimes necessary for sterile applications, reusable versions reduce waste and cut recurring costs. Cloth diapers and male wraps are usually machine washable, you'll just need to remove any solid wastes before washing. In place of puppy pads, you can set up an indoor potty area like Wee Wee Patch or Pet Loo.
9 Respect your local wildlife
Keeping your cat indoors is the best decision you can make for their health, their safety, and the environment. Free-roaming cats kill over two billion birds each year, not to mention small animals and insects that are all essential to local biodiversity. If your cat must roam, consider keeping them well-fed to reduce their urge to hunt and fitting them with a bell collar to warn their prey.
10 Avoid buying new plastic items
When it comes to food and water bowls, look for materials like ceramic and stainless steel, which last longer than plastic and can be made sustainably. Plastic bowls tend to develop scratches that harbor bacteria, and usually need to be thrown out within just months of use. Nylon pet collars and leashes, too, are made of plastic, and tend to wear out quickly. Choose items made of sustainable materials like organic cotton, bamboo, and hemp. When you must buy plastic items, shop pre-owned when possible, and extend their useful life with gentle care. High heat can melt plastic, so you may need to clean those items in the top rack of your dishwasher, by hand-washing, or gentle spot-cleaning.
VISION
Every pet deserves to live a long, happy, healthy life.
Swipe
Products You Might Like