Why Does My Cat's Breath Stink?
Ask the Vet

Back to results
Enter Your Information
All fields are required
While efforts are made to answer all questions as quickly as possible, if an immediate answer is required or if your pet is in need of urgent or emergency care, contact your pet's veterinarian immediately.
Ask the Vet

Thank you! Your question has been submitted.
You will receive an answer from Dr. Lindsay and our vet/tech team as soon as possible, usually the same day.
All answers are provided for informational or educational purposes only, and are intended to be a supplement to, and not a substitute for, the expertise and professional judgment of your pet's veterinarian.
It may be necessary to consult your pet's veterinarian regarding the applicability of any opinions or recommendations with respect to your pet's symptoms or medical condition.
Close
Ask the Vet

Oops! Your question has not been submitted.
An error has occurred, please reload the page and try again.
Close
Ask the Vet

Got questions? Ask Dr. Lindsay & our Vet Team:
While efforts are made to answer all questions as quickly as possible, if an immediate answer is required or if your pet is in need of urgent or emergency care, contact your pet's veterinarian immediately.
Do these answer your question?
Have another question, or can't find your answer?
Submit your question
We're Sorry!
There is no answer related to your question
Can't find your answer?
Submit your question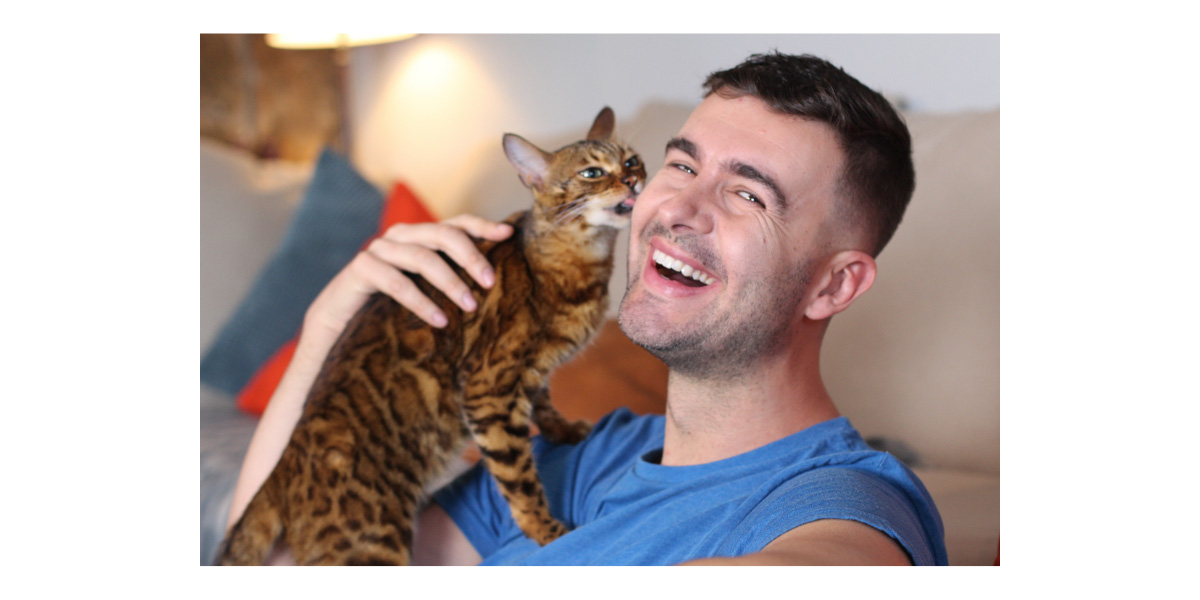 You may not expect your cat's breath to smell like a bed of roses, but what if it's downright stinky? If your cat's mouth smells more offensive than their last bowl of savory seafood pate, they might be suffering from an undiagnosed health issue. Here's what you should know if your cat's breath stinks, and when you should worry about it.
What Causes Bad Breath in Cats?
Periodontal Disease
The most obvious and most common reason for bad breath in cats is periodontal disease. About 85% of cats will develop dental disease by the time they're six years old. Fortunately, it's preventable and treatable.
In cats with periodontal disease, bacteria has build up between the teeth and under the gumline. Yellow tartar deposits at the gumline also trap bacteria. Left untreated, the bacteria can infect the gums, causing redness, swelling, and soreness, and can even eat away at the root of the tooth. Severe periodontal disease can cause tooth loss and may even spread to the jaw.
Daily at-home care is your cat's best defense against periodontal disease. Brushing, dental water additives, and dental treats are all effective ways to maintain your cat's oral hygiene. However, once you notice an odor, you will need to bring your cat to the vet to diagnose and treat the issue. Odor indicates that there is likely already an infection that cannot be treated at home.
Dry Mouth
Dry mouth occurs when your cat is not producing enough saliva to wash away oral bacteria. It can be a result of dehydration, certain chronic health conditions, or a medication side effect.
Teething
Teething can cause "kitten breath" in cats as their milk teeth fall out and their permanent teeth grow in their place. Kittens start to lose their milk teeth at around four months of age, and will have all thirty adult teeth by the time they're six months old. Bacteria can build up at the gumline, causing a temporary foul odor, and you may also smell a hint of blood on their breath. The odor should resolve quickly on its own.
If you're not sure if your kitten's symptoms are normal, it's important to see their veterinarian as soon as you can. Abnormalities like retained milk teeth during the teething stage can lead to painful issues later in life.
Diabetes
Sometimes, bad breath in cats originates further down the digestive tract. A sweet smell can indicate diabetes. A cat with diabetes cannot utilize sugars for energy, so their body will break down fat instead, and their liver will produce an acid called ketones. Ketones give off a fruity odor similar to the smell of 'acetone nail polish remover.
Kidney Disease
Kidney disease causes a buildup of waste products in the blood. As a result, there can be a strong urine or ammonia odor on the breath.
Liver Disease If your cat's breath has a sour smell that reminds you of bile or vomit, and they have not vomited recently, they might have liver disease.
Gastrointestinal Blockage
A gastrointestinal blockage can cause a feces-like odor in cats that are not known to eat poop. A medical condition cannot be diagnosed by bad breath alone. Take note of any concurrent symptoms, such as vomiting, diarrhea, lack of appetite, or changes in behavior, and see your veterinarian as soon as possible.
How to Treat Bad Breath in Cats
Once your cat has been evaluated for underlying health issues, and has been found to only have occasional halitosis, you can start an at-home dental routine to keep their mouth clean and healthy.
You can season your cat's meals with a sprinkle of Vetriscience Perio Support to protect their dental health and keep their breath fresh. It contains microporous minerals to remove plaque, probiotics to fight harmful oral bacteria, and herbal extracts for odor control.
Your cat may not be able to swish mouthwash, but you can add a breath-freshening dental additive to their water. Additives break down plaque every time your cat drinks water, and help remove odor-causing bacteria on the teeth, gums, and tongue.
Swipe
Products You Might Like