Help! My Cat Won't Let Me Brush Their Teeth
Ask the Vet

Back to results
Enter Your Information
All fields are required
While efforts are made to answer all questions as quickly as possible, if an immediate answer is required or if your pet is in need of urgent or emergency care, contact your pet's veterinarian immediately.
Ask the Vet

Thank you! Your question has been submitted.
You will receive an answer from Dr. Lindsay and our vet/tech team as soon as possible, usually the same day.
All answers are provided for informational or educational purposes only, and are intended to be a supplement to, and not a substitute for, the expertise and professional judgment of your pet's veterinarian.
It may be necessary to consult your pet's veterinarian regarding the applicability of any opinions or recommendations with respect to your pet's symptoms or medical condition.
Close
Ask the Vet

Oops! Your question has not been submitted.
An error has occurred, please reload the page and try again.
Close
Ask the Vet

Got questions? Ask Dr. Lindsay & our Vet Team:
While efforts are made to answer all questions as quickly as possible, if an immediate answer is required or if your pet is in need of urgent or emergency care, contact your pet's veterinarian immediately.
Do these answer your question?
Have another question, or can't find your answer?
Submit your question
We're Sorry!
There is no answer related to your question
Can't find your answer?
Submit your question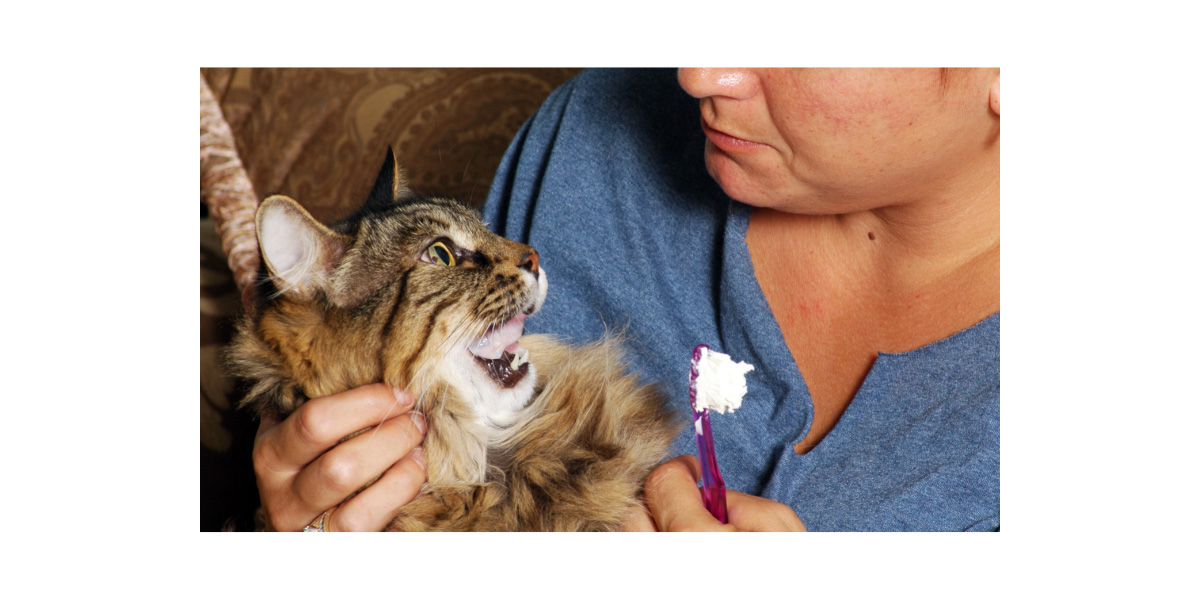 Your cat needs regular brushing to keep their teeth healthy, but the daily struggle can put a strain on your relationship with them. No worries! You really can incorporate daily brushing into your routine without destroying your bond with your cat. All it takes is some patience, the right tools, and feline-friendly flavored toothpaste.
Do Cats Need Daily Brushing?
The daily brushing schedule recommended by veterinarians is optimal for keeping your cat's mouth healthy. A few hours after every meal, food particles in your cat's mouth mix with saliva and bacteria to form a clear, sticky substance called plaque. In just 24 hours, plaque begins to harden into tartar.
When you brush your cat's teeth every day, you remove plaque before it can harden. Hardened tartar deposits are yellowish and tend to collect along the gumline. Once formed, it cannot be removed at home with brushing or other dental products. Tartar must be removed by a veterinarian during a dental appointment.
If maintaining a daily brushing schedule your cat seems unrealistic, brushing just a few times per week is better than never brushing at all.
New to Brushing Your Cat's Teeth?
The best time to start training your cat to accept brushing is while they're a kitten. Though it's harder to train an adult cat to tolerate brushing, it's never too late to start.
Before you begin, it's best to let your veterinarian examine your cat's teeth. If there is any existing tartar, you can schedule a dental appointment to remove it, that way you'll be starting with a clean, healthy mouth. Also, your vet can detect infection, inflammation, or loose teeth, all of which can cause pain while brushing.
How To Brush Your Cat's Teeth
Most cats need positive reinforcement training to accept having their teeth brushed. By starting slow and working at your cat's pace, you can successfully acclimate them to having their mouth examined and cleaned. Some pet parents overwhelm their cat by holding them down and attempting a thorough cleaning on the first try, and end up with a traumatized kitty that hides at the sight of the toothbrush.
First, teach your cat to allow you to put your fingers near their mouth. You can coat your finger with a little bit of feline toothpaste. The tuna flavored cat toothpaste from Arm & Hammer is a hit with most cats, as are the poultry and beef flavors of CET Enzymatic Toothpaste. You may need to try a few flavors to see which one your cat absolutely loves.
After a few tries over a couple of days, you can try lifting the side of your cat's lip to peek at their teeth, then following with a lick of toothpaste as a treat.
If your cat doesn't mind you touching their face, you can introduce your brushing tool of choice. Some pet parents use a baby toothbrush, a pet toothbrush, a finger brush, a cotton swab, or even a clean piece of gauze wrapped around their finger.
Apply a small amount of cat toothpaste to your brushing tool, and at first, let your cat lick it off. Introducing enzymatic toothpaste to their mouth, even without brushing, can help combat oral bacteria.
Over the next few days, your cat should get to a point where they look forward to seeing their toothbrush. Only then can you move onto brushing just one or two of their teeth. It's usually easiest to start with their large canines. If that goes well, you can gradually start to brush all of the outer surfaces of their teeth.
Alternatives To Brushing Your Cat's Teeth
Applying toothpaste to outer surfaces of each tooth is the most effective way to prevent gum disease. You can, however, use other dental products as a supplement to brushing, or to help maintain oral health while you work on training.
A dental water additive is probably the easiest thing to add to your routine. Just add a few drops to your cat's drinking water. As your cat sips, the additive helps break down plaque.
Some dry foods are designed to aid oral health. They can have specially shaped kibbles that help clean teeth as your cat chews, and they might contain ingredients that fight bacteria. While dry food is not the best option for your cat's overall health, if you decide to feed it as a part of your cat's diet, a dental diet can be beneficial. Or, try dental treats like CET Intellident Cat Bites or Feline Greenies Dental Treats.
You can add a dental supplement like Vetriscience Perio Support to your cat's existing diet. It's a powder that you can sprinkle over any wet or dry food. It contains minerals that help break down plaque, plus probiotics to help combat bacteria.
Swipe
Products You Might Like